Planning to visit Dubai for the holidays? Why not? It's a fantastic city, bursting at the seams with attractions and mega fun activities. However, before you go, you need to consult a Dubai City Guide that'll help you navigate the city and experience the best attractions, the best places to eat and the best places to stay. Dubai has so many options in every area that you can be forgiven for being confused.
That's what we're here for – with our brand new Dubai City Guide. Enjoy!
Top Attractions in Dubai
While you're in Dubai, don't miss out on these top attractions. They are what Dubai is all about!
Desert Safari
If you are a city person, you'll be delighted to find yourself in this ancient landscape of soft shifting sands, hard wadis, and glittering oases. Enjoy a desert safari in the morning, afternoon, evening or night.
All of these safaris have the desert adventures of dune bashing, camel riding, quad biking and sand boarding in common. The evening and night safaris include an incredible dinner and entertainment in the Bedouin welcome tent. Don't miss it!
Ski Dubai
If you plan on enjoying a white Christmas this year, then why not do it at Ski Dubai at Emirates Mall in Dubai? Ski Dubai is one of the finest indoor ski resorts in the world, with 4 regular ski slopes and one challenging diamond run of 400 meters.
There's a little ice cave for kids and a penguin park to set the mood. There's also a little café on top of the highest slope for hot drinks.
Burj Al Arab
The sail-shaped Burj al Arab is a building worth looking at for as long as you can. Enjoy great views of the sunset from Jumeirah Beach, catching the red departing sun's last rays surrounding the Burj.
If you want a look inside, book high tea at one of the restaurants in the Burj al Arab. That's the best way to enjoy the incredible architecture and décor of the place.
The Burj Khalifa
The Burj Khalifa Dubai is the current world's tallest building, standing proudly at 829 meters. Be sure to get on to 124th floor's observatory deck and check out the incredible view of the surroundings.
You can see as far as the desert and the seas beyond. Use one of the telescopes places intelligently at intervals on the deck to focus on points of interest. Be sure to take a walk on the Burj's boardwalk in the evening to enjoy the Dubai Fountains and the loveliness of the Burj Khalifa in the dark.
The Dubai Mall is directly below the Burj Khalifa, with it's 1200 plus retail outlets and over 150 food outlets. You'll need an entire day to explore both. While you're there, do check out the Underwater Aquarium and Zoo as well.
Best Places to Stay in Dubai
Where do you want to stay in Dubai when you get there? Here are a few top hotels for you, along with a couple of budget options.
Exclusive: Hilton Dubai The Walk
This is an exclusive hotel that's close to the Beach Mall. It's located on Jumeirah Beach's golden mile in front of the exclusive Dubai Marina. The nearest Metro station is a 10 minutes' walk from here.
Guests can enjoy a private beach, two pools, a beautiful lounge garden, fitness center, and 12 on-site restaurants. Any Dubai city guide will have a mention of this exclusive hotel.
Exclusive: Premier Inn Dubai International Airport Hotel
Being an airport hotel, this will be the most convenient hotel for you to stay. You can enjoy a free shuttle service to and from the airport whenever you choose. The hotel comes with a café, a restaurant, and a fantastic swimming pool.
Exclusive: Roda Al Murooj
This exclusive hotel is located across from Dubai Mall and the Burj Khalifa. The hotel comes with a huge swimming pool, a lush garden, free WiFi in public areas and more. Dining options include award-winning Double Decker restaurants Pub and Pergolas serving international cuisines all day long.
Budget: Arabian Park Hotel
This budget hotel is located at Al Jaddaf. It has 318 brightly coloured rooms, a restaurant, a deli, meeting rooms, and an Olympic-size outdoor pool, along with a small fitness center. The hotel is close to the nearest metro station.
Budget: Howard Johnson Hotel
Located in Bur Dubai, this mid-range is perfect for budget-conscious travelers and families. It has clean rooms with TV and minibars and free Wi-Fi in public places.
Best Places to Eat In Dubai
Budget: Al Mallah Restaurant
Located in Dhiyafah Street, Al Mallah is one of the most famous street food outlets offering Middle Eastern food in Dubai. Their specialties are Shawarma and shish tawook.
Mid-range: Bu Qtair
Located near Jumeirah Beach, this a la carte restaurant offers North Indian food. Their specialties are deep-fried turmeric fish, sour Assam curry, and basmati rice.
Located at Al Dhiyafa Road, Ravi Restaurant offers fantastic Indian and Pakistani fare. This restaurant occupies two or three shophouses. They offer an extensive menu and their specialties are chicken curry and flatbreads.
Café: Tom and Serg
Located in Al Qouz district, this café is famous for its cold brews, Cubano sandwiches, and cutlets.
Fine Dining: Indego by Vineet
Located in Dubai Marina is managed by Vineet Bhatia, the Michelin-starred Indian chef. The specialties at this fine-dining restaurant are lamb shank slow cooked in rogan josh sauce, rajma pulao and asparagus stir-fry
Fine Dining: La Petite Maison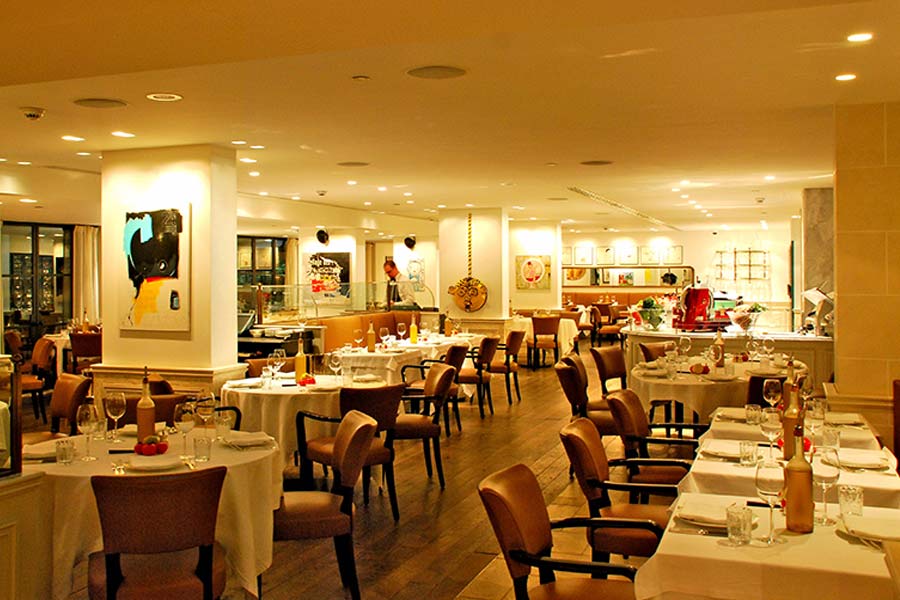 Locate in Gate Village, is a place which is favoured by the well-to-do. This restaurant services gastronomic Mediterranean French cuisine, and its specialties are cheese fondue and lava cake.
We hope our Dubai travel guide has given you an idea about the dining options in Dubai, even though we cannot include all the hundreds of restaurants in Dubai into our list.
Best Time to Visit in Dubai
Dubai runs hot for 9 months out of the year but is cool for the remaining 3 months. From February to November, Dubai tends to be very hot so it's not the perfect time to visit. The thing about Dubai is, everything is indoors and everything indoors is fully air-conditioned. So even if you travel to Dubai during the hot months, you'll be cool and comfortable indoors.
You won't lack for entertainment – there are indoor theme parks like the VR Park and Ski Dubai and much more. In short, you can visit Dubai any time of the year, depending on what you want to do with your time.
If you're into desert safaris, perhaps the cooler months might be a better idea. The festive season from November to January is a special time in Dubai – there will be plenty of celebrations, fireworks, parties, festivals and more.
Conclusion
Dubai is well appointed to keep you entertained, well-fed, comfortable and happy during your stay. The city has hundreds of hotels that fall into every possible financial range. There are innumerable restaurants, cafes, eateries and plenty of entertainment options as well. Plan your trip well in advance and you can get the very best out of Dubai.