Festival means having a great time with your loved ones dancing and singing together, getting wet and dirty from top to toe for fun. In fact, every country has its own way of celebrating festivals in their unique way. Be it Holi, La Tomatina, Oktoberfest, New Year or Christmas. Each festival is unique and special in one or another way. If you are someone who would love to have some quirkiness, colour, chaos then you must visit these countries which are famous all around the world for the way they celebrate their signature festival. You will simply love the way they are celebrated and enjoyed among the people around.
So, just gear up and get ready to witness some of the craziest festivals that you would love if you get to experience even once in your lifetime.
1. Pamplona Bull Run, Spain (July)
Did you remember that final bull run from the movie 'Zindagi Na Milegi Dobara'? No matter, if you want to experience running in front of the bull with guts, you can very well plan your next visit to Spain to witness their amazing festival. Every year this festival is celebrated in Spain during the month of July. Anyone who is above 18 can go and enjoy this festival and experience something different which you never had before.
2. Konaki Sumo Fest, Japan (April)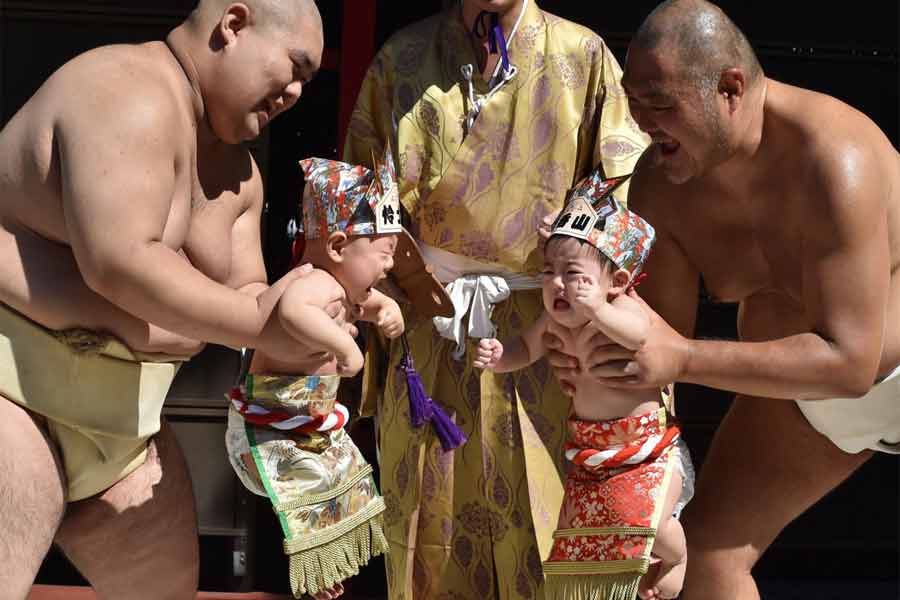 Well, this festival looks somewhat very exciting I am sure you haven't have heard about such a festival before. Every Year, this festival is celebrated during the month of April in Japan. In this festival, Sumo Wrestlers hold babies in their hands and face off each other to see whose baby will cry first. This festival is perfect for someone who loves sumo wrestlers and lots of babies.
3. Bunbury Festival, Ohio (June)
This festival is celebrated joyously every year in the month of June. The festival is enjoyed near the beautiful Ohio River. This festival is something in which you will get to see a wonderful collaboration of fun, music, food and party that any person would love to attend. This festival continues for long three days and at the end, you will be exhausted yet happy about all the fun you had during the festival with your chaddi buddies.
4. Holi, Vrindavan, India (March)
Holi is one of the favourite festivals in India which is celebrated with full enthusiasm. It is popularly known as the 'festival of colours' since people throw colours on each other. Every year this festival is celebrated whole-heartedly in Vrindavan Mathura in India during the month of March. It is during this festival you will get to taste those mawa gujiyas which are your favourite.
5. Rio Carnival, Brazil (February and March)
This is one of the most interesting and craziest festivals around the world which cannot be missed. From Samba parade to food, from fun to party, Rio Carnival is something which you cannot afford to miss.
You should visit Brazil to experience the craziness of this festival at least once in your lifetime. This festival is celebrated during the months of February and March in Brazil.
You may also like: 8 Different Forms Of Holi Celebration Around In India