We will miss you Sushma Swaraj, India mourns after the sudden demise of our External Affair Minister, Sushma Swaraj. She died of a massive cardiac arrest last night on August, 6 leaving the whole nation shocked and saddened. Undoubtedly, she was one of the great veterans Bharatiya Janata Party (BJP) who will be missed forever. Not only famous Ministers have condoled her demise, but many Bollywood actors have also poured their tributes on a personal note.
Above all, she was a great personality with a kind heart. She was quite famous among peoples due to her kind and generous nature that she had towards helping people. Not only Indians, but even Pakistanis also appraised her for the kind deeds that she did to them.
Below given are some of the reasons stating why she will be missed by everyone after her death.
1. Granted medical visa to sick Pakistani national
Sushma Swaraj was best known for her kind nature and humanity. She used to help a lot of people with her kind gestures. In October 2017, Sushma Swaraj has granted medical visa to Pakistani national for his liver transplant surgery in India. In the past also, she had approved many Pakistani nationals seeking to get medical treatment in India.
You can also read: 5 Successful Indian Female Entrepreneurs Who Have Made It high
2. She gifted a medical visa to Pakistani child as a Diwali gift
External Affair Minister, Sushma Swaraj has won the heart of the millions by granting medical visa to a Pakistani child for his lever treatment in India. His father 'Kashif Chacha' had requested her on Twitter for his child to get a medical visa. On that, she replied,  "The treatment of your child must not suffer for want of medicine. I have asked the Indian High Commission to issue a medical visa. @ChachaKashif," Such a kind lady she was. Respect for her!
3. When she gave a savage reply to the man from 'Indian Occupied Kashmir'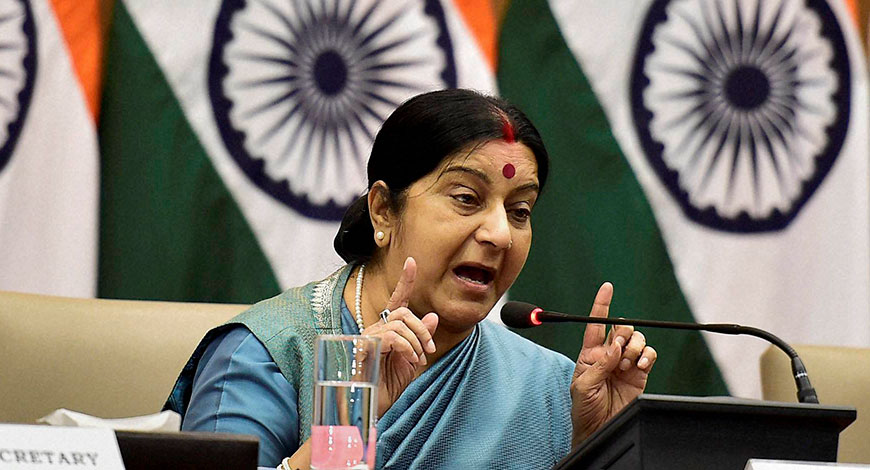 Sushma Swaraj was well known for giving a savage comeback on the microblogging site, Twitter. Once a Kashmiri student, Sheikh Ateeq had requested her to help him to get a new passport saying that he needed to get back to home as his health was deteriorating.
The student had tweeted: "I m from j&k doing medicine course here in the Philippines my passport got damaged I applied for a new one 1 month ago I request u pls help me get it as I literally need to go home for a medical check-up (sic)." On this Tweet, she gave a savage reply saying that "If you are from J&K state, we will definitely help you. But your profile says you are from 'Indian occupied Kashmir'. There is no place like that.
You can also read: Meet The Bravest Girl and Real-life Hero Rakhi Dutta Who Donates Liver To Her Dad To Spare His Life
4. When she allowed a Pakistani national to meet his ailing mother
Faha Ijaz, a Pakistani national wanted to see her mother as she was unwell. He Tweeted to Swaraj, "For God's sake, please help me. My mother is admitted to Fortis Noida. She is unwell. Please give me a visa."  On seeing his tweet, Sushma replied the very next day, ''You will get a visa to see your ailing mother,''.
5. When she helped a woman who got trafficked to Dubai
Sushma Swaraj has rescued a woman belonging from Hyderabad was allegedly trafficked to Dubai and later on to Oman. The victim told her the full story that how she got trafficked on the pretext of providing her employment in Dubai and later how she got harassed and tortured and was being sold to one of the Sheikhs who took her to Bahrain.
The victim thanked Swaraj for getting her rescued by saying, "I was finally rescued and I would like to thank EAM Sushma Swaraj and Indian Embassy,".
You can also read: Meet Ritu Karidhal and M Vanitha, Two Brilliant Minds Behind India's Chandrayaan-2 Mission