Pomegranates are the healthiest fruits on the earth. However, one might not be aware of the benefits it offers that are the most beneficial and crucial for your health. The edible seeds of this fruit are incredibly amazing. One can consume it either in the form of a juice or can eat seeds if you like the fruit much.
The liking of the fruit varies from one person to another as you might not find these placed on the fancy shelves of the supermarkets or the grocery stores, but no one can ignore that this is incredibly a great fruit for everyone.
One might not be familiar with the fact that its tiny seeds are like magic for your body as its consumption improves your overall health thus saving you from catching any infection or disease.
The seeds may look tiny but believe me, they are a pack of a mighty punch and they place themselves on the list of most nutritious fruits ever among the rest. So, if you are not in the habit of eating pomegranates regularly, it might be time to make a change.
Let's have a quick look at some of the healthy and nutritious benefits of Pomegranates:
1. It helps to hydrate dry skin
Pomegranates juices are great at replenishing your dry and dull skin when compared to green tea. Pomegranates are a rich source of vitamin C which helps to decrease the roughness of your skin and making it glower. You might also use its oil to promote the regeneration of epidermis.
2. Fights inflammation from acne breakouts
Getting a pimple on your skin can be the worst experience ever. But you don't worry anymore about getting those pimples anymore as consuming lots of pomegranate seeds could help you fight the pimple formation on your skin that affects your beauty.
The antioxidants properties present in the pomegranates will help to reduce that acne breakout and the inflammation caused by it.
3. Protects us from getting free radicals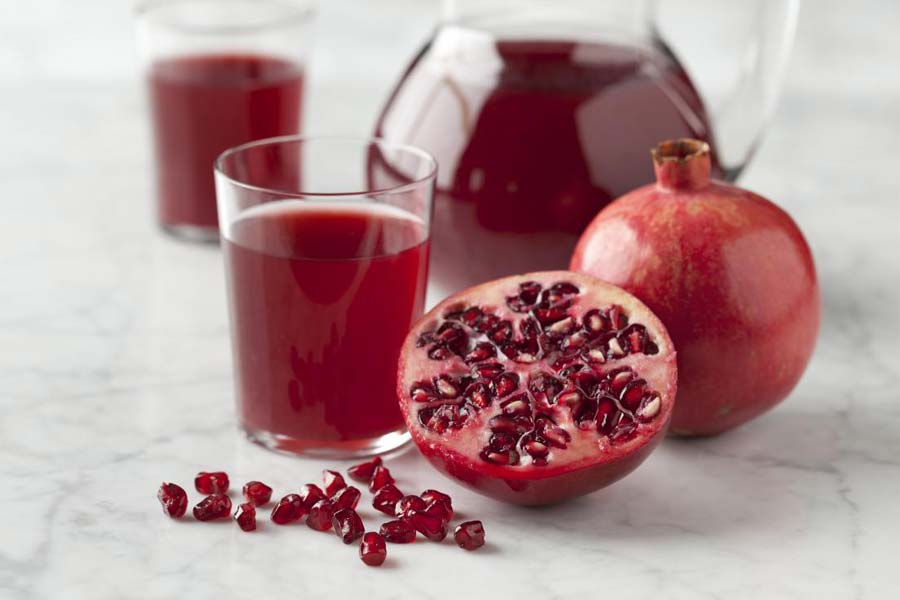 Pomegranates are really a very good source of anti-oxidants and thus it protects your body to develop free radicals which are formed when you are out in the sun for whole day long which are responsible for premature aging.
4. Improve hair health
Who doesn't likes to have the most beautiful and the nourished hair? Eating lots of pomegranate seeds can help strengthen the hair follicles as the seeds contain Punicic acid which is responsible to make your hair stronger which aids your hair to grow faster.
5. Promote weight loss
Want to have a beautiful and toned body? Eating pomegranates will help you to achieve that. Evidence has shown that increased consumptions of pomegranates help to promote weight loss due to the presence of lots of fiber content in the fruit.
6. Helps prevent cancer
It is believed that having lots of pomegranates can cure cancer. Yes, this is right, increased intake of this fruit can slow the progress of cancer formation in our body. It is due to the presence of high levels of antioxidants that aids in cleaning up cancer-causing radicals.
7. Improves digestion
Pomegranate juice can do wonder for your gut as it aids the process of digestion in your body. Therefore, it is highly recommended for those individuals who have some severe diseases like Crohn's disease, ulcerative colitis, and other inflammatory bowel diseases that hamper your digestion making you unwell.