Holi is known to be the festival of colours and joy. Gujiya, which is a popular traditional sweet filled with sweet fillings and lots of dry fruits with a sugar syrup toppings on it. This is the most loved sweets among all the age groups. Instead of trying out those boring traditional Mawa Gujiyas, try something interesting and different variations of Gujiyas that you might have never heard of before.
In this article, we have listed 8 unique types of Gujiyas that you should not miss this Holi season.
1. Rabdi Gujiya
Well, this is absolutely an amazing way to make your Gujiyas with a slight twist instead of using traditional Mawa. Mixing Mawa fillings with Rabdi will further enhance the taste of Gujiyas.
To make it more binding and tastier, you may also add cardamom or elaichi along with powdered nuts and dried fruits. Serving Rabdi filled gujiyas will surely win the hearts of your guests visiting your house.
2. Gulkand or Rose Petal Gujiya
Give your Gujiyas a rosy flavour twist by adding a Gulkand or rose petal fillings in it. Gulkand is also used in paan and a number of Indian desserts to add the heady rose flavour to them.
3. Dark Chocolate Gujiya
Sweets sound incomplete without chocolates. How about adding some dark melted chocolate in those sweet pockets of deliciousness this Holi? Sound's amazing right? This gujiya is specially meant for those who are never tired of eating chocolates.
4. Desi Coconut Gujiya
Add some desiccated coconut to your Gujiyas to give them a slight twist this holi. The crunchy coconut filling will enhance the flavour of Gujiyas. If you further want to make this variation better, try using sweetened ground coconut with flakes of mixed nuts.
5. Apple Gujiya
Who doesn't like fruits, especially apples? You can give your Gujiya a healthy twist by filling it with some chopped apples along with the usual spices, dry fruits and khoya mixture. If you don't like apples, then you may also use any fruit of your choice like pineapples or pears.
6. Figs or Anjeer Gujiya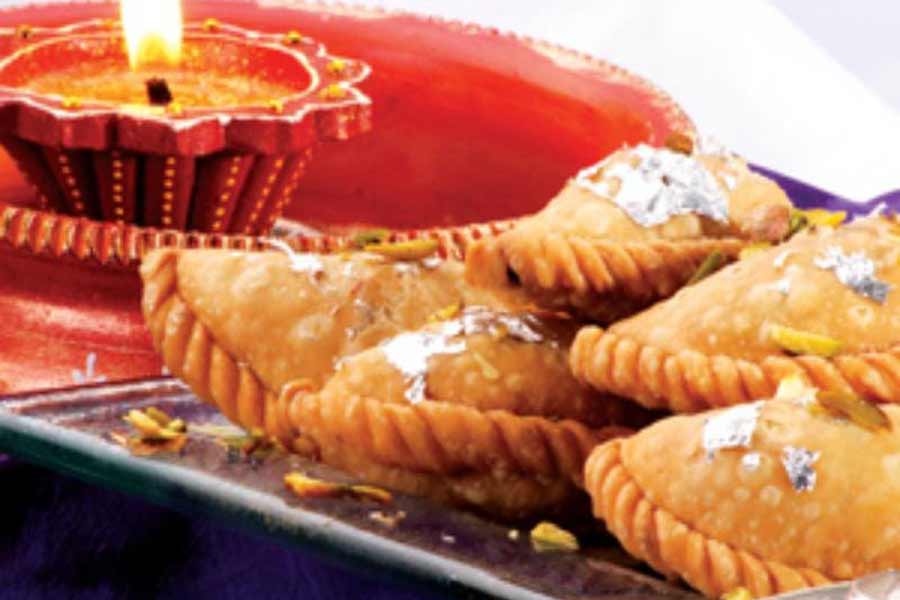 Fig or Anjeer is another classic fruit that you can use in your gujiyas to make your filling. Anjeer is also a storehouse of calcium and can make your gujiya more nutritious by mixing them with some dry fruits.
7. Halwa Gujiya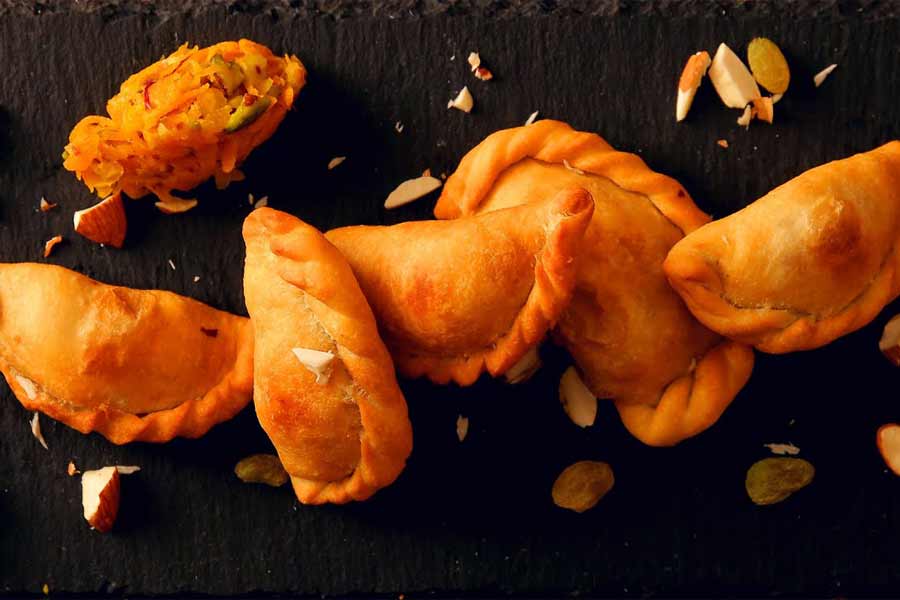 Halwa is one of all time favourite desserts of Indian families. Be it suji halwa, gajar halwa or moong dal halwa. You can give your gujiyas an interesting approach by filling them with the halwa of your choice.
8. Fresh Fruit Gujiya
Yes, you've heard right, Gujiyas can also be made by using chopped fruits of your choice like apple, pears or pineapples in its filling. Although it sounds a bit weird, but yet it is a tempting combination that you should try this Holi season.