Asphalt Basketball Court & the Benefits of Using It
Not everyone knows what a basketball court is made of. Asphalt is the appropriate material for a court. Now, asphalt court comprises of 4″ to 6″ of road rock which is compact in nature. It is done by mixing 1" of asphalt and a coating system of acrylic colour. The first step of making a basketball court is to install the stone base along with the asphalt.
It takes two weeks for the asphalt base to dry and get cured. After this, comes the process of coating with the colour base.
The Process of Applying Paint to the Asphalt Basketball Court
The asphalt basketball court is made flooded. This is done to ensure whether there is any existence of cracks or a lower surface or any kind of damages. Then the process of fixing these are as follows. This is done by a mixer of patch binder. The next step is to apply two coats of acrylic products used for resurfacing.
This is applied over the asphalt basketball court to repair any type of minor imperfections. It also acts as a seal on the asphalt surface. Then finally the court is ready for colour coating. Two layers of acrylic colour are applied on the surface. This is followed by the lines of the basketball court for playing.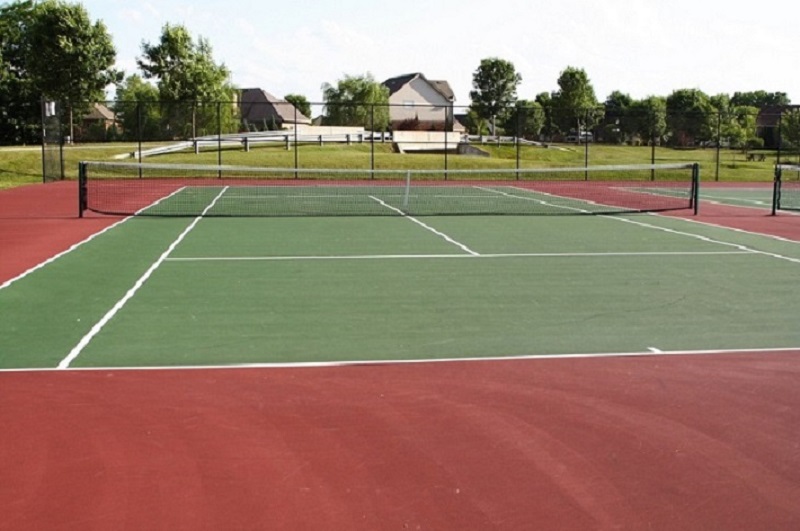 In case if the asphalt basketball court is new, then four layers of paint are required. This involves two layers of resurfacing product and two layers of acrylic colour. You will find a different range of acrylic colours. You can select any one among all as per your taste and preference and if only you are the owner of the asphalt basketball court.
Why People prefer Asphalt Basketball Court over other Materials?
Nowadays people prefer to use asphalt for their basketball court. It is popular for the faster construction process. It is more effective in minimizing prices. It is also most efficient compared to any other materials. It does not require ample time for repairing.
It is easier to service and less time-consuming. This is one of the most important reasons why most of the schools prefer to use asphalt in place of any other materials to make their basketball court. This same reason is applicable to the residences as well.
The Benefits of Using Asphalt on the Basketball Pavement
Smoother Pavement: You will get a smoother pavement as the work smoothing of asphalt cement is done with the help of a machine. These create an equal surface throughout and cannot be done by any other machine used for pavement. Asphalt helps to eliminate any difficulties in construction, like blow-ups. It also helps to repair noisy surface textures.
Effective of Cost: If you compare asphalt with any other materials, then you can get the difference in the cost after all the paving; coating and painting of lines are done. It definitely proves to be much cheaper and pocket-friendly.
Resistance Against Accidents: The asphalt used to make the basketball surface is too smooth to resist any type of accidents for any players.
On-site Improvement: This product improves on-site, that is, a layer is applied and left to set and another final layer is applied to it. This takes about two whole weeks. This also helps to get rid of muddy soil.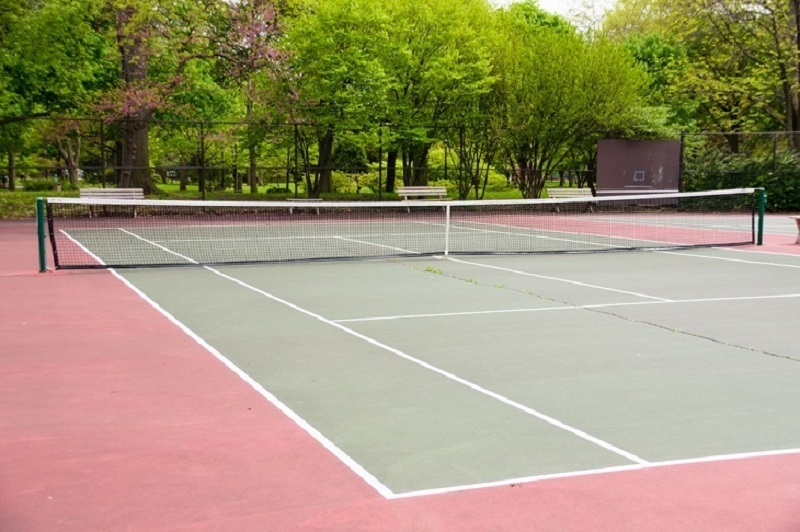 Some people hesitate to use asphalt as they are worried about the cracks that might exist. It is a thing to remember that a crack can only exist if there is a long-rooted tree near the pavement.
Always have a supportive gear if you would like to try by yourself, else there are experts to help you out.
8 Food That Diabetics People Should Avoid Eating
This is very essential that we take care of our health, as a healthy body leads to a happy life. But, it becomes even more necessary to take care of our health when we are suffering from some condition or disease. One such condition is diabetes. Diabetics need to take care of their health and it becomes very essential for them to watch their diet. They are often advised about what to eat and what not to eat. So, to help all the diabetics out there we have come up with this post that tells what all they should avoid eating.
Check the list below to know what to avoid if you are a diabetic:
1. Fried food
These are unhealthy for each one of us, but diabetics should be extra cautious about having a bite. Those with type 2 diabetes should stay far away from this.
2. Fatty food
Anything that has a high value of fat, should be avoided by diabetics. Be it full-fat dairy, like cream, butter or cream cheese all these things are high on bad cholesterol and may increase the risk of heart disease.
3. Pastries
Let us not forget to warn against these dangerous food items for a diabetic. They are not just sugary but high in fat, too.
4. Fatty meats
Fatty meat cuts are equally bad, just because of excessive animal fat.
5. Dry fruits
The sole reason to avoid dried fruit is that they are high on concentrated sugar.
6. Alcohol
Alcohol is not really advisable for diabetics since it interferes with the blood sugar level.
7. Processed Meat
Processed meats are usually made of cheap and less healthy meat portions. They are packed with sodium which can lead to a heart attack.
8. Fruits like Banana, peaches, melons
These foods are high on sugar content and can increase the blood sugar level. So try to avoid these fruits in the future.
Above Images source: Pexels/ Featured image source: Medical News Today
Meet American Artist Chelsea Chavis Who Paints With Her Breasts And Sell Those Paintings for $400
Well, that's so interesting! Meet this American woman, Chelsea Chavis who is a fabulous artist. She has turned her breasts into painting tools and sells her creations for up to $400. Chelsea who lives between New Orleans, Louisiana, and Fort Myers, Florida. Not only she uses her breasts to paint, but also she makes use of every body part to earn a living. That's great though.
The 29-year-old works under the moniker of 'Heaux' and create her vibrant works of modern art by applying paint, a non-toxic variety, to her vagina and breasts before using her body to transfer it to the backdrop.
How did she start doing this?
As a woman, she always wanted to put to the best use of her body parts to create something beautiful, humorous or maybe shocking. Well, she finally did it what she wanted. She had a thought and she filmed the whole process in a funny video and put it on Instagram. Shockingly, she had also received six orders for breast paintings and that too by all women!
Her beautiful creations started gaining popularity as she was continuously sharing her paintings online. Chelsea also had received orders from customers in New Orleans, Oregon and Canada. She has canvases available in a variety of sizes and her prices range from $40-$400. Chelsea hopes her 'boobs end up all over the world', through her artwork.
Also read: Jem Wolfie: Her Net Worth, Educational Background and Personal Life
She added
View this post on Instagram
'I'm open to anything that someone wants or they can order something I already have. Chelsea is conscious of remaining vigilant when it comes to the paint she's using, and though her paintings haven't resulted in any skin reactions yet, she admits she'll 'have to keep doing research on what the best paint is for sensitive areas in case anything starts to get irritated'.
The artist doesn't limit herself to painting in private, and as she's 'always travelling' Chelsea has made a habit of taking her supplies with her to friends' houses.
She explained
I bring all my supplies with me to my friends' houses (who are all very supportive and think it's great!) and set up a drop cloth and sit on the floor to do it while spending time with them. I like to make several things at once and sort of seeing what happens.
I have to have a wet and dry towel ready to take the paint off my body after each application. There were some trial and error in figuring out the best way to do this. So far, Chelsea's creations have been fairly abstract, but she's definitely open to experimenting more in the future.
Also read: All About Jodie Foster: Early Career, Education, Personal Life and Awards
She continued
View this post on Instagram
I have been thinking of different foods I could do, like cotton candy, ice cream and cupcakes. I also want to do a series of female and male signs with the head being my breast. I like the idea of planets, cats, & holiday themes. Abstract paintings are my favourite though, and I'd like to use colours that represent different sexual orientations and gender identities.
I'm going to keep experimenting with painting with my body parts and hopefully do entire body prints on large canvases; I'm interested to see what I decide to do myself.
Chelsea advertises her creations online on her official Instagram handle. If you are looking forward to purchasing her beautiful paintings, then you can visit her page and buy it. It would be more interesting if you try making one. What say *wink*?
Chelsea put her paintings on her Instagram page and advertise online, You can visit her Instagram page if you want to purchase breast-painting.
Also read: 25-Year-old Lual Mayen Invents Video Game To Make You Better Understand The Life Of A Refugee
101-Year-Old Italian Man Becomes The Oldest Person To Recover From Novel Coronavirus
After going through this story, you will believe in the saying that there's always hope. Today, we will share a story about an Italian man who is 101-years-old who has survived Spanish Flu during 1918 and World War II and now he has beaten this deadly Coronavirus too. The best thing is that he has become the oldest man to survive this novel virus which is making us happy, as reported by the Italian media.
His name is "Mr. P", who was admitted to the Rimini hospital-Ospedale Infermi di Rimini seven days ago after testing positive for COVID-19. You'll be shocked to know that he is not any stranger to these kinds of pandemics; he was born in 1919 while the 1918 flu pandemic was raging his town. The Spanish flu at that time has taken the lives of nearly more than 600,000 Italians except him.
A 101-year old man in Italy known as "Mr. P" has fully recovered from Coronavirus.

That means he also survived the 1919 Spanish Flu that killed 20 to 50 Million people.

Iron Man.💪❤️🌎pic.twitter.com/N9GR9rrCo4

— Rex Chapman🏇🏼 (@RexChapman) March 29, 2020
Also read: Jack Ma Donates 1.8 Million Face Masks And 100,000 Coronavirus Test Kits To Europe
After he got hospitalized, the medical staff got hopeless since COVID-19 hits many peoples who are above 65 years of age. However, according to Gloria Lisi, Vice-Mayor of Rimini, once the patient started recovering quickly, he became "the story everyone talked about" in the hospital. She said, "Everyone saw hope for the future of all of us in the recovery of a person more than 100 years old."
Almost every day we get to see so many sad stories from every nook and corner of the country. Now, this is something that stands out and tells everyone not to lose hope at this critical hour. Though this pandemic affects mostly the elderly ones, this man has survived that too.
Every day we see the sad stories from these weeks that mechanically tell about a virus that rages and is especially aggressive on the elderly. But he survived. Mr. P. survived."
After he got recovered, Mr. P was discharged from the hospital. As Lisi beautifully put, "Mr. P made it. His family brought him home yesterday evening, to teach us that even at 101 years, the future is yet to be written."
I understand it would be very hard for you to digest such a thing at this moment as everything negative is floating around you. However, Mr. P's story is undoubtedly something to behold. His case might be a rarity among many, but nonetheless, reminds us to never give in to despair, since humanity has the power to surprise you, even in the bleak and scary reality of a pandemic.
Till then #STAYHOME and #STAYSAFE at this critical hour till everything gets back to normal.
News Source: CNN
Also read: How The Coronavirus Outbreak In China Is Affecting The World Economy?