You must understand how to seal the grout if your next home improvement project entails adding a new tile element to your house. Your DIY projects will appear professionally done if the grout is sealed. The cement-like material called grout is used to seal the gaps between tiles. Grout Sealer has a porous surface like cement and absorbs grease and oils. Unsealed grout eventually takes on a permanent discoloration.
Cleaning your tile surfaces is a cinch after sealing the grout. You only need a multi-surface cleaner and a moist cloth.
Why is grout sealant necessary?
Essentially, grout is a blend of sand and cement. Grout will therefore collect water, germs, and stains if it isn't sealed. Mildew and mold are kept at bay by sealing the grout. Adding a grout sealant may make your grout water- and microbial-resistant. It also helps to preserve its appearance, texture, and consistency. It will last longer and look nicer on your grout.
How should grout sealer be applied to tiles?
Let's look at how to grout sealer may help your tiles stay looking new for a long time:
1. Get the grout ready
Clean the grout well before proceeding. Don't give up if you can't make the grout seem brand new again if it hasn't been sealed for a long time. Unsealed grout eventually becomes difficult to maintain in a pristine state. Use a tiny, stiff brush and a mild home cleanser. Strenuously scrub the area to get rid of any dirt or filth. The sealer needs a clean, smooth surface to adhere on, so produce that.
Before sealing, ensure the newly installed grout has been fully cured. Ensure that the grout and sealant will adhere tightly and smoothly. Getting rid of any apparent dust and grime and any remaining grease or oily residue is essential. Additionally, now is the time to repair grout chips or cracks. You should pick up some additional grout to correct any broken grout.
2. Select the Proper Grout Sealer
You must be sure that the grout sealer you employ is appropriate for your job. There are two primary varieties of sealer, each with advantages and disadvantages.
3. A sealer that forms films
This chemical, also known as membrane sealer, creates a protective layer on top of your grout. The barrier stops oils, grease, and other leftovers from discoloring the grout. Because they can offer a glossy or matte finish to your surfaces, it's beautiful for improving their visual appeal. Some even have many color options.
The non-porous surface of it also makes cleanup quite simple. The biggest problem with this is that water may penetrate this barrier membrane. As the water becomes trapped and unable to dissipate, mildew may develop. A film-forming sealer is not advised for high-moisture locations like showers.
4. Permeable Sealant
The name of this product refers to its capacity to penetrate non-porous materials like cement and grout. This sealer creates a hydrophobic coating that, once dry, will nearly wholly block out moisture. It is the ideal option for bathroom improvements because of this.
Penetrating sealer's sole drawback is that your grout's look remains unchanged. When the protective layer has been absorbed into the grout, it is almost unnoticeable. Although it won't enhance your interior style, the penetrating sealer will keep your tiles appearing new.
Application of Sealer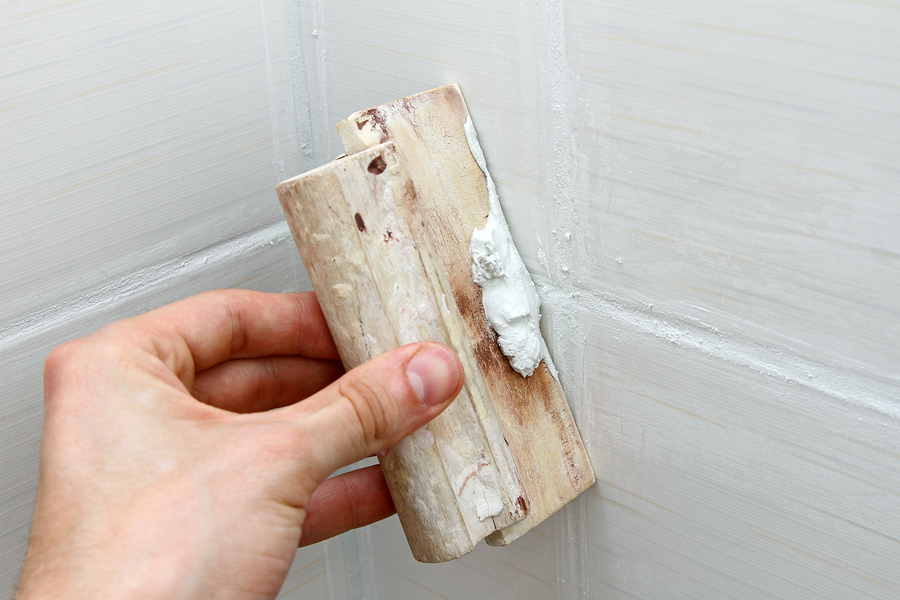 You're ready to seal your grout once you've prepared it and selected the appropriate sealer. Make sure you've chosen a fantastic day away from the sun to apply your sealer. Start your day early or late in the evening if you must work on a hot day. The sealer shouldn't dry until you are done working. Care should use throughout this procedure.
After being applied, a sealer starts to dry in approximately five minutes. After five minutes, it gets considerably more challenging to take off. Accidental sealer splotches will produce a coating that is difficult to remove and hazy. Have a clean, dry towel on, ready to use as you go to wipe off any extra sealant. To apply grout sealer, use a sponge brush. Additionally, you may buy tiny paint rollers, which are excellent for applying sealant in the narrow areas between tiles.
To get a good seal, you could require two or three coats. Several sealants are also offered in aerosol spray cans, facilitating rapid and straightforward application. Wait for the sealer to cure for about fifteen minutes after completing the first application. To remove any leftover sealant, use paper towels. Sprinkle some water on the dry sealer to gauge the strength of the seal. If it starts to bead up, the seal is finished. If not, apply a second coat.
Be patient and double-check your work
Examine from many perspectives. Sometimes shifting your viewpoint can let you see a tiny globe previously invisible. To ensure you haven't missed any places after applying your last layer of sealer, do one final pass with the paper towels.
After finishing your task, avoid stepping on any tiles for the following three hours. If you do, grout surface defects might be caused by debris from your shoes or even pressure from your feet.
The advantages of using a high-quality solvent sealer to seal grout include the following:
Grout that has been adequately sealed
Applying a layer of waterproof material to your grout and sealing it with a powerful solvent sealer can prevent moisture absorption.
Because sealed grout does not absorb any dirt or liquids that may damage its pores, it also does not break or disappear.
There is no concern about your tile joints coming loose once your grout lines are secure.
Once your grout sealer, mold or mildew can't possibly grow at the root level. These would increase inside the pores of open grout and swiftly spread to the remainder of the surface.
Your grout's integrity and beauty are preserve and kept intact for a long time with the aid of sealing.
Conclusion
Choosing the finest grout sealer could be challenging because so many are available on the market. It is essential to use a grout sealer since it will shield your grout from moisture and make it water-resistant. This will keep any microbial growth and dampness away. The texture, appearance, and consistency of your grout are also prolonged with a grout sealer. It shields it from the hard-to-remove accumulation of mold and mildew.
Also read: Best Driveway Sealers for Concrete and Asphalt Surfaces