Akash Ambani and Shloka Mehta's wedding was no less than a costly affair. Their wedding has almost every top-notch celebrity right from the politicians, Bollywood stars and some iconic cricketers. We all know that Mukesh Ambani and his wife Nita Ambani has left no stone unturned to make his son's wedding a star-studded affair who graced this occasion by their presence.
The wedding ceremony took place at the Jio World Centre in Bandra Kurla Complex, Mumbai on Saturday i.e. on 9th of March.
Which has witnessed several cricketers on their guest list
# Sachin Tendulkar
A list of iconic personalities from the world of cricket was led by the cricket legend Sachin Tendulkar along with his wife Anjali Tendulkar at the grand wedding of Akash Ambani with Shloka Mehta.
Sachin Tendulkar wore a wine colored kurta while Anjali wore a Gujarati style sari making them both look very simple and elegant at the same time.
# Zaheer Khan
The royal wedding also has the presence of ex-cricketer who has left the world of cricket recently.
Yes, we are talking about Cricketer, Zaheer Khan who got married to an actress who is her wife, Sagarika Ghatge who played an outstanding role in Chak De India movie along with Bollywood cricketer, Shahrukh Khan.
# Pandya Brothers
If we talk about more and go ahead with the cricketer's guest list, the wedding was also attended by the Pandya Brothers- Hardik and Krunal, who are part of Ambani's Mumbai Indians' Indian Premier League (IPL) team.
They both were accompanied by Krunal Pandya's wife Pankhuri Sharma.
# Parthiv Patel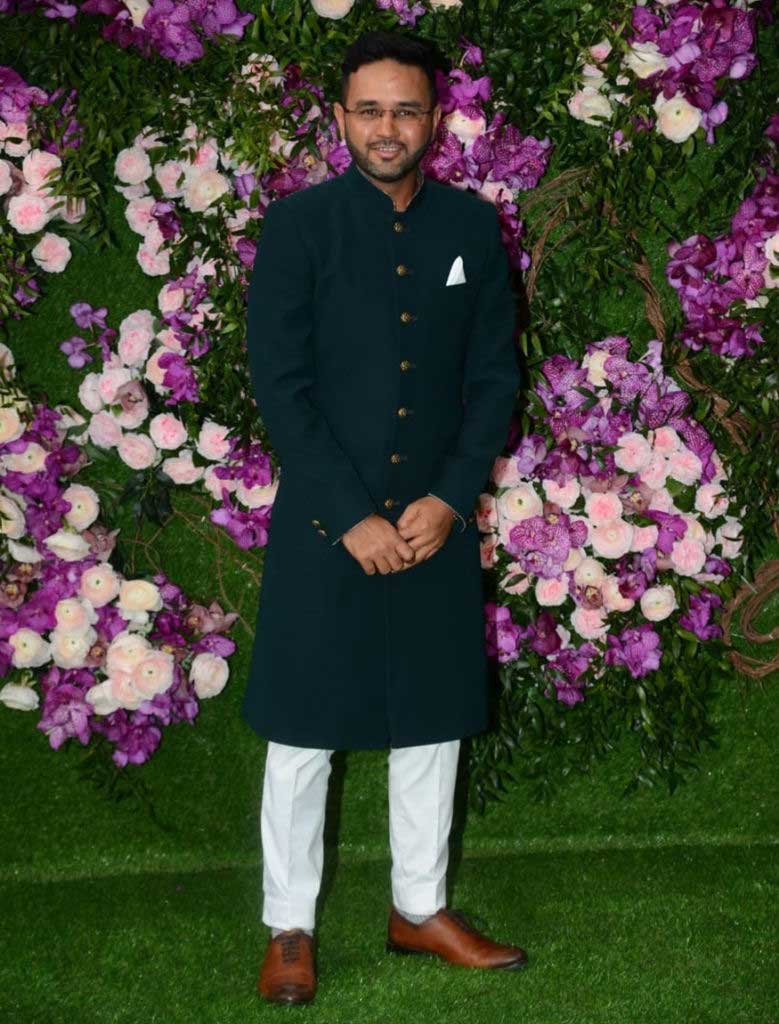 Cricketer Parthiv Patel was also spotted at the royal gala wedding event which was held at Bandra Kurla Complex (BKC). He was spotted in a classy blue achkan paired with white pants which make him looked very simple and elegant.
# Ajinkya Rahane
The wedding has also had the presence of Ajinkya Rahane and his wife Radhika who made their special appearance at the grand wedding of Akash Ambani and Shloka Mehta in Mumbai.
# Harbhajan Singh
Harbhajan Singh along with his wife Geeta Basra also had attended the grand wedding of Akash Ambani with Shloka Mehta. They were accompanied by their little daughter, Hinaya Heer Plaha who was nicely dressed in a grey dress.
# Mahela Jayawardene
Mahela Jayawardene, who is a current coach of IPL team Mumbai Indians, was also seen in attendance of the ceremony.
# Mitchell McClenaghan
One of the leading cricketers among all of them, Cricketer Mitchell McClenaghan was also spotted at the wedding of Akash Ambani and Shloka Mehta.
# Kiran Moore
We have also spotted the presence of the former Indian wicketkeeper Kiran Moore along with all of them at the royal wedding function of Ambani's in Mumbai.
Above all of this, the wedding function also has the presence of some who's who of the country to whose presence make the wedding event of Ambani's and Mehta's literally a star-studded affair that went for almost 3 days in Mumbai.
Some global icons like Sundar Pichai, who is the CEO of Google was also spotted at the Akash Ambani wedding apart from these iconic personalities from the world of cricket.