From the first casinos in Italy to the French soldiers who took Roulette to the US and from the casino typhoons in Vegas to the most successful people in gambling; it won't come as a surprise that the world of gambling is dominated by men. Women are often regarded to take less risks than men explaining why this industry is so driven by venturesome men.
In recent years, women, however, have found their way to the industry with some of the biggest online gambling brands of the world owned by a woman, the biggest land based casinos in Macau owned by a woman, and some of the best female poker players in the world successfully competing with men. Increasingly, women have shown that being successful in the world of gaming is not limited to gender anymore.
Let's take a closer look at the achievements of 7 female gamblers in history who have managed to break stereotypes. The list below has been provided by KiwiGambler and is presented in a random order. For exclusive promos we recommend checking out their site.
1. Alice Ivers Tubbs
Alice Ivers Tubbs "Poker Alice," is a legend among poker players, at least among those who know everything about the game. Tubbs was born in 1851 in Devon, England, but moved to Virginia, US, where she was raised.
She got interested in poker when she met her first husband, Frank Duffield, who was a poker player, and got killed a few years after their first meeting.
After the death of Duffield, Tubbs started to play poker professionally and became very successful and respected. The poker tables were dominated by men with Tubbs being able to break stereotypes and earn her nickname "Poker Alice". Tubbs made hundreds of thousands of dollars which was a lot of money, especially at that time.
2. Eleanor Dumont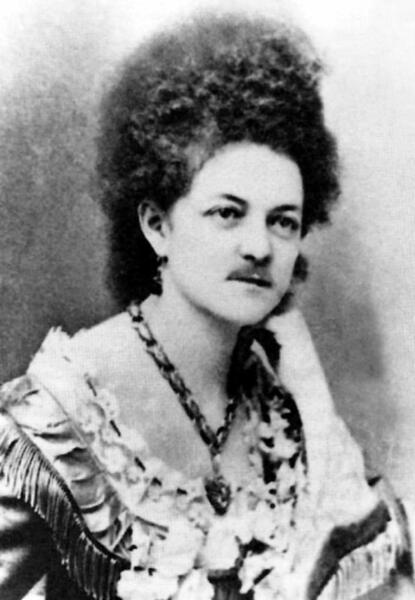 The presumably French born gambler Eleanor Dumont was nicknamed "Madame Moustache" due to a line of dark hair seen on her upper lip. The birth place of Dumont is unconfirmed. It is possible that Dumont was born in the city of New Orleans to French Creole parents. Dumont arrived in Nevada City in 1854 where she got around as a single woman in a city that was living the gold rush era.
In Nevada City, Dumont established a betting parlor where games of chance such as Blackjack were offered. Dumont was known as a skilled dealer and her flawless playing style.
This did not avoid the fact that she misjudged a play during a night out in California and suddenly owed a lot of money to other players. That night, she committed suicide by taking an overdose of morphine.
3. Katy Lederer
Born in 1972, Katy Lederer is mostly known as a Jewish-American-born poet. As a sister of poker player Howard Lederer she got fascinated by the table game as well and released the book "Poker Face: A Girlhood Among Gamblers" in 2003 which described her role as a woman in a world that is dominated by men.
Apart from writing the book about poker, Lederer was also known as a skill poker player from which she retired to focus on poetry. She made her poetry debut in 2002 with poets that were loaded with erotic messages.
4. Vanessa Selbst
Also Jewish-American and born in 1984 in Brooklyn, New York, Vanessa Selbst, was once considered one of the best poker players in the world. She has won World Series of Poker bracelets which according to poker experts is thanks to a combination of strategic skills and smart analytical thinking.
During her career as a poker player, Selbst showed the world that there is no gender-based barrier anymore when it comes to being successful in poker. Selbst retired from poker in 2018. Selbst also holds a J.D. at Yale Law School.
5. Judy Bayley
American born Judy Bayley (1915), was known as one of the most notable figures in the casino industry in Las Vegas. This was partially thanks to the dreams of her husband, Warren Bayley, who made her roll into the industry.
The couple moved to Las Vegas where they established the Hacienda, a hotel casino that became highly sought after by both American and international gambling enthusiasts.
When her husband died in 1964, she took over the venue and made it an even bigger success, despite not having any entrepreneurial skills. Bayley died of cancer in 1971 at the age of 56, only 6 years after her husband died. The Judy Bayley Theater in the city of Las Vegas holds her name.
6. Patricia Demauro
Known as the Goddess of Craps, Patricia Demauro holds the record for the longest craps roll ever. The grandmother from Denville, New Jersey, made the craps conqueror roll 154 times throughout a period of 4 hours and 18 minutes. This is still a world record according to the Guinness Book of World Records, making Demauro one of the most remarkable figures in the history of craps.
The amount of money that Demauro won at the craps table remains unknown. Neither Borgata Hotel Casino in Atlantic City, New Jersey, where the record was set, nor the record breaker, have been willing to share the numbers of the win.
7. Denise Coates
The British gambling entrepreneur Denise Coates is labeled by many as "The Ultimate Gambler" as she and her brother John Coates went ahead and took the risk to use a mortgage to set up a bookmaker. In 2000, she used all the money to launch Bet365, which is now known as one of the biggest gambling sites of the world.
With her wealth reaching $ 7,7 billion in 2023, Coates has definitely made sure she lives up to her name. Coates is listed by Forbes as one of the most influential and wealthy women in the United Kingdom.