Health Insurance: Its Benefits and Types
In today's fast-paced and hectic lifestyle, the rise in health risks is inevitable. People are pushing themselves to the limit to achieve financial and job success, which in turn leads to putting their health on the back burner. Even advancing technology and our ever-increasing dependence on it such as rising number of cars on roads, ACs, and other large appliances contribute to the high levels of pollution in the atmosphere which leads to various health issues.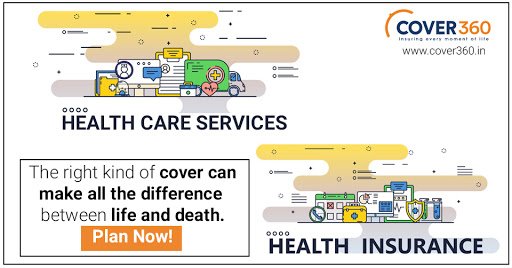 In these modern times, where medical care costs are going through the roof, HEALTH INSURANCE plays an extremely vital role in safeguarding you from the financial burden you may find yourself under.
In India where majority of people are in low-income to low income tier, end up being under great financial stress and have to then borrow money from friends or family which puts them in heavy debt, in such cases Health Insurance can prove to be a blessing as it will spare you the pressure of being indebted and will help you avail the best medical healthcare in India.
There are many numbers of companies providing a variety of health insurance plans in India. The customer has to compare the various advantages and services according to their needs. These plans can be classified as follows:-
Premium and Coverage:  There are many companies in the market providing medical insurance in India at the same premium but it is crucial to see the coverage provided at that premium such as Room rent, OPD, Nursing care, Medical consumables, Hospitalization Cash Benefit, Coverage of Critical Illness and other benefits.
Cost sharing: It refers to the part of the cost of services which is covered by the insurance plan which is supposed to be paid by the consumer. Deductibles, coinsurance, and copayments come under cost sharing.
A deductible is a minimum amount that is paid to the insurers before your plan begins as part of the medical expenses. The consumer pays for this amount on an annual basis.
In Co-Payment, to avail the benefits of health insurance the consumer has to pay a fixed sum for certain insurance plans especially those which make the policyholder entitled to avail expensive medical treatments.
In Co-Insurance, many insurers keep a clause where the consumer has to pay a certain percentage of the expenditure covered by the health care policy. It may vary between 20 and 30 percent.
Basic hospitalization cover: This insurance policy covers the cost of accident and illness. Be sure to buy this basic policy if you can't afford a comprehensive health insurance plan.
Sum Assured:  In different cities, the cost of health care varies. Cost of medical care is much higher in big cities compared to smaller ones. So accordingly the consumer has to choose the best plan with a suitable sum assured.
Family Floater Policy: The major advantage of this policy is that each member of the family can utilize the sum assured either individually or collectively. It is cost effective and can help the policyholder save on the premium.
A separate policy for parents: Under this policy the sum assured is calculated on the basis of the age of the eldest family member. It is hence most advantageous to have a separate policy for your parents.
Special Features: Floater facility, Room rent capping, ICU capping, ambulance charges for transportation of the patient, bonus for claim-free years, health check-up for claim free years are the special features which vary according to the plan you choose.
Daycare procedures: Be sure to check the diseases covered under the daycare procedures before choosing the health care policy.
CONCLUSION:-
Choosing a Medical Insurance plan in India is an important and necessary decision which should not be avoided or delayed by anyone. The consumer should choose the insurance plan based on their needs and cost of health services in the area they are staying in.
Cover 360 is providing the best health insurance policy in India at an affordable cost and various benefits. By opting policies through us, the consumer can enjoy low premium rates and high returns and provides several treatment options.
6 Amazing Benefits You will Experience If You Stop Wearing Bra
Since our childhood, we have been taught that wearing a bra is an important thing or it's treated more like a ritual which we all girls must follow whether we like it or not. No doubt, wearing a bra under your clothes makes you look attractive, they help you put together and balanced, support your breasts, etc. The bra is usually a symbol of the feminine and it's pretty normal to wear daily. But do you know you will have many benefits when you ditch wearing a bra?
Have a look at some of the amazing benefits that will improve your health, your life and of course your breasts by bidding adieu to your tight bras.
1. It will improve the shape of your breasts
You might have heard people saying that if you don't wear a bra, it will cause your breasts to become saggy. As per the French study, it has proven that wearing a bra can cause your breasts to lose their shape. Say no to bra today, if you want to keep your breasts rounder, perkier and beautiful.
2. You get better sleep during the night
Sleeping overnight with your bra on can cause breast cancer but this notion hasn't been approved till now. But this is true that wearing a bra on your bed disturbs your sleep.
Also read: The Perks of Wearing A Bra
3. Helps boost your blood circulation
If you are in a habit of wearing tight clothing, especially tight bras. Your blood circulation will get hampered for sure. Skip doing that right away as it's harmful to your health.
4. Not wearing a bra will improve your breast's health
Not wearing a bra has many advantages that will offer benefits to your health as well as your breasts. It will help improve the blood flow, keep away the sweat and dirt, you will not get rashes, infections, and acne on your breasts and so on.
Also read: 9 Expert Tips to Choose the Right Bra for You
5. The most important one, it will help you save some money
Yes! We all know that bras are pretty expensive if we go for the branded ones like Amante, Body care, etc. No matter how much our bras cost, we need to buy them. So, how about ditching a bra and decide not to wear them whenever it's possible and seems not awkward to you. This way you save lots of money and spend that money somewhere else which is more important to you.
6. You feel more free and comfortable
Yes, this is true that when we don't wear a bra, we feel much freer and more comfortable. What a relief we get after taking off that bra after work at home. So, girls what are you thinking now? Give yourself the whole-day comfort by saying to no to itchy and lacy bras that give you discomfort and distract you from your work.
Also read: 5 Bra Tricks That Will Be Your Life Savior
Four Ways To Enhance Your Wellness
There are many ways to improve your health and wellness – from following a nutritious diet and exercising regularly, to starting a new hobby and socializing more. Adopting healthy lifestyle habits is an excellent way to improve both your physical health and mental well-being.
With this in mind, here are four simple ways to enhance your wellness.
1. Exercise regularly
Exercise has several incredible benefits to your overall health and wellness. Firstly, regular exercise helps you achieve your fitness goals, maintain your ideal weight, and reduces your chances of developing health conditions like diabetes and heart disease. Along with the physical benefits, exercise can also improve your mental wellbeing by boosting your self-esteem and improving your mood.
This is because physical activity releases endorphins in the brain that create feelings of happiness and reduce feelings of stress and anxiety. To reap the benefits of exercise, it's recommended that you engage in around 2 ½ hours of moderate-intensity exercise every week. To give you an idea, this equates to around a 20-minute brisk walk every day.
2. Start a new hobby
Hobbies can be an excellent way to add challenges and excitement into your life. They can also be a great opportunity to improve your social engagement by allowing you to join local groups and meet like-minded individuals in your area. There is an endless choice of fun and inexpensive hobbies to choose from.
Some popular hobbies include gardening, sports, sewing, dancing, and cooking. If there's a particular hobby you're interested in, then try learning the basics to see whether you enjoy it.
Also read: 8 Proven Health Benefits of Jaggery on Your Body
3. Look after your health
Caring for your health is crucial to your overall wellness. Following a nutritious diet, making healthy life choices, exercising regularly, and following a good dental hygiene routine, are all effective ways to care for your health. You should also schedule regular appointments with your doctor to have your blood pressure, cholesterol, and other key health indicators assessed.
Remember that it's natural to fall ill from time to time, but regular ailments aren't normal. Help speed your recovery by seeking medical advice as soon as you notice any symptoms and always follow the recommended treatment.
Fortunately, there are many advanced treatments available to help restore your health and wellness. For instance, IV flu recovery provides the perfect fluid, medications, and nutrients to help you recover from the flu, thus helping you to avoid lengthy recovery periods.
4. Take some 'me time'
Taking the time to relax and unwind is essential to your physical and mental wellness. Too much stress can lead to many health conditions including heart disease, insomnia, and depression. Hence why you must schedule some well-deserved 'me time' into your daily schedule. This will give you the chance to focus on your wellbeing and deal with any stress in a calm environment.
Some effective ways to relax include enjoying a warm bubble bath, taking a walk in the park, or catching up with your favorite TV programs. Remember that it's important to take the time to unwind and have a much-needed break from your daily responsibilities.
Also read: 6 Bad Habits That are Not Good for Your Health and You Should Try To Avoid Them
All Images source: Pexels
Scientific Study Proves That Sipping A Cup of Tea Regularly Boosts Your Brain Health
Now, what's more relaxing than sipping a cup of your favourite tea or coffee after you end your hectic schedule at work? Yes, nothing could beat the taste of tea and the instant relief that it gives when you have it. Besides boosting the brain's health, tea consumption, especially green tea lowers the risk of heart disease, cancer, and diabetes, according to Harvard Medical School. There is a myth also that is associated with drinking tea and that is too much of it is not good, it damages your health and whatnot.
Relax! Everything was just wrong. Don't believe me? Have a look at why I am saying this? Now you can set back and relax while having a sip of your favourite tea at home or work and see your brain's health got improved. See how?
Researchers found that drinking tea too often organizes your brain regions
According to the scientific study, researchers have found out that drinking tea could be good for your brain health. As per the new study conducted by the National University of Singapore (NUS), drinking tea regularly helps boosts brain health as compared to non-tea drinkers. Drinking tea too often organizes brain regions and are associated with healthy cognitive function, which protects your brain from age-related decline.
Also read: 8 Bizarre Tea flavours You Might Have Never Heard Of!
The study was a combined effort of the University of Essex and University of Cambridge
NUS researchers in collaboration with the University of Essex and the University of Cambridge have analyzed neuroimaging data of 36 older adults aged 60 or above. Their research has come up with the benefits of drinking tea on your brain.
Apart from analyzing the benefits of drinking tea on the brain's health, researchers have also analyzed certain other factors about the individuals like the health, lifestyle and psychological well-being of those who have participated in the study.
Also read: You Should Aware of 8 Serious Problems Caused by Consuming Too Much Tea
Drinking tea at least 4 times a week for about 25 years better organizes your brain health
The research findings are published in the scientific journal Aging, the study found that participants who consumed tea either green, oolong or black tea at least four times a week for about 25 years had more organized brain regions than the non-tea drinkers.
To explain the benefits of tea consumption on the brain, Dr. Feng has compared the functionality of brain with the road traffic efficiency, where he explains brain regions as destinations and the connections between brain regions as roads. He further explained that when a road system is better organized, the movement of vehicles is more efficient.
Also read: How To Drink It for Maximum Health Benefits of Green Tea
In the same way, when the connections between brain regions are more structured, processing of the information is more efficient.
Road Ahead
Now the researchers are planning to examine the effects that tea and bioactive elements found in it have on cognitive decline. Now you know that how drinking a cup of tea is healthy for your brain and overall health. So, chillax and grab a cup of tea without worrying about its side effects on your health.