The passing of the 2018 Farm Bill legitimized the use of hemp products with less than 0.3% THC. Consequently, hemp products are now more popular than ever.  Two of the most popular products with hemp extracts are CBD gummies and hemp gummies. Even though they have active ingredients from the same plants, they are different and usually produce different effects on the body.
So, looking at hemp gummies vs CBD gummies, what are the differences?
What are Hemp Gummies?
They are usually gummies infused with hemp seed oil. Hemp gummies don't have cannabinoids, including THC and CBD. They mainly consist of essential fatty acids, trace minerals, and vitamins. They are only made for one purpose of providing users with nutritional benefits.
What are CBD Gummies?
These are chewy edible candies that are infused with cannabidiol (CBD) oil. They contain CBD as their active ingredient but may also have other cannabinoids, including THC. CBD gummies are usually available in various concentrations, colors, sizes, and flavors. They are also versatile and can provide a huge array of health benefits.
What's the Difference between Hemp Gummies and CBD Gummies?
What mainly makes CBD gummies and hemp gummies different is their ingredients. Even though both CBD and hemp gummies for sale come from hemp plants, they are made with different parts of the plants.
CBD gummies contain cannabidiol as their main active ingredient. The cannabidiol compound is mainly found in large amounts on the surface of hemp flowers covered with trichomes. So, manufacturers usually extract trichomes and transform the plant compound into cannabidiol extract.
From there, the cannabidiol liquid is then infused into a gummy base using an organic solidifier such as gelatin or fruit pectin and agar. To enhance the taste, most manufacturers use fruit juices or organic cane sugar.
Apart from CBD, edible gummies can contain other plant ingredients such as other cannabinoids and terpenes. So, you are likely to find three types of CBD products: isolate, broad-spectrum, and full spectrum.
On the other hand, hemp gummies are usually made with hemp seed oil. Take note that the oil usually comes from hemp seeds and so they lack any cannabinoid content. The cold pressing of the seeds leads to the mechanical extraction of the oil which is then infused with gummies. While CBD gummies can be extracted using multiple techniques such as solvent extraction or supercritical CO2 extraction, hemp seed oil can only be extracted mechanically.
What are CBD Gummies Good for?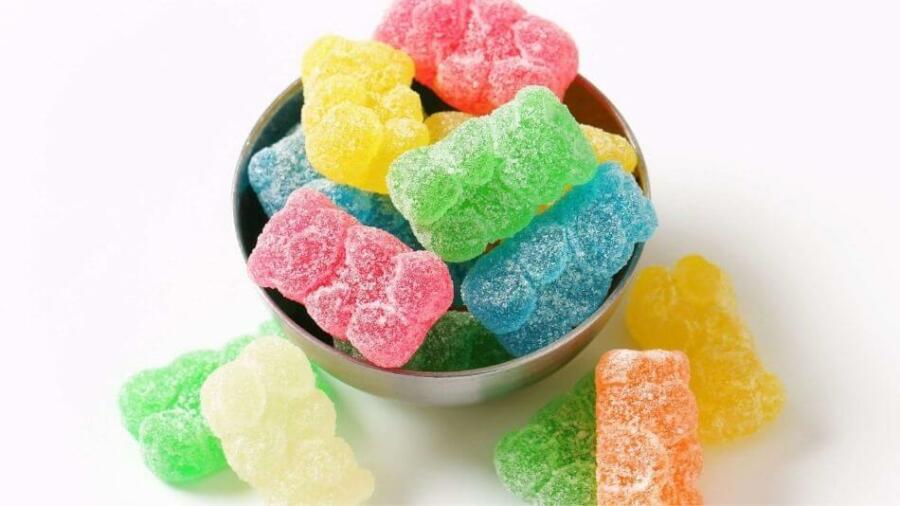 CBD gummies are versatile. You can find them in various flavors and concentrations. Besides that, they are usually made for different purposes to provide users with an array of health benefits. CBD gummies are good for managing:
1. Anxiety
Cannabidiol has strong anti-anxiety properties that can help ease symptoms of anxiety. Besides that, taking products such as CBD gummies for anxiety can also help ease common anxiety inducing triggers such as stress.
2. Neurological disorders
According to researchers, CBD gummies may provide positive effects on people suffering from neurological disorders. Therefore, it can help improve the quality of life of people suffering from conditions such as Parkinson's disease. 
3. Sleeplessness/Insomnia
Taking CBD gummies infused with melatonin can lead to better sleep quality. The edibles can ease pain, inflammation, stress, anxiety, and restlessness that usually interfere with sleep patterns.
4. Pain
Taking CBD gummies can provide the body with analgesic properties to ease the pain. Research shows that they are great alternatives for addictive opioids. Thus, you can use CBD edible gummies for lower back pain, migraines, nerve pain, etc.
5. Inflammation
A 2016 study found that giving rats suffering from arthritis CBD led to a reduction in inflammation. With its anti-inflammatory properties, CBD might be ideal for treating conditions such as inflammatory bowel syndrome and arthritis.
Addiction treatment: According to some studies, CBD can help counter dependence on substance abuse. 
What are Hemp Gummies Good For?
Hemp gummies are good for providing nutritional benefits. Their nutritional value is beneficial in aiding better digestion, reducing inflammation, pain relief, and improving skin health.  The presence of omega-3s and omega-6s in hemp can be good in improving brain function.
So, if you feel like your productivity is declining, taking a couple of hemp gummies can help clear brain fog.  The presence of essential fatty acids, vitamins, and trace minerals makes these gummies good for improving cardiovascular health.
Hemp Gummies vs CBD Gummies: Which is Better?
The best product between the two depends on your personal preferences and needs. Hemp gummies are ideal for providing the body with nutritional value. Meanwhile, CBD gummies have therapeutic benefits and can be ideal for promoting good health.
Where to Buy Hemp Gummies and CBD Gummies 
You can buy CBD gummies and hemp gummies locally in stores near you or online. However, the best place to do so is online, directly from the manufacturer's website. It's worth noting that you can't find the most popular CBD gummies from 3rd-party retail outlets. Retail giants such as Amazon don't sell such products and in case you come across some, chances are that they are fact.
Even so, when doing your purchases in general, ensure that you requested a certificate of analysis to verify the contents of the hemp product. Reputable manufacturers in the industry usually subject their products to independent lab tests by 3rd-parties. Additionally, check the source of the hemp extract and other customer reviews.
Closing Thoughts
From this comparison overview, it's evident that both CBD and hemp gummies have different effects. As a result, they are ideal for use for different purposes. Hemp gummies provide an easier way of adding nutrients to your wellness regimen. They are rich in vitamins, omega-3 fatty acids, and trace minerals that the body needs.
Meanwhile, CBD gummies are ideal for promoting good well-being by providing therapeutic benefits. You can use them to manage mental and physical health issues. This includes pain, inflammation, anxiety, stress, and sleeplessness. For best results, ensure that you buy high-quality products from reputable retailers. This is because the hemp industry isn't regulated by the FDA.
Also read: What is The Difference Between CBD and THC? Health Benefits of CBD and THC