When you plan to upgrade our kitchen, we usually have a vision. Some parts of the vision will come to life whereas, some parts will remain just that, a vision. We have to understand that while improving our outdated kitchen may not turn out exactly as planned, but if we are careful to keep in mind our end goal, you will get an amazing kitchen to enjoy. And, who knows? The end result might be better than what you could have ever imagined.
Read on as we list a few improvement ideas for your kitchen.
1. Paint Your Kitchen Cabinets in An Appealing Color
If you were to make a list of the most used things in your kitchen, chances are your cabinets will be in the top three. Since the cabinets act as a storehouse for groceries, ingredients and other things, they can get an aged look with scratches, dents, or grease marks. While installing a new cabinet might not be feasible for all of us, painting your kitchen cabinets in a fresh coat of paint surely can be.
We will advise you to opt for lighter colors since they can brighten the kitchen while giving an illusion of a larger space. In addition to this, the stain can also conceal any defects that may be on the cabinets due to daily use.
Remember to mend the cabinets before you paint. Fill in any holes or nicks with putty before you start painting for a smoother surface. Until the paint dries, keep it out of bounds for children and pets to protect your hard work from going into vain.
2. Take into Account Your Kitchen Hardware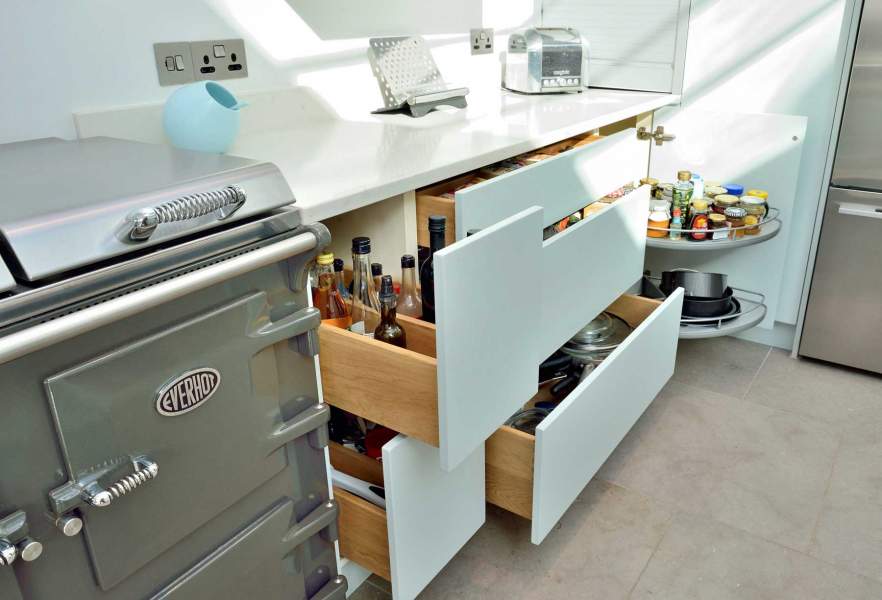 Although they might look insignificant, kitchen hardware is quite a prominent part of your kitchen. It's often said how it's the little things that matter and it's especially applicable for your kitchen.
Try to go for functional yet sophisticated pieces of hardware such as kitchen faucets, drawer pulls, doorknobs or back pulls, handles, and so on. These pieces will help to complement your kitchen making it look as good as new. Keep in mind to choose hardware pieces that go with the theme or vibe of your kitchen.
Also read: 6 Must-Have Kitchen Accessories That will Breathe Some Life into Your Household
3. Change the Flooring of Your Kitchen
In addition to being versatile, your kitchen floor can also be a major interior statement to add more personality to your kitchen. You have to put in careful thought and consideration when you are selecting the material, texture, and color for the flooring for the kitchen.
For example, you can go for wood flooring if you want a warm and comfy look for your kitchen while opting for stone or tile could be great for heavy traffic areas. The best part here is that, at the moment, there are so many designs along with decorative borders available in the market that finding the correct flooring will never be a problem.
4. Take Out Time to be Declutter Your Kitchen
One of the main reasons why your kitchen gets an outdated look is because unnecessary and broken things start piling in your kitchen. Not only does it give an untidy appearance to space, but it can also take up a lot of precious property. You need to throw out empty soda bottles, containers, old utensils or appliances, and so on.
Remember, that reorganizing your kitchen will take a lot of time, maybe even days. But, in the end, you will be surprised how improved your kitchen will look without you having to spend a single penny. Decluttering is a very important part of any remodeling or improvement activity for every single room of your house.
Also read: 4 Amazing Kitchen Ideas for a Beach Kitchen You Will Love
5. Install Advanced and Modern Appliances in Your Kitchen
Thankfully there is a wide range of appliances available in the market that can make the entire process of doing kitchen chores easier and efficient. Appliances like a dishwasher, coffee maker, oven et cetera can be perfect additions to that add a touch of luxury to your kitchen.
A dishwasher, for example, can make the task of doing the dishes really simple. Similarly, if you enjoy a fresh cup of coffee or baking, you can opt for a coffee maker and oven respectively. You see, these appliances not only add value to your life, but they can be the perfect elements to give a more modern and advanced look to your outdated kitchen.
6. Incorporate Decoration Pieces and Artwork in Your Kitchen
Art has always been a perfect way to express yourself or add personality to any place. Showpieces even can be instrumental to add more drama to the look of the space. Since these installations already have a fresh look, that outdated feel that you want to get rid of can be easily overcome. Don't be afraid to explore the bold side of yours if you prefer unconventional pieces of art as well. Everything goes provided the overall view doesn't look jarring.
As for showpieces, make sure that they don't become obstacles when you are cooking or cleaning the kitchen and hence, place them in appropriate positions. While you are installing showpieces or any other decorative, make sure that these don't turn out to be hurdles for you. Place them in places that can make your kitchen look pretty without creating any obstacle when you do your kitchen chores.
There were a couple of improvement ideas that can help you give a fresh makeover to your outdated kitchen. Remember that whichever idea you choose to go ahead with, you still need to plan to make sure in a way that all the elements complement each other.
Also read: How to Clean Under the Kitchen Sink?