Well, we have different authentic brands like Adidas, Nike that never fails to disappoint us. Till now, they have designed many awesome shoes that one just can't refuse to wear. Now, something very unique has come up which may surprise you. Yes, have a look. A Brooklyn based creative label, MSCHF has designed shoes with Jesus's blessings on it and sole filled with holy water. Yes, true that. Jesus will be there on a pair of shoes? That's truly incredible, right? And why would you not want to take those shoes on which Jesus's blessings are there?
Soon after the launch, shoes were sold off
That's true when Jesus blesses a shoe, it gets sold out in minutes!. One of its kind holy water-filled sneakers has gone out of stock within a few minutes of launching them at a whopping price of USD 3,000.
Jesus Shoes are designed by Brooklyn based company MSCHF
The very unique type of shoes has been designed by Brooklyn-based creative label, MSCHF. The special feature of these shoes is that they are injected with holy water from the Jordan River at the bottom and was blessed by a priest. If you will have a closer look at the shoe, you can see the river's water is floating inside the sole. They have added some colour too to increase the visibility of the water inside the sole.
New shoes were recreated using Nike's Air Max 97s trainers
Nike has no affiliation with this creation. Their Air Max 97s trainers were repurposed into Jesus Shoes.
What's unique about the shoe?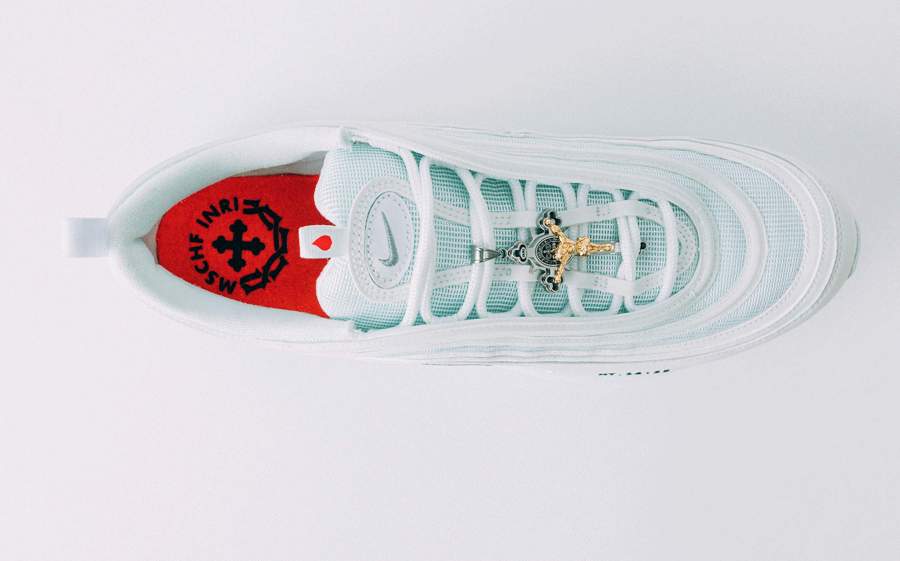 You must be thinking that holy water has soared up the price of this shoe. But it isn't like that. There is another unique feature that makes this shoe special and that is the Bible verse Matthew 14:25 — the passage that describes Jesus walking on water on the side of the shoe along with a single blood drop to represent Christ's blood.
Not only the shoe, but its packaging is also religious
If the shoe itself is so religious how is that possible that it's packing would be normal? The shoebox displays an angel along with a seal that resembles the official papal seal.
Road ahead
The founder of the brand, Gabriel Whaley has given a hint that they might be announcing second shoes very soon in the future.
What netizens have to say about this creation?
After this creation coming out, several people were shocked to such a thing.
One Twitter user wrote
So. Jesus shoes are a thing that exists. They have water from the river Jordan in the sole. I have no words. pic.twitter.com/rkSHxBDnBS

— Mistress of Shitposzing™️ (@shitposzting) October 9, 2019
Another user described
What a degrading and disrespectful concept to wear these symbols on your feet and touch the filthy ground. I wonder if others would tolerate poking fun at their beliefs and making profits nonetheless ?

— Sera (@sera_withanE) October 10, 2019
This was something exciting no? Shoes filled with holy water and Christ Jesus over it is just like an added advantage which makes this shoe not only religious but also unique. Wanna grab these pairs?