The case of missing poppies has been resolved now as the staff of the Australian War Memorial which is located in Canberra has finally found the person who is stealing poppies from the tomb of the Unknown Soldier to build a colourful nest.  And you know who the person behind stealing those poppies is? It's a pigeon yes, a pigeon. The pigeon has created the nest with red flowers under the light of a stained glass window at the Australian War Memorial. And the beautiful nest lead-up to Remembrance Day commemorations which is held on November 11th every year.
Why is poppy so significant?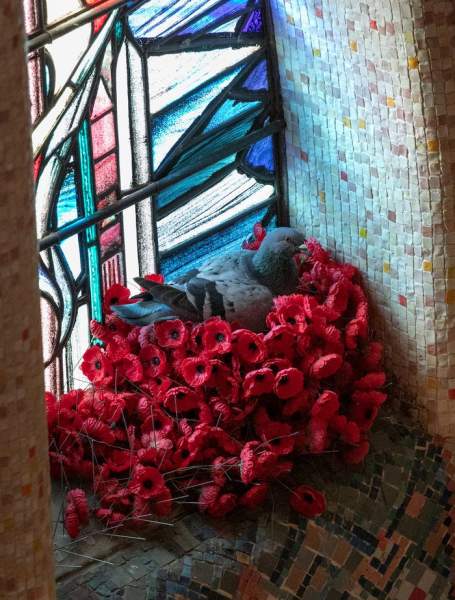 Do you know poppy is a symbol that is used by Commonwealth countries to recognize the sacrifice made by the members of the armed forces who have died for the country?
Where did the pigeon has made the nest and what does it signify?
The bird has made the colourful nest near the stained glass window which commemorates the wounded soldier which symbolizes the quality of "endurance" and the nest of poppies created there represents the powerful bond between the man and beast on the battlefield.
Also read: 7 Adorable and Cute Animals Which are Extremely Violent in Real
Pigeons were used as a means of communication during warfare
We all know that pigeons are considered very unpleasant but they have been used as allies during the battle. Earlier, there were no means of communication such as phones or other things. So, pigeons were used in warfare as a means of communication to send your message to and fro from one place to another where a person can't go.
32 pigeons were awarded medal during the World War II
Do you know 32 pigeons were awarded the PDSA Dickin Medal during World War II? This medal is awarded to those animals only who display conspicuous gallantry and devotion to duty.
Also read: Best Out Of Waste, A boy Transforms Old Tires in Cute Beds For Pets