Why do people like the idea of a destination wedding? There can be numerous reasons for it, that they like the certain place, or some memories of theirs relate to a place or city in a country. The reasons can be different for every individual. But the idea of a destination wedding seems like going on cruise or travel expedition. It is like having so much fun. Oh! Wait but it is not as easy as it sounds.
It is great that an idea of a destination wedding comes into your mind but arranging and preparing it is not like eating your Masala Dausa. We know how one has to go through many hackles when arranging a wedding in the same city. A destination wedding is a megalodon task.
If you are going to plan your destination wedding in another city or country,
Here are the top 'Dos' and 'Don'ts' that you have to keep in your mind while planning your wedding day.
Dos
Do you really want a destination wedding? Do think about it
You must have thought about getting married somewhere between mountains or near the sea. Everyone thinks about their dream wedding how they want it and where they want it. But there are lots of locations out there in this world. Before selecting any location for your wedding, ask some questions to yourself with your partner.
Is there any country that is very much special to you?
Why type of your dream wedding venue you imagine or have imagined in your dream?
Think about the weather also. Do you want to get married in the rain? It is your choice. Think about your guests also.
And what kind of wedding you want, like want to invite all your friends and acquaintances or just want closed family and friend ones.
By asking these kinds of questions with your partner you get the closest results which will help you in deciding whether you really want a destination wedding or not.
Send 'Save the Date' mail or email by your flying pigeons early
It is great that you have decided you really want a destination wedding. So send out 'Save the Date' reminder to your all guests whom you want to invite provided they could reach on time to see you get into the wedlock. If you not, then they would still be thinking about your wedding and waiting for an invitation.  It is best to send 2 or 3 weeks early date reminder.
Must create a wedding website
You must have to create a wedding website for your wedding provided guests can get all the details what they need about your wedding like venue address, car hire company details including accommodations, specific laws if there are in the county where you are doing your destination wedding.
A website for a destination wedding is very much necessary if you want to escape from guests asking you and calling you again and again about venue address and other details. Making a website is easy. There are several free tools on the internet available by which you can make a website without any cost.
Hire a wedding planner
It is here in your destination wedding investing in a wedding planner is about the real worth. Because your wedding is in a different country or city and you perhaps might not be aware of the city and the market. Hiring a wedding planner saves you from lots of stress.
You don't have to wander off here and there for things. A reliable, reputed and experienced wedding planner arranges everything in your wedding. But check every credential about the wedding planner before booking any.
Don'ts
Not cheap as you think your destination wedding, it costs money, honey!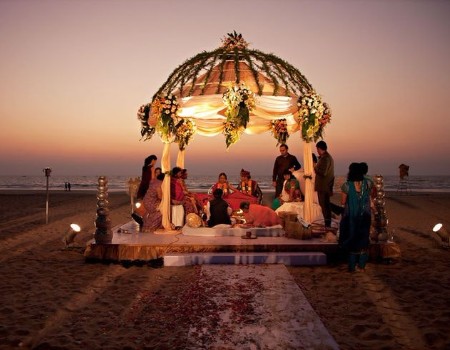 Do you think that a destination wedding is the cheaper alternative? No babe, not. It is not what you think. It is going to burn your pockets but doesn't get die. Plan it according to your budget and expectations. Be realistic what you really want to have and what not in your wedding. Your guest's list increases the budget more, a major factor. So just keep in your mind what things you want to carry in your boat provided it doesn't get sunk in water.
Research is crucial
A destination wedding is not about just visiting a city or country. You have to do research for everything related to catering, venue selection and any legal paperwork required for organizing the wedding and the most important; the country in which your wedding is, does it give legal status to your wedding? Do every necessary research and do it much earlier before your wedding.
Never underestimate the temperature
Everyone wants their wedding to be a fun and delightful affair without any kind of weather disturbance. The country or city in which you are going to host your wedding, you should be aware of its temperature patterns. If the days are going to be sunny, then schedule your ceremonies after 4 pm. At this time the weather doesn't remain hot. It will be fine for everyone attending ceremonies. Just schedule an appropriate time.
Hire your wedding venue's local suppliers
You like the work of your local country suppliers and vendors but taking them to your destination wedding venue is going to cost you extra. It would be a lot better if you hire your destination wedding venue's local suppliers. It saves lots of money.
Also, Check Out – Auspicious Wedding Dates In 2019
Keep above mentioned Dos and Don'ts in your attention while planning your destination wedding. And please have fun and enjoy your wedding. Preparations and arrangements are there and will be always there. It is your wedding about which you have been thinking about and planning for years. The day has come, just make it the best of memories of your life.