Definitely, the paisa vasool movies that you need to watch and end your year with a bang. With all the ingredients that are essential for a blockbuster. Rohit Shetty is known for giving us the perfect entertainers but with a strong message and this film same, fully loaded with a lot of action and comedy are thrown in the mix will make you whistle, clap and dance.
All the more with Ranveer Singh in the movie, it is a power packed complete entertainer.
The story is about Sangram Bhalerao (Ranveer Singh) is unscrupulous as he is brought up in an orphanage. He understands early in life that uniform will fetch respect and money.
He is corrupt and as long as he gets bribe he allows the crime. He is happy and on cloud 9 as is transferred to Miramar station as it is a gold mine in terms corrupt.
He then visits Dhurva Ranade (Sonu Sood) who has troops and is aware of his reputation so joins him. He is a merry person and makes family everywhere he goes.
He falls in love with Shagun (Sara Ali Khan). He then sees Aakruti (Vaidehi Parshurami) and likes her for she is selfless and considers her as the sister. Then one-night Aakruti is raped and murdered and then he realizes and rises as Simmba.
Ranveer Singh plays the cop in the most stunning way. He shows the full arc of Sangram and emerges as a true lion who is roaring.
Rohit has combined the film in a dynamic way and has made the most astonishing movie that will make you fall in love with Simmba in spite of his being partly corrupt.
The songs are melodious and are only on the lips. The aankh maarey song is already the hit number for the party.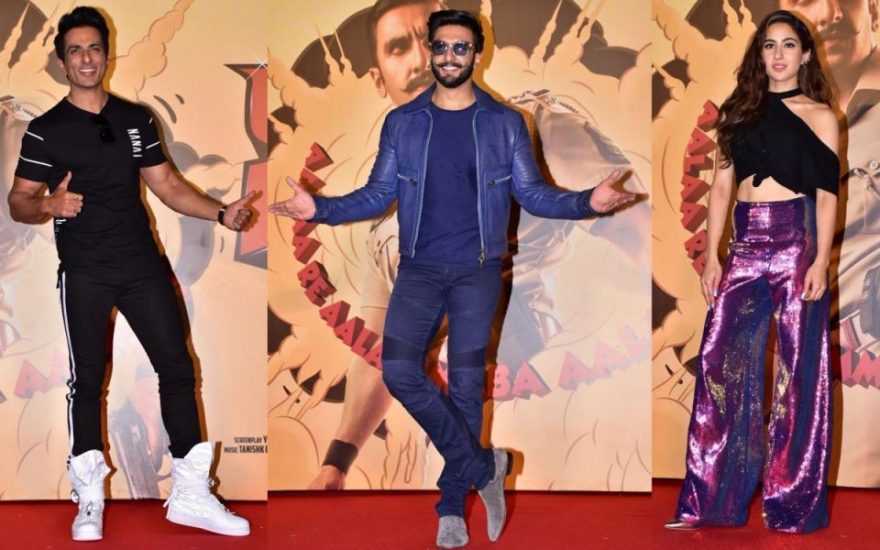 The way he transformed as a street-smart cop to a helpless one then emerges as the one who does justice. Ranveer will make sure that you are completely engrossed in the movie and leave the hall fully entertained but with a message that will enrich you.
Ranveer addresses the social issue in a very sensitive way but still entertains you. The first fight sequence will make you hoot and jump.
The narration is full of humor and has explosive dialogues that will become a part of your conversation. The troops of car blowing cars, car chase scenes are simply outstanding.
The movie is a relief after a long time as Bollywood behaved unusually this year when the expected movies and the superstars Khan failed at the box office.
The movie is best for the family watch and as it is the holiday season to get involved in the best entertaining film of the year.
It is a simple movie to which the masses will connect and thus will be paisa vasool.
Here are some reviews from Twitter users:
#simmbamoviereview wht a fantastic mind-ich-blowing movie! Action packed, heart thumping and mind blasting masala dhamaka karara movie. Is saal ki best movie! @RanveerOfficial loved your performance! The best cop ever! @RanveerSingh_FC @ranveercafe69 @RanveeriansFC @RanveerPlanet

— Manya Aman (@manya161) December 28, 2018
Ranveer proves a complete package — here's an actor who can dance like a dream, do action like a true star, crack jokes and, when the situation demands it, specially in the second half of the movie, turn serious. #SimmbaMovieReview : Khaleej Times

???? pic.twitter.com/G8oNO3uOZD

— Ranveerians Worldwide (@RanveeriansFC) December 27, 2018
Simmba: Blockbuster! Commercial Bollywood Masala Where @RanveerOfficial Rules! Total Bollywood Hero Is Enjoying Himself In Rohit Shetty Setting! Movie Gives A Big Message Which We Will Forget! Watch For Entertainment, Entertainment & Entertainment! #simmbamoviereview #simmba

— Ashok Karania (@ashokkarania) December 28, 2018
Film Simmba showcases an amazing story, brilliant acting by @RanveerOfficial, and the terrific cameo by @ajaydevgn sir in the end. Also not to forget the fabulous message given by the film that is much needed in today's society. A 7.5/10 from my side. #Simmba #SimmbaMovieReview

— Kaivan Gala (@KaivanGala22) December 28, 2018
#SimmbaReview: A BLOCKBUSTER end to the year that Bollywood along with us, craved for!@RanveerOfficial is all over but you still won't get enough of him!❤️#RohitShetty – Once again, proved why he's the King of Direction!?@RSPicturez @DharmaMovies #SimmbaMovieReview #Simmba

— Jishika Madaan (@jishikamadaan30) December 27, 2018
#Simmba enters roaring on IMDb with the rating of 3.2 beating Race 3 which had entered with the rating of 3.1 and ended up at 2.1 out of 10!#SIMMBAReview#SimmbaMovieReview

— Chirayu Makwana (@chirayumak) December 28, 2018
After watching the 1st day, 1st show of 'Simmba', there can be no doubt that Ranveer Singh can give a huge complex to any Kathakali artist.?? ? #SimmbaMovieReview : Khaleej Times

— Ranveerians Worldwide (@RanveeriansFC) December 27, 2018