Chasing your dreams and living for it is something that we all dream but do we have the courage to actually follow the dreams. Well, Nidhi and Shekhar Singh did this and today they are the talk of the town. They sold their home just after a day they had the house warming ceremony for their newly acquired home. They shifted to rented premises and left their easy and comfortable life as employees in good firms just to chase their dreams.
Samosa is an Indian delicacy that is mostly a savory dish but in places has sweet counterpart also.
The fresh hot samosa with a hot cup of tea for the breakfast or for your lunch or for the evening snack or any time just to sit for an add with friends the love and charm for samosa is insatiable.
It is a food item that is popular in all parts and nooks of the country. The couple started to sell samosas from their in house brand called the Samosa Singh. The samosas from their brand are of high quality and lip-smacking taste. They started with an outlet in Banglore and now are planning to expand to Pune and Hyderabad.
The couple started to sell innovative samosas and gradually their brand got quite popular and there was too much crowd in their shops. Initially, they made samosas manually and it was just sufficient to cater to the needs of the customers in the outlet but to cater corporate needs they had to increase their manufacturing capacity.
The kitchen capacity was to be increased. The investment to convert a manually operating kitchen to an automated kitchen for bigger production capacity the investment was humongous. Thus for this, they sold their new home and started their production from 2000 to 10000 samosas per day.
It was not a one-day idea or something that was spontaneous rather research of many years and dedicated effort of years went into the production of the samosas. The two had met in the Kurukshetra University and had become friends that gradually blossomed to love.
The two are well educated but it was only this time that they realized the need for good hygienic Indian delicacies.  The pizza and burgers were available in big multinational outlets but the Indian delicacies lacked this. He felt that if one desires to eat these Indian foods then required to switch to small stalls or sweet shops.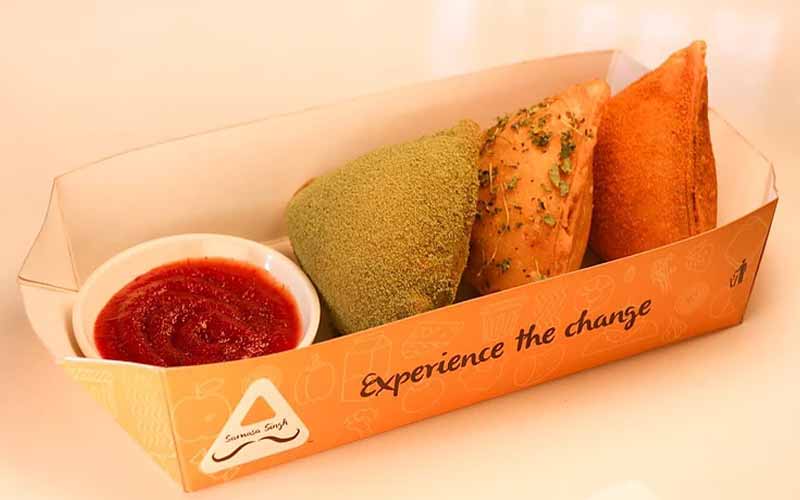 Shikhar had the idea but then the two did not focus much on it. The two discussed over the idea on and off but felt that only hygienic product was not sufficient but the product had to be innovative also to capture the market.
Thus they made their innovative samosa that was fried in good quality oil and was fat-free and would not harm one's health. Gradually they grew and now it is a multinational company that is generating revenues of crores and caters to the needs of INOX, PVR, CCD, and TCS.