We completely understand that it's so hard for you to control snacking on dishes topped with sugar and lots of chocolate. And we can't even explain our foremost love for favourite all-time snacks like finger fries, burger, Samosas, street food and tasty& spicy street food like Golgappas and chaat? I know you must've started drooling for more after coming across these terms. But, do you know that these tasty foods are unhealthy for your health.
So, why don't you try to make a swap with some of the healthier items by replacing these fatty and oily foods? Here, in this article, we have listed some of the healthier snack options which you will not regret swapping with those unhealthier items.
Read on to find some exciting food ahead which will not only satiate your hunger but will also leave you full all day long.
1. Eat Dhoklas instead of Heavy and Oily Samosas
You must be aware that dhoklas are so healthy and nutritious as compared to Samosas. In spite of snacking on those oily Samosas stuffed with boiled potatoes try having dhoklas when you want to eat something light.
Having dhoklas rather than Samosas will help you reduce your calorie consumption to almost half. Dhoklas are very light, sweet in taste and are a perfect snack to satisfy your appetite in a great way.
2. Eat Roasted Makhanas instead of oily and fried Potato Chips
Makhanas is popularly known for its high fibre content found in it. They are a great alternative to fried and oily Potato chips which is very unhealthy and harmful for your health.
3. Eat Rasgullas instead of Suji Halwa
Undoubtedly, Suji halwa is almost everyone's favourite sweet after Gajar halwa. But do you know that it is so harmful because it is very heavy and it consists of lots of fat and so many calories which are not good for your health? Try eating Rasgullas when you want to satisfy your sweet tooth.
4. Eat Idlis instead of Medu Vadas
Idlis are better when compared to those oily, fried and heavy medu vadas which have more fat and calories. While Idlis are a perfect choice over fried vadas when you want to have something lighter during your snack time. And, yes they are healthy too!
5. Eat Bhelpuri instead of Chaat Papri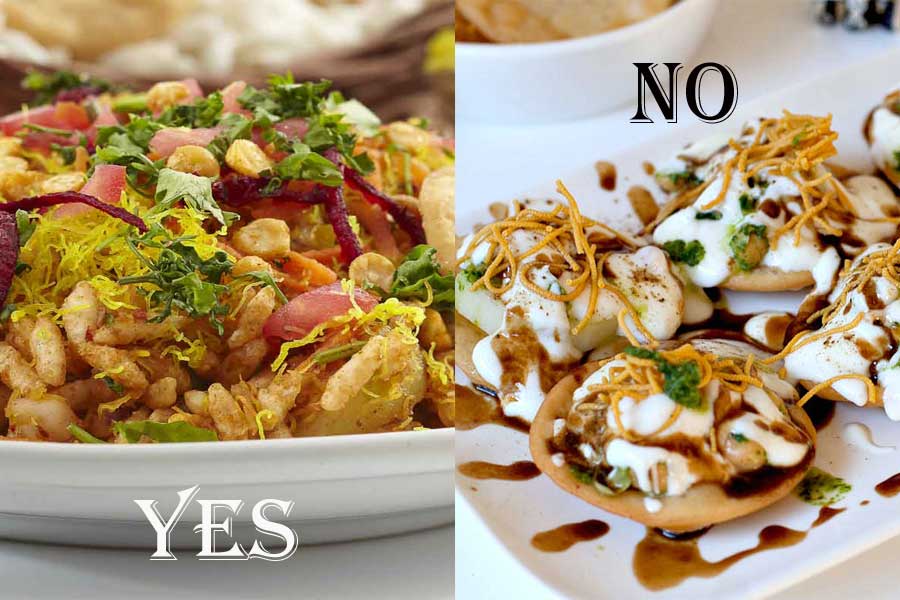 Bhelpuris are best known for their tangy and spicy flavour. Instead of trying that unhealthy street food like chaat papri tries to binge on bhelpuris which are more tasty and lighter and yes it is very light and much tastier than chaat papri.
6. Eat Idli Sambhar instead of Aloo Puri
I know Aloo Puri must be your favourite all-time food but to let you know it is very harmful to your health as puris are prepared after deep frying them.
And, Idli Sambhar is a much lighter and healthier option when you feel hungry and also they are low in calories and higher in protein.
7. Eat Tandoori Chicken instead of Butter Chicken
Tandoori chicken is better when compared to that heavy and buttery butter chicken. The main difference between both the chicken dishes is the fat content present in them.
Tandoori chicken is not deep fried so it does not contain any amount of fat. While butter chicken is being prepared using lots of masala and dry spices which is tasty but unhealthy too.