All of us are aware of the fact that biryani is an emotion for many Indians. It is a Mughal heritage that we are still carrying forward with us. Biryani is a dish that is found all over India and the taste differs according to the place. If you are someone who wants to have biryani in Bangalore, then we have the perfect options for you. Bangalore is a place where you can find several kinds of restaurants offering several different cuisines. We will mention the best places for day outings in Bangalore for biryani.
1. BonSouth, Koramangala
If you are in the mood of having the best Andra style biryani that can be found in the town, then you need to visit BonSouth. They are known for cooking amazing non-veg dishes, among which the biryani is a specialty. We will suggest you sit in the outdoor seating area and have a full-course meal.
2. Meghana Foods, Jayanagar
This is another restaurant that serves several different types of biryani including chicken boneless biryani and Hyderabadi biryani. A good thing about this place is that they have kept their prices affordable. Vegetarians can also try the mushroom biryani found at this eatery.
3. Ambur Star Biryani, BTM
The biryani from Ambur is one of the most popular biryani found in Bengaluru and they are running the restaurant for the fourth generation. They are especially known for their Seraga Samba Chicken and Mutton biryani which are known to be quite tasty. It is also known to be spicy and you can get bucket biriyani from them.
4. Copper Chimney, Indiranagar
If you want to have the fine dining experience when you are having biryani, then you should try Copper Chimney. The place serves the dum style of biryani as well as the Tawa style of biryani. The one type that you should try is the Parda Gosht biryani served by them. They are a good choice if you are thinking of things to do on weekends.
5. Lazeez, Koramangala
Lazeez is a common name when it comes to biryani as they are known for serving the best Mughlai and Tandoori dishes. Its heaven for non-veg lovers and it is obvious that they have good biryanis. The specialty of Lazeez is that they are a chain predominantly present in Kolkata, so they serve Kolkata style biryani which has potato in it. Do not forget to try their biryani with the chicken rezala.
6. Nagarjuna, Residency Road
This is another restaurant that is known for serving the Andhra style of biryani which will make you drool. You can choose to eat in the restaurant or call for home delivery. At the restaurant, they serve the biryani on a banana leaf which heightens the taste. Do remember that most of their dishes are on the spicier side.
7. Hyderabad Biryani House, Victoria Road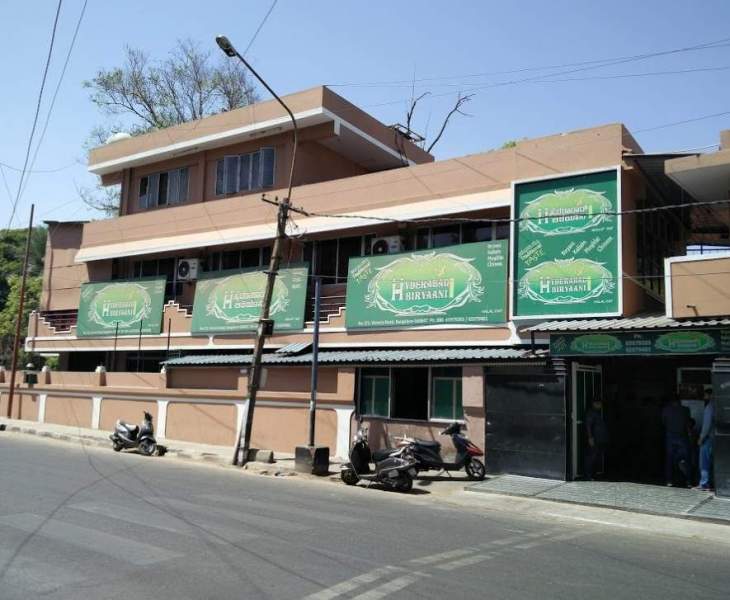 Among the most famous biryani preparations in India, the Hyderabadi Biryani does stand out as one of the tastiest options. This restaurant in Victoria road is a favourite of those who like the spicy Hyderabadi biryani. Along with that, you do need to try the mutton biryani and the Andhra biryani found here.
8. Gundappa Donne Biryani, St Marks Road
If you are in the mood of having biryani that originates from Karnataka itself, then Gundappa is the place to visit. They serve the Donne biryani which is made of special rice grown in the state. It has a medium level of spices, so it is perfect for people who do not find the Hyderabadi biryani quite appealing. The food here is quite affordable and we recommend you to start your meals with chicken fry.
9. Shivaji Military Hotel, Jayanagar
This is yet another place in Bengaluru which will provide you with an amazing Donne biryani and along with that, you can also taste the Mandya biryani. They do also serve the regular biryanis that you can get at other shops. The restaurant has an extensive menu and their food is of good quality.
So, here are some of the best biryani places in Bengaluru that you must try. When you are in the city you should try out these places if you are craving biryani. All of them are known for their quality and we recommend you to try all of them.