As the summer hits, we all want to spend the scorching summer break at some place cool. Then comes the thought of planning a trip to hill stations or to the countries known for cold weather. We are sure you all have favorite chilling places to visit this summer, too. But we suggest you think different this time; plan a trip abroad that has not the cool weather, rather cool water parks to have a lifetime experience. No family trip could go wrong if the trip consists of super cool water rides, sky-kissing water slides, wave pools, and more such irresistible water-adventures.
If you are wondering why to find out which country has the best water parks then worry no more, we have got you covered. From Canada's indoor water park to Dubai's crazy water slides, we have everything in our list to help you make a choice.
Refer to the list below to discover super cool water parks around the world:
1. World Water Park in Alberta, Canada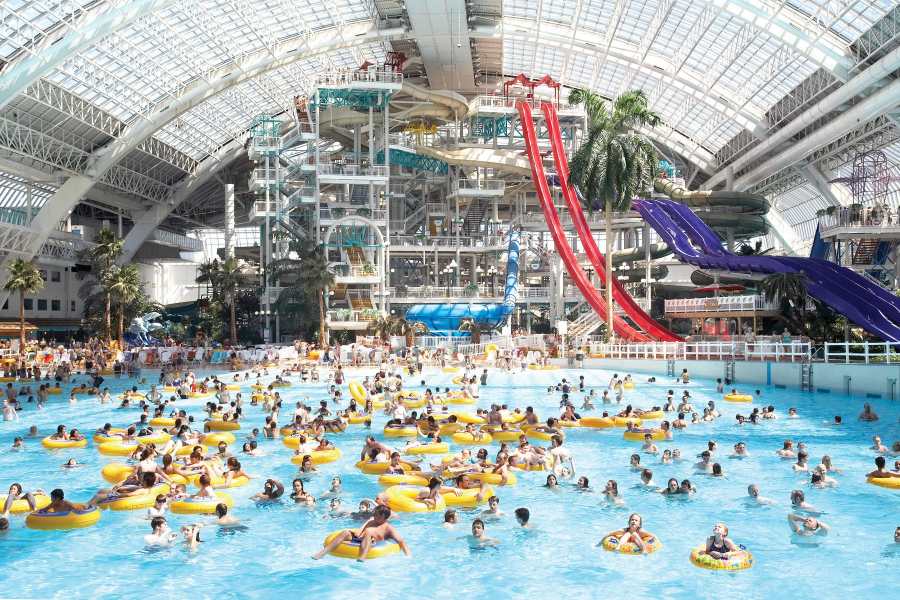 The country is known as one of the coldest places in the world, but people of Canada never lag behind when it comes to fun. Harsh cold weather doesn't stop them from having fun at water parks. This is why in the province of Alberta we found an indoor water park that lets you have the fun of water park in the indoor. Experience thunder, bungee jumping a lot more in World Water Park of Canada.
2. Wild Wadi Water Park of Dubai, The United Arab Emirates
Dubai is known for extreme innovations, royal experience, fun and Richie Riches. Imagine the level of technology and creativity in Dubai's water park. It has end number of water slides, a huge water pool and almost everything you could ask for in a Water Park.
3. Disney's Typhoon Lagoon Water Park of Orlando, Florida, U.S.A.
You know it is a fun place when it's a project of Disney's. Disney's Typhoon Lagoon Water Park has everything to charm not just kids but adults, too. With 410 to 420 feet tall water slide and numerous other water rides, this water park ensures unlimited enjoyment.
4. Yas Waterworld in Abu Dhabi, the United Arab Emirates
Here is another water park form the UAE. Built on the theme of Arabian stories, Yas Waterworld is one of the best water parks in the world. There are many water rides and slides in the futuristic water park.
5. Siam Park, Spain
Who new serene country like Spain would have such an extravagant water park that could scare anyone with its rides. Why we call its scary is because it has ridden with dropping speeds of 240 km per hours and opens to 14 different directions. Dare to try that one out? Not only that, but Siam water park is also best known for it has three different themes. The three themes are relaxed, family and adrenaline, you can enjoy any of these sections to have the ultimate experience.
6. Aquaventure Waterpark, Atlantis, The Bahamas
It has more than a dozen water pools, water rides, and slides, too. The iconic this about this park is it has a water tune tunnel called the Leap of Faith. The Leap of Faith is a clear glass tunnel that allows you to have near death experience when you find sharks leaning on the walls of the tube.
7. Water Cube Water Park, China
Another indoor water park in this list is from China. This used to be the site of the 2008 Summer Olympics but now has been converted into an indoor water park. Other than having all usual the water park attractions this place also offers spa.
8. Wet 'n' Wild, Hawaii
It stands true to its name. This place has super scary water slides that will run a chill down your spine. And, for the extreme thrilling experience, try out the Tornado that will throw you 50 feet through the air.
9. Tropical Islands, Germany
This huge indoor water park is much more than just a water park. It allows you to have the fun of not only the water park but also give you exotic island experience with the theme of Bali, Thailand and so. It even has rainforest with about 50,000 different plantations.
10. Dollywood's Splash Country, Tennessee
This water park gives you a full-fledged fun package. It has everything you need, from water slides, ride, pools, and rafts to even lagoons. What else can you ask for?
Featured image source: Attractions Magazine