Recently, electric bikes have become mainstream, leading to increased use. Electric bikes, which can give an additional boost when paddling, are increasingly being used for touring and travel. A day trip is one thing; commuting or riding for days on your electric bike is quite another, and it necessitates thorough planning prior to departure.
This article explains how to travel with a KBO electric commuter bike and what you can do to prepare for the long journey.
1. Preparing for the Ride
When you're about to go on a journey on your electric bike, it's a good idea to carry out repairs and fine-tuning. This ensures that the bike performs optimally during the journey. Below is a checklist:
Check your tire pressures. There is a MIN and MAX value indicated on your tire, ensure the pressure is between them.
Check your brakes.
Check the battery: Do you have a full charge to begin the ride? Is the battery properly secured to the frame?
Check your chain: Ensure it is well-oiled and clean.
Check your bolts: Long hours riding can make your bolts vibrate and become loose. Check the bolts and tighten the ones that require it.
2. Good helmet
Get your helmet ready. It's a smart idea to wear a lightweight helmet since you'll be wearing it for long stretches of time; make sure it's light and breathable. It can provide security in three ways;
In the event of a crash, impact cover
Sun and heat protection, and
A hat to keep your head warm in cooler weather
3. Research your route
You should do some homework on the road you'll be riding through before taking your electric bike through it. One way to do this is to take a car ride first to see what the route has to offer before deciding whether or not you want to use your electric bike. The most convenient way to do this is to use online map services to determine how the route is, especially taking note of how far you'll have to go before finding a gas station or hotel where you can recharge your batteries. Knowing where bike repair shops are along the road is also beneficial.
4. Know your battery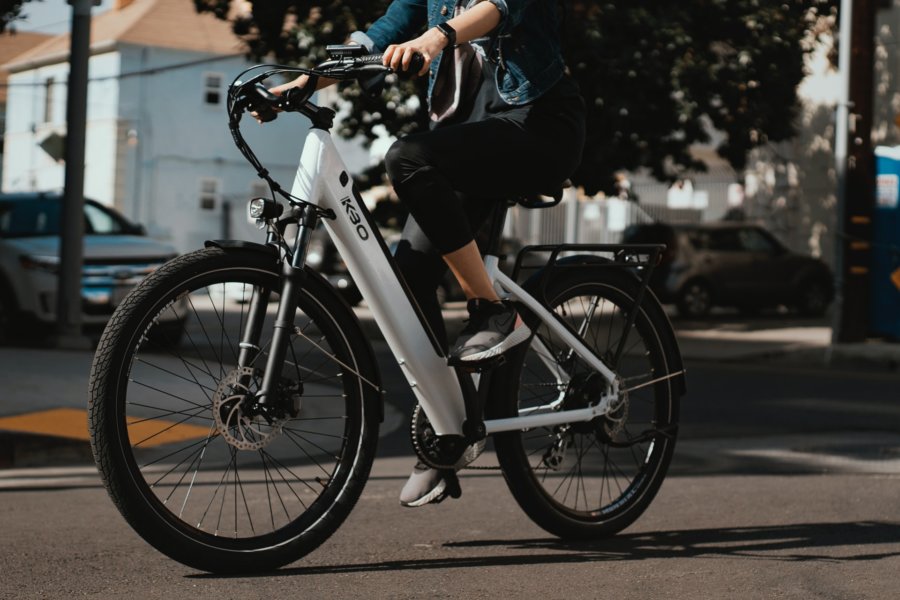 Another benefit of researching your route ahead of time is that it lets you know how far you'll likely ride before your battery dies and you will have to ride manually.
While this is affected by different factors such as the battery capacity, how hard you are pedaling, the assistance speed you pick, how hilly the path is, how windy it is, your weight, the bike's weight, tire inflation, road surface, and other considerations, the average range is quite fixed; it can range from 50 to 300 kilometers.
When traveling with an electric bike, you must be careful of how much power you use, so you can reserve it for the hilly and windy areas.
You can extend the battery life by coasting downhill and shifting gears as much as possible to ensure that they are still in the best gear.
5. Stand Out
People in vehicles (as well as other riders and pedestrians) aren't really watching for cyclists, no matter when or where you ride. This is particularly true during peak driving hours, when distraction is at an all-time high. The good news is that there are some tried-and-true methods for getting yourself noticed listed below;
Always have your lights on
Wear High-visibility safety apparel (HVSA)
Avoid wearing all dark colored clothing!
Get a handlebar bell
6. First aid
For anyone travelling on an electric bike, this is a must-have accessory. You must include a first aid kit with all of the appropriate equipment and some unique addition. Your kit should contain Bandages, plasters, disinfectants, rubber gloves, repair kit, pump, replacement hose, rag, and, depending on the location and time of year, sun lotion, mosquito repellent, and cooling gel.
7. Locking things up
The safest way to lock up your E-Bike is within a secure location, but sometimes you will need to leave it outside in a less secure area.
In that case make sure you have a high-quality lock. Check the hardness information, as many locks aren't very good. I had to cut a lock from a bike on two occasions and was amazed at how simple it was. To fully secure your bike, you'll need a couple different kinds of locks.
8. Dress properly
It's important to be comfortable when cycling in order to have a good time, it's no fun to be too hot or too cold. When you're out on the open road, you have to be ready for anything, it is possible that you'll be chilly in the morning and hot in the afternoon. You won't have to ride as hard on an electric bike as you might on a normal bike, and you could get a little colder.
You have two options: add another layer of clothes or push yourself to pedal faster. A cricket cap also aids in preventing sun rays whilst riding.
9. Repair kit and an extra battery
When travelling with your electric bike, having a decent repair kit is important. Breakdowns and fixes are unavoidable when traveling for extended periods of time, so you must be ready to make small repairs and get back on the track.
When traveling with an E-bike on longer trips, you'll need to carry a few extra things as electric bike parts can be difficult to come by on the route. As a result, you may want to carry a few spare parts in case anything breaks or wears out. An extra battery, depending on the duration of the ride, is a smart option.
You could Purchase a 16-1 multifunction repair kit on the website.
10. Fluids and Snacks
Hunger is a problem, but hydration is a greater concern. A hungry stomach is inconvenient, but a shortage of water and dehydration can quickly put an end to your trip. The issue with liquids is transporting enough water for a long journey. The weight is a problem, and the movement of the liquids will throw off the balance.
That's why it's a smart idea to spread your weight evenly around your bike and maintain a low center of gravity by purchasing a water bottle holder.
You may also like: List of Best Electric Bikes Under 1000 USD