When a prospective customer is about to buy something online, where does he start first? That's right – he opens a search engine and enters a query. Search engine optimization can lend you a helping hand in attracting customers, or vice versa, scare them away. Often, users do not know what they are going to buy, so they tend to trust the search results and choose a site higher on the list.
And if your online store does not appear on the first page of the issue, then there is a high probability that potential customers simply will not find you. Since there are so many online stores offering similar products, they will not even know that your store has better products or you offer a wider selection. From their point of view, you don't exist.
To get a high ranking in the SERPs, you need to make sure that your site is visible in search engines. From choosing a fast Magento hosting to optimizing your website's UX/UI, there are so many optimization elements to look out for. If you are looking for a solution to help you rank higher, find the best Magento 2 SEO developers to make your dreams come true and read our article on best practices to help drive more traffic to your site.
1. What you should know about Magento SEO
Magento is one of the most advanced online commerce platforms that offers impressive built-in search engine optimization features. However, not everything is so simple: some steps are required to properly set up Magento SEO. And to minimize the risks of websites loading slowly, you need to optimize your website regularly. Now that you know why SEO is important, let's talk about the technical tips you should take to improve your SERP rankings.
2. Upgrading the Magento Platform to the Latest Version
This gives you access to all the new features like advanced built-in security options, performance optimizations, bug fixes, and more, as well as improved SEO features. The new version of the platform has added many improvements, including enhanced crawling of your product data by search engines, creation of templates for product metadata, and much more.
3. URL Structure Optimization
URLs are key elements of Magento SEO as they tell what a web page contains. SEO-optimized URLs are usually small and contain many keywords.
If they are well structured, then search engines can easily show users the result they are interested in and establish relevant links between the various pages of your online store.
Also read: Content Marketing: 14 Tips for Efficient Marketing
4. Using effective keywords
Next on our list, and one of the most important elements for Magento SEO, are the right keywords. Search engines crawl your online store and determine its place in the search results. How to determine which of the keywords are suitable? you ask.
The answer is very simple – look at your competitors. Identify a couple of online stores with similar products and see what keywords direct customers to their sites. Keep this in mind when writing content for your site.
5. Website Image Optimization
Another worthwhile tip for improving search engine rankings is to get serious about graphic content. So, what do images have to do with SEO? They play an important role as they are responsible for the storage of the website.
If it is overloaded, then the site will not get to the top of the search results. Make sure that the images are of high quality and the files are small while maintaining a high resolution.
Thus, sites will load much faster, and visitors will not leave them ahead of time. Another important point is the alt tag, which should reflect the content of the image, be concise and use keywords wisely. Make sure that it is added for each image and that it is correctly composed.
6. Acceleration of Magento online store
As we said above, the speed of a site affects whether it ranks higher in the search results. Browsers usually don't like slow sites and hide them away from users. But image size is just one of the things that can help improve web page loading speed. You also need to choose a server that can cope with the load of the site, and optimize the code and the database.
Also using the new version of Magento 2 is a win-win solution, as it significantly speeds up the site. This way you will allow your customers to have a better experience when using the site and increase the number of conversions.
7. Using Canonical Tags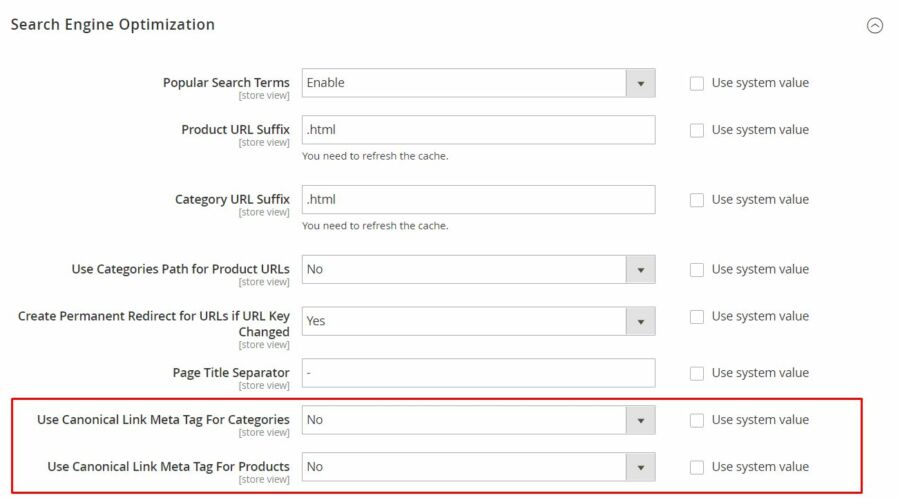 In case of duplicate content, the browser may crawl the pages of your store and decide that they are the same. Of course, this threatens Magento's SEO. To avoid this situation, you need to create one link that browser robots will consider as the main one among several links on your site.
For example, if the same page is hosted by two URLs, the browser will choose the canonical one as the main one. Its role is to allow search engines to distinguish between duplicate content.
8. Adding Meta Tags for Products
Magento automatically assigns meta tags to products, but that doesn't mean they work great. Changing them can improve the SEO of your site.
For example, a title that is not manually configured is selected by default for some pages. You can replace it with something more specific.
The suffix is also added to the end of the page title. You can change it to the name of your store, for example.
The default description is used only for the main page, so for all the rest, you have to write it yourself.
The Uniqueness of duplicate content via Faceted Navigation
Faceted navigation allows your site visitors to filter products by certain parameters (color, size, type, material, etc.). Often, this is a panel on the side of the site, which consists of 2 parts: aspects (indexed pages) and filters (tools for narrowing the page content). This greatly simplifies the interaction of buyers with products, but, unfortunately, provokes duplicate content. Solving this problem improves the usability of the site. This can be achieved by controlling how search engine robots crawl and index content.
9. Modification Robots.txt File
The robots.txt file is used to manage crawler traffic on your site. In simple terms, Robots.txt File is an instruction that tells search engines which pages of the site should be crawled and which should not.
This is not a mandatory rule, but rather a set of guidelines, but scanners usually follow it. A properly composed file improves the position of the site in the search results and, among other promotion methods, is an effective SEO tool.
10. Using reliable hosting
As we said before, using a good hosting service that can handle the load on your site will help improve your search rankings. If you realize that you are reaching the maximum server usage limit, this is a sign that it is time to change it. Choose a productive server with a lot of RAM and geographically close to your customers.
Final Thoughts
As you can see, there are many ways to help drive more traffic to your site. But the tips we shared in our article are just the tip of the iceberg. To sum up, we can say that the best way to create an SEO-friendly website is to hire an experienced Magento developer and leave the solution to a professional.
Also read: Great 3 Tools To Manage Your Digital Business Assets