Setting aside a place in one's residential area for work purposes is known as Home Office. Over the past couple of years, more specifically, during the covid era, the concept of home offices has become a popular trend among upcoming entrepreneurs. Due to lockdowns being imposed and stepping out of one's home came along with huge penalties, people started setting up their businesses at their respective homes.
The idea of home office came under the spotlight recently and has been present for quite a while now. The employees in the IT sector (more precisely, the corporate world) were given the option of working from their homes for a couple of days a week. After staying indoors for almost two years, people prefer to work from their homes rather than working in an office space.
Regarding self-employed people and small businesses, home offices are a profitable alternative to renting out a commercial space due to the spikes in the prices of real estate and rentals. This significantly reduces the initial cost of a business setup.
But setting up the space can be difficult. So, with relatively many hacks available under various categories, let's look into the ones related to the area's lighting.
Hacks To Light Up A Home Office
Lighting directly affects one's mood, energy level, and productivity, irrespective of being at a workplace or at home. Lighting too dim will make the person feel low, tired, and cranky under highly bright circumstances, inducing headaches and eye irritations.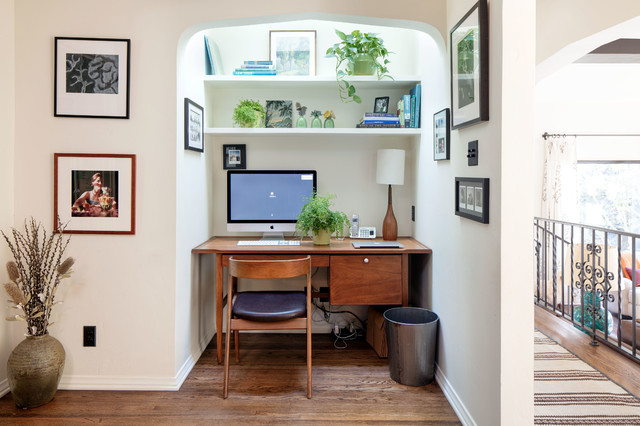 Thus, proper lighting is required to stay active, energetic, creative, productive, and in the right state of mind, with a perfect balance between dim and too bright. A few hacks to achieve this are,
1. Natural lighting
Try to opt for more natural light resources over artificial light sources as natural lighting results in happier working conditions with less absenteeism, illness, and stress.
Place your desk beside the window and not in front of it to avoid the sunshine directly falling on the computer/laptop screen. Also, install sun shadings such as sheer curtains, adjustable louvers, or Venetian blinds on the windows to control the amount of light entering through them.
2. Task lighting
Install an adjustable floor lamp for tasks that require a focus light or a bright illumination of the space.
Try to get a light that comes along with a regulator, which can control the brightness levels to make it a perfect choice of lighting, irrespective of the task. If the desk space is pretty small and has no space for accommodating a lamp, get the lamps that can be affixed at heights (maybe a shelf).
3. Avoid direct overhead lighting
Avoid overhead lighting as much as possible to avoid the shadows falling upon the desk. Instead, place the lights in places that can illuminate the whole space. At the same time, it should not be right above one's head as the obstacle in the path of light forms shadows.
If the particular space has no windows for natural light to enter or is right below an overhead light (e.g., corner of a room), try opting for wall lights. The brightness of these lights can directly be controlled by the user's phone.
4. Get rid of fluorescent light sources
Though fluorescent lights consume less energy when compared to incandescent lamps, they have adverse effects on one's health. For example, exposure to fluorescent lights for long durations can induce migraines.
Though one's eyes would ultimately get used to it, one won't be able to see without a strain on the eyes. In addition to that, it increases physical fatigue. Fluorescent lights also consist of mercury gas in them, which is poisonous and, when inhaled, can affect one's lungs and other respiratory tracks.
5. Color and temperature of the lights
The color and temperature of the light used must depend upon the space it has been fixed. Usually, warm yellow and orange are good during relaxation times, while colors like blue and white are considered suitable for working and concentrating.
If possible, try to incorporate smart lights that can automatically adjust the color and temperature (along with manual control) concerning the time of the day (bright and cool during the daytime to stay alert and warm in the evening to calm down and relax).
6. Separate lighting for video calls
Try to install a separate pair of lights that can exclusively be used during video calls. These lights fix the problem of having a light fall upon oneself just on one side and dark on the other (if such a situation exists), along with enhancing the quality of the video due to well-lit environments.
Ending Note
Setting up a space in one's home for official purposes is easy, but converting that space into a working environment is more difficult than one can think. Thus, home office owners can follow the above hacks to achieve ambient lighting while setting it up in a fixed space.
Also read: How to Dress While Working from Home