When the weather is just right, there is nowhere better to be than outside enjoying what mother nature has to offer. Yet, the beautiful weather can quickly start to feel distant if you are not comfortable in the space. If your outdoor space has gone a while without a checkup and refresh, it may just be time to get to work so that you can turn it into that summer oasis you have always dreamed of.
In years gone by, there really wasn't a huge amount of variety with what you could do to jazz up your outdoor space unless you had a lot of money to pay contractors and landscapers to work their magic. However, nowadays, with industry innovations, all of the information available online and countless sources of inspiration, you can make your outdoor space just as comfortable and inviting as anything indoors.
There is even eye-catching outdoor tile, such as the wide selection sold at Tilemall, that can change your yard from boring to glamorous immediately.
Let's take a look at some creative ideas you can use to upgrade your outdoor space to give it a new lease on life.
1. Warm Up By The Fire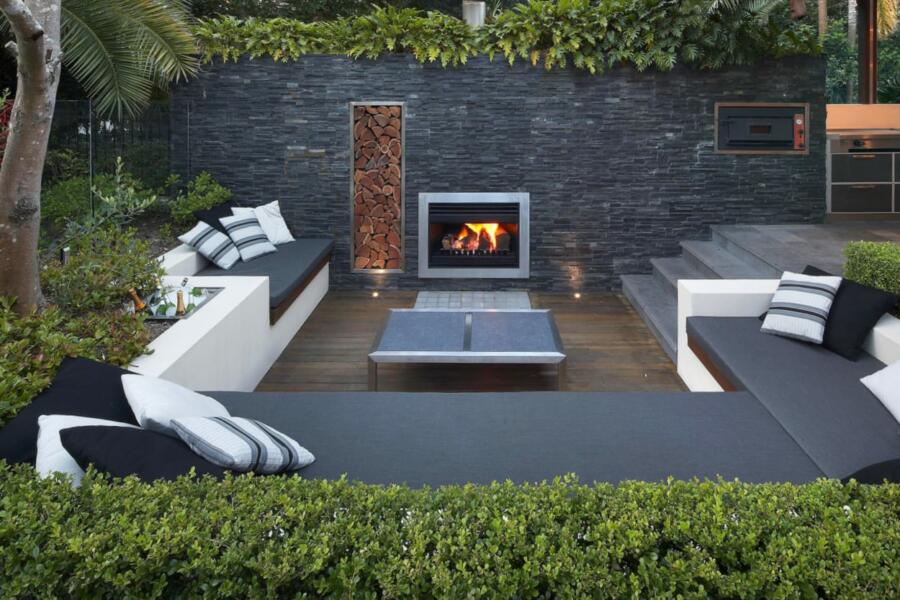 Sitting by a fire, maybe toasting some marshmallows, can be one of the most relaxing things in the world. If there is room available in the budget, a fireplace, fire pit, or another type of fire feature is always a perfect choice for any outdoor space.
You could choose one that is essentially decorative, one that is open and ready to be cooked over, or anything in between. When deciding on a fire feature, take the time to envision how it will be utilised, to help you narrow down your choices.
2. Add Some Overhead Covering
Basking in the sunshine is fantastic however, as we all know by now, research has pointed to a number of issues that are commonly associated with getting too much sun. When you are doing up your outdoor space, it's important to have an escape from the sun, especially on those particularly hot days. Pergolas are trendy at the moment, but you get to decide what kind of overhead covering you get to enjoy. 
A lot of people opt for a gazebo in their outdoor space, as it is a solid structure that offers an escape from the elements while still enjoying the outdoors. If that isn't your cup of tea, there are a myriad of options, including tents, retractable awnings, and many more that may appeal to your unique tastes and needs.
3. Bring The Kitchen Outside
Outdoor kitchens are becoming very popular allowing you to do much more than just barbeque at home and giving you the power to host, dine and entertain outside with ease moving forward. There are pre-fabricated outdoor islands available that have everything from a grill, oven, and sink included, and you could even have it on a tiled platform to really bring that kitchen look outdoors.
If the entire kitchen seems like too much, it is always good to have a working grill or barbecue around. When you have plans to enjoy the day outside, who wants to keep going back inside the house every few minutes to check on dinner?
4. Privacy is Underrated
Everyone has their own definition of personal privacy, as well as unique living situations to consider. It is tough to say specifically what you will need for enough privacy, but there are plenty of options for you to choose from.
A lot of people opt to build a privacy wall or hedge bordering their outdoor space, and it can be done fairly easily on a budget. Depending on your unique situation, there will be something you can do to help keep your space private so that everyone relaxes that little bit more.
5. Go Crazy with Colours
Choosing colours for inside the house can become tedious, as there seems to be some unwritten rule about every single room in a home and what colours can and can't be used. If you tend to fall into this camp, redecorating and redesigning your outdoor space will give you the chance to let your creativity shine.
The outdoors really allows you to open up that colour palette and go nuts and while you will still want to make sure everything looks good as a whole, you can really go with some funky and bright colours if that is your thing.
6. Enjoy Your Brand New Outdoor Space for Many Years To Come
The main goal of this renovation project is to get outside and enjoy your outdoor space more than ever when the sun is shining.
Following the tips outlined above, you can ensure that you create a space that is functional, inviting, and comfortable and that will stand the test of time so you can continue to enjoy it for many years to come.