Anime masks are the masks that are wore by anime characters in many anime series. These anime masks are different in design and looks cool. Almost every person a weeb wants to have a cool robe, a bracelet belt or a mask! What accessories should you look like if you are a fan of the anime world and characters? But do you know many people personally like to carry a good anime mask which makes them exceptionally beautiful and cool.
Therefore, you must have noticed that people prefer masks that cover half face only as it leaves a mystery about the person. However, Anime masks in the series are mostly given to the characters who have something to hide or some mystery. And also having a mask on a character creates a curiosity among the audience.
However due to Covid-19 people already have a craze to have different kinds of masks. Today we see different varieties of mask with different colors and even culture. These days' people are fond of trends and fashion. Anything that has become a rule they want to make it as a fashion and trend to follow it. Therefore, the same goes with the mask thing, the government passed the rule to wear masks and people eventually created it as a fashion trend.
However, if you are an anime fan then this is the right place for you to know the best anime masks for your prop and party. In this article we will discuss some cool good looking anime masks that you can wear. So without any further delay let us see the best anime masks.
1. Kakashi's mask – Naruto
Kakashi is ranked among the top 10 anime characters who are good looking. Therefore, he is a heartthrob among the female fans he is the supporting character in the shounen anime. He is so good looking and actually a refreshing anime in the list. We already know about his good white hair, and the style he wears his headband and mask. We do not need a description for him because his coolness and style is enough to explain.
His mask covers his lower half of the face and neck and his left eye, and almost his forehead is covered with a headband. However, there is a spoiler we can give you that he slides up his head band when he needs to Sharingan in the battle. Overall the character looks fascinating and cool especially among the females, and also he is a heartthrob with a style. He makes the audience curious about him and more curious about his half covered face.
2. Ken Kaneki's Mask – Tokyo Ghoul
We all know if we are standing for a mask competition or if we are listing out some good ones. We just cannot forget to mention Kaneki's mask. So the main thing about the character is that he is the protagonist of the anime. After going through the bad accident he becomes someone which he hates the most.
Kaneki's mask covers his half face and has creepy teeth that show bright red gums. The mask has a knob in silver color under both the cheeks. Therefore, we just cannot resist the curiosity it creates among the audience with the cool looks.
3. Ichigo's Mask – Bleach
Ichigo Kurosaki is the main protagonist of the three Big bleach of anime series. Truly he is the best anime character of one of the shounen characters. He has short orange hair and he is tall and young adult and has light brown eyes. However, his main abilities are true for his appearance and they are not true for his personality. The hollow anime mask is a very famous topic in the anime.
Therefore, it appears when he is fully possessed by Zangestu. This hollow mask only shows on the left side of his face. However, the mask is half broken from the right end. It has a red stripe on the forehead and has golden eyes and on the cheek he has a tooth pattern.
4. Mamoru Chiba's mask – Bishoujo Senshi Sailor Moon
Mamoru has got black hair with blue eyes. He wears a professional black tuxedo with black cape. He wears white mask and a long hat which is formal. Therefore, he also wears a cane in black color and a red rose. This rose he throws on his enemies. Mamoru has a red rose when he appears in a tuxedo mask, as we discussed. After meeting any of the outer Senshi Sailors, the moon quickly transforms from covered dead leaves. Therefore, to a strong wind like a storm.
5. Tobi's Mask – Naruto Shippuden
Tobi shows to the viewers as any other member of Akatsuki, it is an organization which is schemed as resurrection of the beast. Tobi and Deidara are partners. However, he is a character when shown in the beginning of the series. He is a comedian and a little clumsy. Therefore, it is a great fun to watch them together and as he keeps annoying Deidara it is so funny. His mask has a spiral pattern in orange color.
The center point of the spiral is his right eye which is continued till the end of the mask. However, we do not want to spoil you're watching experience of Naruto. Therefore, it is better not to know much about him in order to enjoy the series.
6. Sogeking's Mask – One Piece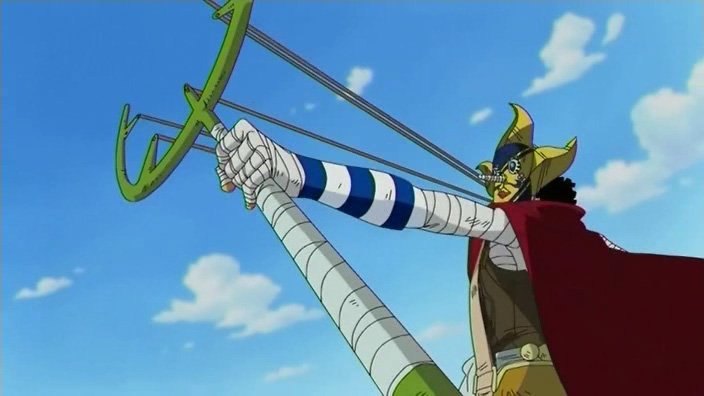 This is an iconic character of ego from One Piece. It is the alter ego of Usopp and is known as 'Sogeking'. Usopp makes this big mask after his leave from the crew. The mask is with three horns or maybe sun rays. Therefore, the mask has a golden color with blue stripes which reaches to his forehead. It has red lips and big round eyes. His lips look feminine. The funniest feature on his mask is the blue mustaches which are like handlebars.
7. Kagetane's mask – Black Bullet
On number 7 we have the scary and creepy mask of the anime. Hiruko Kagetane is the antagonist of the anime series, and is one of the scariest one of all time in anime. He has a white mask which is more likely to be a minimalist with only two eyes and one mouth and nothing else. But it looks really creepy and scary.
It has a smile like a crescent on the moon however more exaggerated than that. Therefore, the eyes shape is like an inverted smile. Therefore the look of his mask is as if he is smiling all the time in a creepy manner.
8. Char Aznable Anime Mask- Gundam Franchise
The many incarnations of Char Aznable in the Gundam multiverse
Char is the main antagonist in the series and the main reason behind it is that he never goes without his mask. He is the anime mask boy. Char true identity includes him in losing his previous life as Zeon royalty member after his father's murder by Zabi family. After this Char was forced to live a hidden life with a secret identity. Therefore, he can save himself from being killed because the Zabi family would know that he is their son whom they killed.
9. Eto's Mask- Tokyo Ghoul
Next on the number 9 in the list is the Eto's mask. She is an anime mask girl. Eto is very powerful in fact she is one of the most powerful ghouls. Therefore, the title suits her best 'The One-Eyed Owl'. she has short pale green hair and she looks very cool and beautiful. However, her mask is scary and it looks like a mummy.
Basically those are the bandages that wrap her whole face which has two holes for her eyes. However, the eye holes look really hollow, giving her creepy and more mysterious look.
10. Hei's Mask- Darker than Black
Hei is the main character in the Darker than black series. This anime is a thriller with Shinigamis, contractors etc. people mostly like its plot and the building of it. Therefore, he is a contractor who works for good organizations like the CIA. His nickname is Black reaper. He can throw electric energies with the things that generate electricity like wires, water etc.
He has a very cool mask, it has two evil eyes in oval shape with a blue scar on the right. The lightning scar crosses his right eye and has a big scary smile on the mask.
11. Inosuke Hashibira's mask- Demon Slayer
Inosuke is the audience's favorite character Kimetsu no Yaiba (Demon Slayer). It is so much fun to watch it, there will not be any moment that when Inosuke is there and it is dull, it is always so much fun. He has two swords with patterns like shark teeth and has very sharp edges. However, the best comedy scene in the anime is when he comes to know how he makes those shark like teeth on the sword.
Inosuke hashibira
He uses a unique breathing style like a beast. His head is always hidden with a boar head that he wears like a mask. Therefore, the mask seems to be very reali with brown fur and blue eyes. However, this makes the audience curious like how he obtained this mask.
12. No Face's mask- Spirited Away
Finally, now we will discuss something by Studio Ghibli with Spirited Away. this character kind of creates an illusion how No face's mask has actually no mask! In fact, it is just his face. However, we will still consider it as a mask because it covers his face similar to a mask.
Moreover, his name itself is No Face no eventually it cannot be his face. This is one of the anime masks which is similar to those who already are on this list. However, the main thing that makes it different is that this mask is animated.
13. Blue Spirit Mask- Avatar The Last AirBender
It is an anime that deals with the gatekeeping weeb. It is of course an anime and it is a very good anime that the mask that you barely can see will be your favorite. This mask actually rocks among the fans or people. It is a classic aesthetic series so avoid watching it at night or you would be terrified. However, we all somewhere know who is behind this mask.
14. San from Princess Mononoke
Princess Mononoke is a story of a girl whose name is San. She is raised by wolves in the forest. Her main motto is to save the forest from the people who want to harm it for their personal advantage. She is a fearless warrior and she acts like one of a wolf would. Because she was raised by the wolf goddess Moro she thinks she is a wolf too.
Therefore, San treats her like a mother and the other two wolves like her siblings. San has a red mask with white lines splitting the mask. It has yellow round circles on both the eyes and one on the mouth. The anime mask also got the two long ears like a wolf.
15. Mystogan – Fairy Tale
As you can understand by the name Mystogan that there must be some mystery in it, and you are right. He is a very mysterious character of the Fairy tale guild. He is on the S – class Mage but no one has seen him, his skills or his face. Therefore, he has a concealing mask and over his head there is a bandana.
His mask is dark green in colour and covers his face except his eyes. The bandana that he wears covers his hair and most of the forehead. He carries mage stuff on the back which looks very creepy.
Also read: Best Anime Series on Netflix to watch
Also read: 10 Best Hot and Sexy Anime Series of All The Time