The TikTok star Bella Poarch has risen to fame. She joined the platform in 2020 and saw a quick rise in followers. Her life story also shows how hard it was for her to make it big. She first became viral in Tiktok because of her "M to the B" lip-syncing video. After that, her mesmerizing head-bobbing video helped her to get 50 million likes. Also, it got viewed half a billion times. In a matter of months, she got listed among top Tiktok stars. Now from a normal girl, she has become a celebrity. Now everybody is aware of Bella Poarch TikTok. You can find all the details of Bella Poarch here.
Find out about her life story, career, age, and net worth.
How old is Bella Poarch?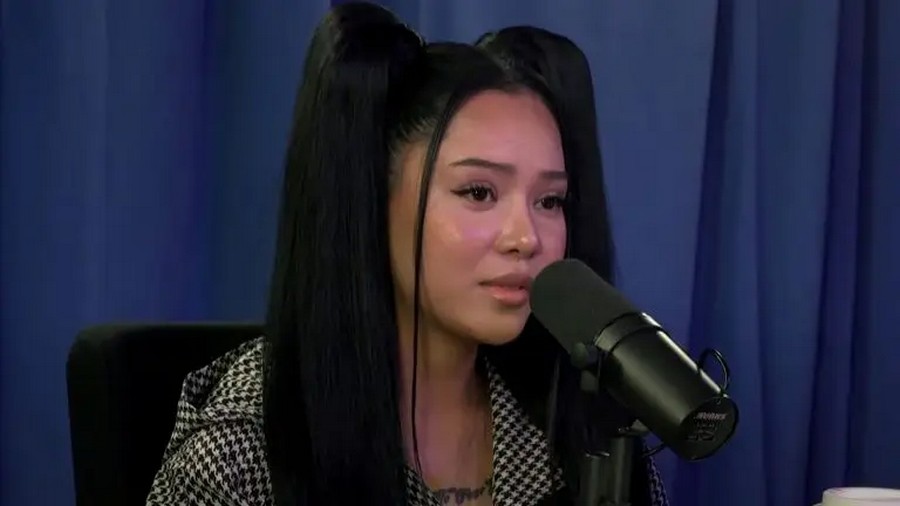 The birth date of Bella Poarch is February 8, 1997. She is a Filipino American. Her age is 24 years old. Her parents raised her in the slums until she was 3 years old. But then she got adopted. Her adoptive father is a white American who served in the US military and her adoptive mother is Filipino. Also, they both are from Saudi Arabia. Her father was stationed there and then they moved to the Philippines.
Her days with her adoptive family were not good. She revealed in an interview that she had to work on the farm and do chores. For that, she had to wake up at 4 AM. But sometimes she even woke up at 3 if she has to go to school on time. In the Philippines where she lived the schools started at 6:30. Then she cleaned the animal excrement at the farm and also cleaned the house. She had only a little help from her older sisters and brother. This made the interviewer compare her life to Cinderella.
Bella Poarch experienced abuse in childhood
Poach related her experience of being abused as a child. In a podcast, she opened up about the abuse she suffered from her adoptive family. Her nickname was 'stupid b***h'. If she did not complete any chore, she received punishment. Her stepfather will deprive her of breakfast or even slap her. She revealed that she went to school with a swollen face. But the teachers only criticized her and asked her to complete her schoolwork quickly and did not care about her injury.
Bella Poarch believed that the farm was the reason for her problems. She said that the abuse did not begin when they first adopted her. It went on well till she turned 6. But when she was 7 the abuse began as the farm and farm animals arrived. So, it was a difficult childhood for her.
Further, she revealed that her stepfather had to go to the US for surgery. Then she enjoyed the months when he was not at home. She did things like watching TV, sitting on the couch, speaking her native tongue, and more. When her adoptive father was not able to return to the Philippines because of his health, her adoptive family and she moved to the US. At this time Poarch was 14.
Also read: Cool Biographical Details of Payton Moormeier
She joined the Navy as a means of escape
Bella Poarch continued to share many details of her life in the podcast. She shared that she joined the navy to escape from her problems. She did not know what else to do. At first, she was scared because she was only 17. Then she served for four years in the navy. The last thing that her adoptive father said to her was "Don't ever come back here; this is not your home". In the navy, things got better for her because for the first time in her life she felt free. Also, she had a lot of fun. The navy allowed her to feel good about herself. Being in the navy was better for her than living with her adoptive family.
She was not permitted to wear makeup
Bella Poarch is a natural beauty but she wanted to do makeup in her teens like all teenagers. But she was not allowed. So, when growing up she did not get the chance to do makeup. So, she felt jealous of other girls. But she became famous for her signature look in TikTok. After she left home for serving in the navy, she explored different ways to do her hair and makeup.
For her tutorial for Vogue, she shared about her process of doing makeup for TikTok videos. She learned to be a perfectionist in the Navy so it was easy for her to get the perfect makeup look. In the makeup process, she wrapped up her hair easily. Now she can do everything on her own because of her experience in the military.
Bella Poarch got in trouble for her tattoo
In 2020 Poarch suffered a backlash from her fans for her rising sun tattoo. When she showed the tattoo to her fans in TikTok they got angry. They compared the image to Japanese imperialism after their occupation in Korea. So, this symbol is offensive to the Koreans. But the TikTok star handled the situation well. She came to Twitter to apologize to her fans. Then she promised her fans to remove it.
After that, she uploaded a video on TikTok with the image of the tattoo with text. She said, "I'm very sorry if my tattoo offends you. I love Korea. Please forgive me". Many people accepted her apology. Now she has a good fan following.
One time a fan asked Poarch why she is getting a lot of tattoos. Then she responded in TikTok claiming that tattoos were there to hide the scars from her childhood. In the video, she showed many tattoos up close to her fans. She captioned "I had a rough childhood. My scars from abuse made me insecure. And so, I had to cover up my scars with tattoos".
TikTok gave her solace
Bella Poarch is from a modest background. But now she is earning a lot of money through TikTok. She has become a popular star and has released her debut single "Build a Bitch". As of 2021 she has over 80.1 million followers and is the fourth most followed personality on the platform. Also, she signed a music deal with Warner Records. Many people are criticizing her for the music video she posts but still, her fanbase is loyal.
She thanked TikTok for changing her life. Before her TikTok career, she found it hard to pay her bills but now she can live a comfortable life. Then she ended her tweet by encouraging people to fight till they get what they want. Her net worth is estimated to be $12 million.
She is a great singer
Poarch is a great singer. Now she is slowly showing her singing talents to the world. In the future, she will release more singles. She sings acapella and performs with a Ukulele. The popular YouTuber Tristan Paredes shared a reaction video to appreciate the musical talents of Bella Poarch. He complimented her vibrato. Now with her connections with the singing industry, she will become an accomplished singer in the future. She has released some singles that have become popular.
Conclusion
Bella Poarch is a great influencer in TikTok. Many people love to follow her. She is a fashionista who loves to sing and enjoy her life.
You may also read: Peyton Coffee (TikTok Star) Biography