The world has seen little Sasha Obama grow right in front of their eyes. Ever since her father attended power and position as a president in 2009, Sasha was in the limelight. And she enjoyed that quite a lot. However, being the president's daughter has its perks and limitations as well. People are always watching every step you take and commenting. Besides, she is no longer a little girl. And as a teenager, people watching you constantly can get bad. Because that is the age to make mistakes, fall and rise again.
Let's not make any more delays and delve into interesting facts about Sasha Obama. Stay with us throughout the end, if you are interested as well.
Did you know that her full name is Natasha?
Just when we were convinced that we know everything about Sasha Obama, she blew our minds. It seems like Sasha is short for Natasha. We had already heard it once earlier in 2016 when a source revealed that she was using her full first name for a summer job on Martha's Vineyard. However, people ignored it because they thought it was fake news. But, Ashley C. Ford, a Twitter user, shared the news in 2017 confirming that those were not rumours. Wow!
Sasha got very ill as a child
Many of us do not know this but Sasha Obama got very sick when she was a child. In fact, in a campaign video that Politico reported, Barack Obama has spoken about his trauma when Sasha was ill.
"People ask me what was the hardest time in my life — they ask, well what about during the debt ceiling debate and this and that and the other thing".
But all those dwindled to insignificance in front of her daughter's illness.
"Sasha got meningitis when she was 3 months old. I still remember going to the hospital together and they had to give her a spinal tap."
Furthermore, he said that his world was falling apart because Sasha got very critical. However, she recovered and now lives a happy and healthy life.
She had a fan moment with her crush Ryan Reynolds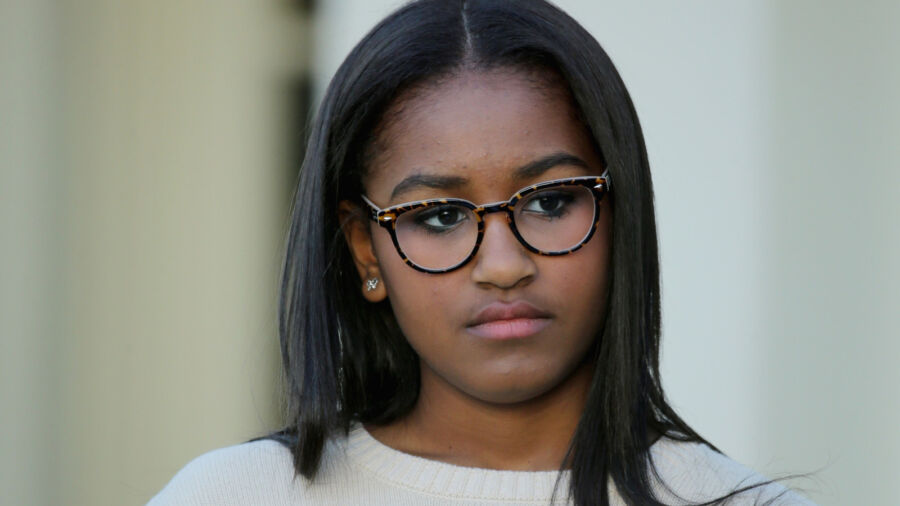 Well, every teen goes through the dewy-eyed phase at the sight of their crush. It was the same for Sasha Obama when she met Ryan Reynolds. Don't you find it surprising when you see her behaving like any other ordinary kid? However, these things remind us that celebrity kid are just like us. And that makes us happy.
But being the president's daughter has its perks. At a state dinner in 2016, she got the opportunity to meet and take pictures with her favourite Ryan Reynolds. Besides, her sister Malia was also there giving her the thumbs up. What a wholesome moment!
Here's a funny incident
Like every American kid who finishes school and looks for a summer job, Sasha Obama tried one too. However, it isn't easy looking for an average part-time job when you are the president's daughter. She worked at Nancy's, a seafood restaurant on the island of Martha's Vineyard in 2016. The customers there were sceptical as to why so many people were helping a girl do her work. However, on keen observation, they understood why. The girl serving them was none other than… You know the rest.
She is besties with Biden's granddaughter
Did you know that Joe Biden and Barack Obama were school friends too? Both of them attended Sidwell Friends School in Washington. As Us Weekly reported, people have seen that they were hanging out in Miami in early 2017.
Furthermore, turns out Biden's granddaughter Maisy Biden and Sasha Obama are childhood besties. Reporters have seen them together quite a several times. They share many things in common and that is why they have been inseparable since childhood.
Apart from this, she is also friends with Skylar. She is the daughter of Jackson Jordan. Skylar's mom, Charrisse Jackson Jordan, has acted in The Real Housewives of Potomac on Bravo. She was incredible and you know it.
In fact, she has said about her daughter's friendship with Obama. "Skylar and Sasha are friends. They go to lunch. Secret Service is out there standing outside while Skylar and Sasha's having lunch."
How did she celebrate her sixteenth birthday?
Like any other super-rich kid, Sasha is used to big parties. In fact, she throws some of them herself. One such event was her 16th birthday. In addition, she wore a beautiful red dress by Jill Jill Stuart for the big event, as reported by Business Insider.
The guests took several pictures of the day and posted them on social media. From that, we can know the guest list. However, she also made sure to include a couple of other important people on the guest list. Out of them were her parents, the most important on the guest list.
She likes to hear live music
Sasha Obama is a lover of live music concerts. So much so that, she has attended the music concerts of famous musicians like Rihanna and also Jay Z's Made in America music festival in 2016.
Furthermore, on Sasha's 15th birthday she went to watch Beyonce's live performance with Malia, and Michelle in Baltimore. The Washington Post posted this news. Apart from this, she is an excellent dancer and we all have seen her dance on talk shows and in interviews.
Can we find her on social media?
We cannot find her on social media. However, she is on Twitter. Her father has said that. Besides, he also said on the Jimmy Kimmel show that she uses Snapchat and taught him how to use it.
She studies at the University of Michigan
Despite being a very studious student, Sasha chose not to follow the family trend of going to Yale or Harvard. Instead, she studies at the prestigious University of Michigan.
Sasha isn't into much junk food
When Michelle Obama was the first lady from 2008 to 2016, her primary directive was her Let's e initiative, which was aimed at reducing childhood obesity in the United States. Additionally, she had planted a beautiful garden on the lawn of the White House. Furthermore, she talks about good eating.
Sasha Obama had to develop healthy eating habits, both in the home and out in the world. This has been confirmed on several occasions, such as when Michelle told the Food Network that her daughters have to eat vegetables and balanced meals. She also admitted that she would put vegetables into meals, such as hiding cauliflower in mac and cheese.
Ending note
We have given you a number of information about Sasha Obama. Apart from all this, she has very cool fashion trends, which celebrities like Drake have appreciated. We hope she leads a happy and healthy life.
Also Read: Bachelorette Alum Clint Arlis Commits Suicide: The Cause of His Death