When it comes to finding the right sport for you, you should certainly consider water sports as they can be extremely satisfying- paddleboarding in particular. You can use a paddleboard in many different ways; you can practice yoga on the water, take a relaxing paddle in a lake, race with your friends, or catch some waves in the ocean.
There are endless ways to use a paddleboard, but there are paddle boards that are better suited to some activities, so it is beneficial to know how you intend on using your paddleboard before you purchase one. A stand-up paddleboard (SUP) that is used to calmly paddle through lakes is much different from one that is used to surf the waves. Before you choose your ideal SUP, you should be familiar with the types and shapes. On that note, read on to find out more about how to choose the right board for you.
Round Paddle Boards
There is a certain type of board that is designed for family paddling, leisure tours, surfing, and SUP yoga; this type has a rounded shape and tends to be big and wide. Round boards are made smoother to handle maneuvers and are safer for beginners and family members who don't plan on gaining lots of speed or going on adventurous trips.
This type of board is excellent if you're a beginner or a surfer as it will be more flexible while facing waves. A round SUP has a planing hull that makes it easy for you to fish from and practice yoga exercises as well.
Race and Touring Boards
This type of SUPs is designed for ultimate speed. If you care about speed over anything else, this board is for you. It has a displacement hull that has a pointed nose making it super fast. These boards are a perfect choice for racing, touring, and fitness paddling. This pointed bow means that it requires less effort to paddle longer distances. Race boards have a narrow width, unlike the rounded ones.
To make sure you're getting the right board, you should check the features of every type to help you decide. The experts at StandUpPaddleBoardsReview.com explain that paddleboarding is a fast-growing sport, yet it can take beginners some time to learn how to move fast. Therefore, they suggest that if you're in doubt, you should choose a rounded inflatable paddleboard.
Inflatable SUPs
If you're an avid traveler who goes on lots of adventures, you will want to take your board along with you. An inflatable board allows you to take it anywhere; you can take it with you on a plane, bus, or car. It is an excellent choice as you won't be able to take a wooden or a solid board if you are packing a suitcase. Inflatable SUPs are not exactly lightweight, but if you want to surf or paddle where you're going, you don't have many other options.
You should invest in an inflatable board if you're short on space as well; if you live in a tiny house or have a small car, it makes your life easier, and it can be stored anywhere in your apartment and carried easily in your backpack.
Solid SUPs
For stability and steadiness, you should go for a board that is made of either wood or carbon fiber. A solid board will guarantee you balance and stability when you stand up on it, especially when you're surfing. Facing ocean waves is only recommended for expert surfers and a strong board will protect you from falling.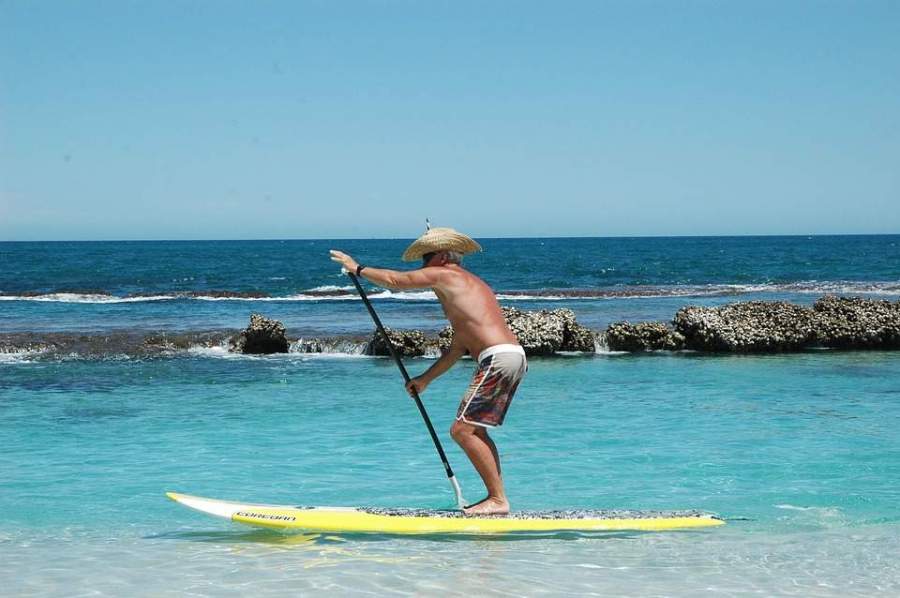 Solid SUPs also come in a wide variety of shapes and sizes, so you will have the luxury of choice. Using a solid board also means that you exert less effort than when you use an inflatable board. You should also have a large enough space to store it and a large space in your car to be able to transport it as well.
Paddleboards offer everyone something, and there is a paddleboard out there for everyone, regardless of whether you want to do some relaxing yoga on a tranquil lake or avoid wiping out in large ocean waves. If you decide to buy one, there are lots of things to consider before doing so. SUPs are diverse, so you should know why you are buying one before you actually do.
It has never been easier to do research on paddleboards, and there are a vast number of resources out there. Decide on your activity, research what type of paddleboard you need, and go out there and buy one. After that, you can enjoy the water however you please.
Also read: