The Microsoft Word document format is trendy, and many users regard it as the de-facto standard. Most people or businesses save their important documents here. But on occasion, unintentionally exiting Microsoft Word, experiencing an application crash, or experiencing an unexpected error on your computer may cause a Word document you're working on to disappear unsaved.
This frequently results in the loss of data, time, and effort. Fortunately, you can take some approaches to recover unsaved word documennts. Our article goes into detail about how to recover word documents that you forgot to save or lost due to an unexpected error with the help of the best data recovery software Wondershare Recoverit. So, Let's go. 
Common Ways to Recover Word Document
There are some common ways to recover word document that is described in the given below:
1. Recover from Recycle Bin
The first place to look for missing or deleted files is in the Windows Recycle Bin. The Recycle Bin is a particular folder in which the operating system saves objects that have been deleted.
If your file is still present, it is simple to recover it. Follow these simple steps to see if your deleted word document can be recovered from the Recycle Bin.
Go to the recycle bin from the windows start menu or the desktop.
Check to see if the word document you deleted is still present.
If you don't know what the file name is, look for file types like DOC, DOCX, DOT, etc.
To recover the Word file, select it and then click "Restore." You have now successfully restored your unsaved documents to a safe location.
2. Recover Data From A Backup
It would be best to back up your computer regularly for data recovery. You can use the file history feature that comes with windows. A third-party backup solution for windows systems is also available.
I'll show you how to recover a lost or unsaved word document using File History backups in this example. Follow these simple instructions:
In the taskbar's search box, type restore files.
To restore your files, select File History.
To switch between different versions of the document you want to restore, use the arrow keys.
Select Restore to return the word file to its original location. You can choose to Restore if you want to save it somewhere else.
How to Recover word document with Recoverit
If you don't have a backup, professional data recovery software will be required to recover your photos/pictures. Wondershare Recoverit is a software that can recover all types of lost files from your computer, including videos, images, documents, audio files, emails, and so on. In the following steps, I'll show you how to recover permanently deleted photos from your computer using Recoverit:
Step 1: Choose the location of your lost Word document files and then click "Start" to proceed.
Step 2: Word Document Recovery will scan the disk for deleted and unsaved Word document files.
Step 3: Following the scan, you can preview all recovered Word document files, select the desired one, and save it by clicking the "Recover" button.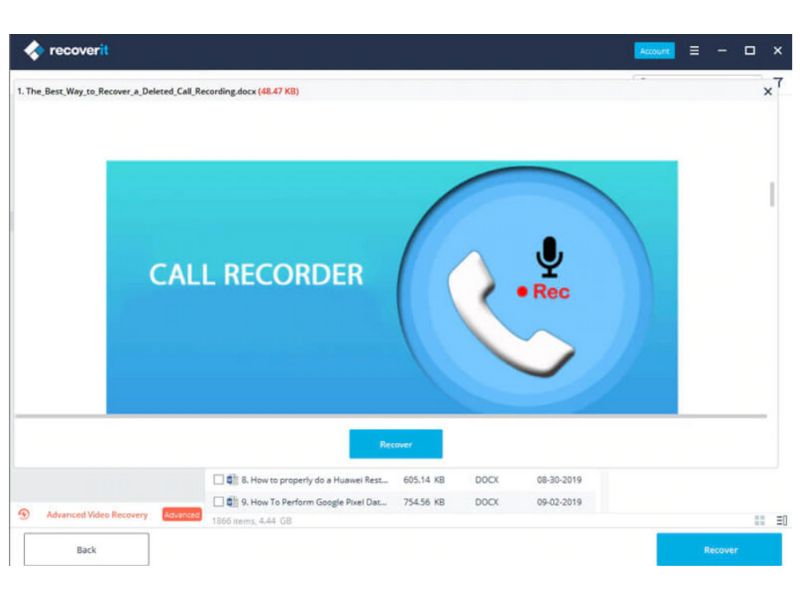 Why Should You Use Wondershare Recoverit?
Wondershare Recoverit is a perfect data recovery software for different formats. Several factors are considered to determine Wondershare's overall usability, particularly its ability to data recovery.
Let's take a look at the best features of Wondershare Recoverit. 
The most recent version has a more user-friendly interface, more stable preview and recovery with a more extensive preview window, and a faster scan and recovery process.
The website offers a quick, free, and secure download for macOS and Windows, and it is fully compatible with older versions of Windows – 8/7/Vista/XP.
Wondershare can recover all file types, including documents, graphics, video, audio, and email.
It can recover files in over 1000 different formats, including DOC/DOCX, XLS/XLSX, PPT, PDF, HTML/HTM, MOV, MP4, MPG, AIF, WAV, MP3, PST, EMLX, ZIP, RAR, JPG, TIFF, PNG, GIF, WMF, RAW, VVI, and others.
Recovers data from all types of data loss situations, such as an empty recycle bin, an accidental deletion, disk formatting, partition loss, external device corruption, virus attack, system crash, bootable problems, etc.
It employs a sophisticated data recovery algorithm and intelligent scan and deep scan technology. Video fragment technology can also be used to restore videos.
Tips to avoid word document loss
For all businesses, data has become increasingly important. Whether caused by a security breach or an unintentional error, data loss can be detrimental for businesses. Here are seven methods for preventing data loss in your organization
1. Do not keep your documents on the same drive as your operating system
While most documents will save your files in the My Documents folder, this is the absolute worst location. Most computer problems, whether caused by a virus or a software failure, affect the operating system and in many cases, the only solution is to reformat the drive and reinstall the operating system. Everything on the drive will be lost in such a case.
2. Backup your files regularly, regardless of where they are stored
Simply storing your files in a different location than your operating system isn't enough; you also need to make regular backups of your files. Let's face it. Even backups fail: CDs get scratched, hard drives fail, and floppies get erased. It makes sense to improve your chances of successfully retrieving a file by having a second backup of it; if the data is genuinely critical, you may even want to consider storing a backup in a fireproof vault.
3. Maintain hard copies of your documents
While having a hard copy will not save you from having to type and format your document again, having a hard copy will ensure you have the contents of the file which is better than having nothing at all!
4. Use anti-virus software and email security
Email threats such as hacking, phishing, and ransomware can be the most dangerous to data. To prevent malicious emails from reaching your company, implement a comprehensive anti-virus and security system. Make it a point to educate your team regularly on the importance of email security.
Conclusion
Wondershare Recoverit is a fantastic backup and data recovery software. That works on virtually any device. Even if you want to restore video from an old camcorder, you can do so with Recoverit. If you need to protect data because you work from home, or if you simply want to know that your photos and videos are safe, you can easily try the free download to see if it's the right software for you.
Also read: Top 5 Types of Files Retrieval Using Data Recovery Software