Glamour is the most highlighted word in the world of fashion and very few shows on earth can outdo the Met Gala 2022 when it comes to glamour. That is why the Met Gala has frequently been compared to the Olympics and the Oscar. Moreover, this grand fashion fiesta also sets the latest trends in fashion. Thus, fashion enthusiasts from all over the world observe what celebrities wear to the event. It has also become a tradition among the fashion enthusiasts, to analyze the dresses worn by the stars at the Met Gala
This year the Met Gala 2022 has been an exquisite show, with the models and celebrities storming the floor with their extravagant costumes and looks. The Met Gala sets a particular theme every year. "In America: An Anthology of Fashion" has been the theme for this year's event. This theme has been designed specially to pay tribute to the trends of fashion that were in vogue in America between 1870 and 1900. Thus, all the invitees this year were asked to dress in "gilded glamor and white tie." This was done to celebrate The Gilded Age of America.
The fashion world has always been eager to analyze how the invitees at the Met Gala interpret the theme with their costumes. Thus, there always remains a trend of bringing out the best-dressed celebrities from each version of the event.
We have tried to bring out the best-dressed celebrities from the Met Gala 2022
1. Michelle Yeoh
The actor has already captured popular and critical attention with her stunning performance in Everything Everywhere All At Once. At the Met Gala 2022, she stunned the audience with a voluminous green gown and cape.
2. Blake Lively
Any fashion enthusiast is well aware of the fashion track record of Blake Lively. Thus, it is no surprise that she is on the list of best-dressed celebrities at the Met Gala 2022. Donning a crown with a strapless custom Atelier Versace dress with pink opera gloves, her look was jaw-dropping. Her husband, Ryan Reynolds, perfectly complemented her in his black tuxedo.
3. Vanessa Hudgens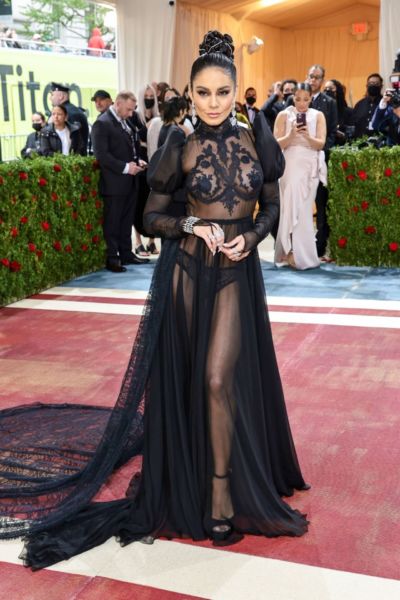 Vanessa Hudgens looked appealing in her sheer black gown, featuring a train and puffy shoulders. Her sexy look was curated by Moschino. In addition, she had her shoes from Jimmy Choo. She carried this daring ensemble with a perfectly suited attitude. In fact, she seemed to know that she was looking amazing!
4. Janelle Monáe
Janelle Monáe, in her glimmering gown and shining headpiece, looked like the queen of the red carpet. Her stunning ensemble also featured a completely open back, making her too hot to handle! In fact, she set Twitter on fire with her fans posting her stunning pictures and showering praise on her looks.
5. Maude Apatow
The Euphoria famed star made her Met Gala red carpet debut this year in a black off-the-shoulder gown, along with a stunning Cartier diamond choker and matching earrings. Her gown was by Miu Miu. With vampy dark lipstick and a vintage hairstyle, she offered a retro interpretation of the theme of Met Gala 2022.
6. Normani
The famed singer stepped onto the red carpet in a show-stopping all-black two-piece costume ensemble by Christian Siriano. Her costume featured a puff-sleeve top with a strappy choker neckline and a low-rise mermaid skirt. In her interpretation of the theme, Normani looked absolutely appealing.
7. Mindy Kaling
The Mindy Project star looked sensational in the Met Gala 2022. She donned a lilac gown with a plunging neckline, showing off her cleavage and a thigh-high slit on the side. In addition, she wore a pair of matching silk pumps and diamond jewels. Her appearance also evidently showed the star's recent weight loss and her choice of the gown also showed the very feminine side of the actress.
8. Camila Cabello
25-year-old singer-songwriter Camila Cabello made heads turn as she stepped onto the red carpet at Met Gala 2022. She donned a gorgeous white Prabal Gurung gown, featuring a long train, a floral accent at the waist, a unique neckline, and a stunning lace-up crop top. Moreover, her hairstyle, curated by Andrew Fitzsimons, added to her appealing avatar.
9. Alicia Keys
The star singer stunned the audience as she walked onto the red carpet at the Met Gala 2022, donning a sparkling Ralph Lauren gown, alongside her husband, Swizz Beatz. Her gown was specially designed to pay tribute to her hometown, New York City. Her glittering gown represented the sleepless twinkling lights of the city.
10. Kim Kardashian
Kim Kardashian set heads turning, as she walked into the event, donning a sparkling skin-tight gown, giving us  Marylin Monroe vibes. Her body as usually looked incredible and the fur-like wrap added to the glamour. However, with her blonde hair, she played it safe.
Also read: A Biographical Detail on Khloe Kardashian and Tristan Thompson
11. Megan Thee Stallion
All shiny things are not gold. But Megan Thee Stallion in the all-golden attire looked predictably fierce. This is yet another Moschino magic. In brief, the rapper with her sizzling hot look set the event on fire. 
12. Gigi Hadid
The model's jaw-dropping look at the Met Gala 2022, has become a hot topic. The puffer jacket-inspired overcoat that she wore, will surely become an unforgettable red carpet moment for years to come. Her costume was a total surprise, which none expected. However, Gigi Hadid carried it with grace and slew it.
13. Sarah Jessica Parker
The veteran stylish actress nailed the theme at the Met Gala 2022, as she entered the event dressed in a buffalo plaid gown. Her costume featured a princess skirt and long sleeves. Finally, a feather plumed headpiece completed the look. Her Met Gala look pays homage to Elizabeth Hobbs, the first Black female fashion designer in the White House. On the whole,  Sarah Jessica Parker looked absolutely elegant in her Met Gala look.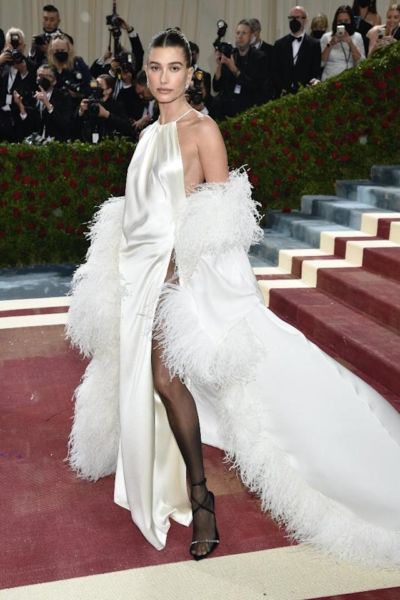 The model focused on minimalist beauty at the Met Gala 2022. Her all-white gown featuring a slit and a low back, coupled with her brunette hair and mauve lips made her look appealing. The feather cape that she donned, paid homage to Jerry Hall. 
So, that's all, we have mentioned all of them who have slayed the met gala 2022!
Also Read: The 10 Best TV Shows of 2022 – So Far