Jumpsuits are a clothing item that seems to move in and out of style over time. Each time they come back into style, the trending jumpsuit may look totally different, but one thing never changes: they are comfortable and make getting dressed in the morning as easy as it gets. Casual, comfy jumpsuits are trending right now and perfect for an easy day out. Women are buying loose jumpsuits so that they can wear them everyday. This comfortability makes them so popular and women buy them so often that they should probably purchase them wholesale.
Jumpsuits come in so many styles and you will be able to find one perfect for your occasion – as dressy or casual as you need.
Casual Loose Jumpsuit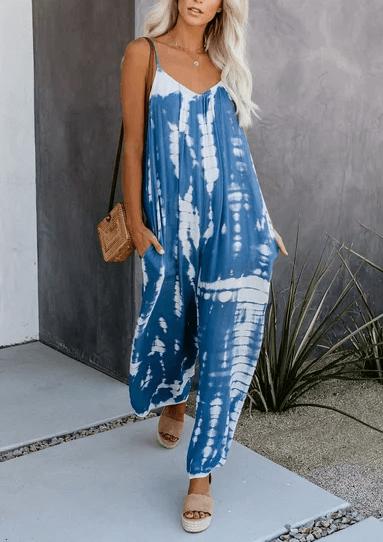 If you want to sport a cute jumpsuit, but also want to stay comfortable enough for errands, something casual like this sleeveless jumpsuit is perfect. The fabric is a comfortable cotton blend that you can easily move around in and the sleeveless top makes it perfect for warm weather. If it cools off, you could pair this with a plain white t-shirt underneath.
Utility Jumpsuit
This utility jumpsuit is perfect for all occasions. The linen and canvas blend makes it durable enough for all day, but you could even pair it with boots for a night out. High quality items like this are a great investment as the fabric will last well over time and the cut never goes out of style. The dark color of something like this will always look clean and put together.
Shimmer Jumpsuit
Jumpsuits are perfect for dressy occasions if you are not feeling a dress that particular evening. This shimmery number is covered in sequins and sparkles, so it will attract light all night long. The neckline and waist-cinching is flattering on every figure. The wide legs will also flatter a variety of body types.
The deep neck-line leaves plenty of room for whatever neck accessories you think would work well. You can pair this with any neutral or shimmery heel for the perfect sparkly look.
Denim Jumpsuit
Denim is durable and a jumpsuit like this may be an investment depending on where it is purchased, but it will be well worth the money. This jumpsuit is similar to a utility jumpsuit, but is made from denim instead of canvas or linen. Denim jumpsuits can be made casual with flat shoes or styled up with heeled boots.
You can bring in the waist of a jumpsuit with a leather belt like this and roll up the sleeves for an effortless look.The cropped legs are perfect to show off your favorite boots or a nice pair of heels, but would also work well with casual sneakers.
Wedding Jumpsuit
Not everyone likes wearing dresses – not even on their wedding day! If that sounds like you, a timeless white jumpsuit like this is perfect. The chiffon blend is similar enough to that of a dress, so it looks just as dressy and special as a classic dress made of the same fabric.The wide legs and cinched waist are perfect for plenty of body types and the kimono sleeves offer plenty of arm coverage if that is what you prefer.
Also read: Learn The Truth About Black Leather Jackets in The Next 60 Seconds