Businesses of all sizes must use call tracking software in the modern world. You can monitor calls from sources, increase conversions, and enhance your sales process with the aid of a dependable call tracking system. You may make changes that will eventually help you meet your sales goals by collecting knowledge about phone-based consumer interactions. It might be difficult to choose the best call tracking software that is most appropriate for your needs since there are so many on the market.
This post attempts to provide you with a selection of top phone call tracking systems so you can pick the one that best suits your requirements. Learn about these call tracking solutions, boost sales, and streamline the sales process to advance your company!
We will examine the attributes and advantages of each tool while providing summaries for rapid assessment. In addition, we will provide advice on picking the call tracking software based on your particular requirements. Let's start examining these possibilities!
What is Call Tracking?
The act of collecting and analyzing data to enhance comprehension, evaluation, and optimization of the expenses associated with acquiring clients via phone calls is often referred to as call tracking. In addition to using web-based analytics, call recording, and audio call analysis, the system employs a diverse array of tracking methodologies. Acquiring information about the sources of calls, their durations, and conversion rates facilitates the enhancement of customer acquisition and satisfaction rates. 
Business enterprises have the potential to modify their strategic approach and, therefore, enhance their production levels via the use of call tracking tools. This practice empowers businesses to ascertain the specific marketing channels that are most effective in creating a greater number of potential customers. 
Call tracking is a valuable tool for organizations to enhance the efficiency of their sales teams. It does this by providing insights into customer responses to different messages and the impact of different conversational styles on conversion rates. Organizations acquire this data in order to enhance the efficiency of their sales personnel. Call tracking is a supplementary instrument that enterprises may use to expeditiously evaluate the return on investment (ROI) of their diverse marketing endeavors.
Investigating the Best Solutions
The increasing popularity of call tracking services may be attributed to the valuable insights they offer to firms about customer interactions with their products and services. Online call tracking enables businesses to identify potential areas for growth, create sales leads, and get deeper insights into consumer mood.
Given the abundance of call tracking tools available, it might pose a considerable challenge to effectively streamline and identify the most appropriate alternatives for your organization.
Presented below are 5 very efficient call tracking solutions now available on the market, offered for your convenience:
1. Phonexa
G2 Rating – 4.9/5
One of the best call tracking apps available right now is called Phonexa. It offers strong insights that may help organizations increase revenue and improve customer satisfaction. Businesses may record, monitor, qualify, and attribute phone leads using its platform. As a result, companies can properly determine the source of their leads and use that information to evaluate the success of their marketing initiatives.
To evaluate the effectiveness of marketing and sales efforts, Phonexa also offers reporting and analytics solutions. Businesses may customize their messaging and campaigns to target the most qualified prospects by using real-time analytics call tracking. Their effective monitoring capabilities also provide sharp insights into how leads engage with various channels.
A great call tracking solution for companies of all sizes is Phonexa. It offers attributes including call scoring, thorough campaign analysis, and automated call routing. All of these capabilities support organizations in maximizing ROI and improving customer experience. Businesses have all they need with Phonexa to manage and monitor phone-based leads.
2. CallFire
G2 Rating – 4.4/5
Any organization that wants to know how well its marketing activities are doing should use CallFire as its primary call monitoring tool. CallFire delivers the most up-to-date analytics and call monitoring solutions with a variety of capabilities to fulfill unique client demands and optimize returns on investment. With CallFire's comprehensive analytics, you can learn more about:
marketing initiatives,
online track of conversations,
client patterns,
areas that need development.
A straightforward dashboard provides customers with a thorough picture of the facts for simple interpretation. With the use of CallFire's call tracking tools, companies may divide up their clientele for more specialized and efficient marketing.
Customers on a tight budget may benefit from CallFire's pay-as-you-go price structure, which begins at only $0.02 per call. Additional capabilities offered by this efficient call tracking solution, such as SMS reminders and automated calls, aid in monitoring and measuring consumer reactions. Additionally, organizations can effectively monitor and modify their campaigns thanks to connections with Salesforce, Google Adwords, and other systems.
3. Invoca
G2 Rating – 4.5/5
To assist companies in maximizing the return on investment from their paid advertising initiatives, Invoca is a market-leading call monitoring and analytics platform. Every phone contact is recorded with detailed consumer information about frequency, sales, and call origin, providing companies with previously unheard-of levels of understanding of client behavior.
Companies may use Invoca to optimize their marketing strategy, discover the most successful paid channels, and pinpoint areas where conversion efforts can be strengthened. Additionally, companies may alter monitoring campaigns in accordance with their advertising budgets, enabling them to deploy their resources as profitably as possible.
Sales grow as a consequence, and consumers are happier. Businesses may utilize Invoca's many features and capabilities to fully capitalize on the newest developments in call tracking and analytics. Businesses can now make better choices and generate more revenue from their sponsored advertising, thanks to Invoca.
4. CallTrackingMetrics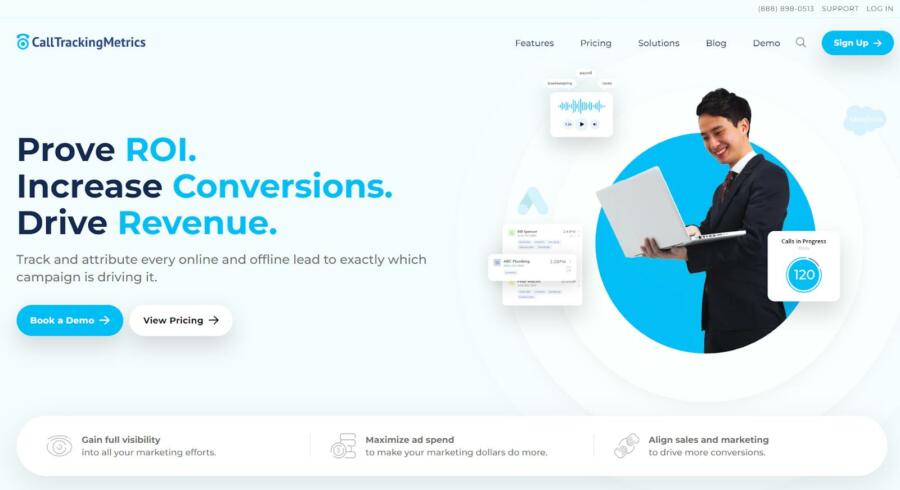 G2 Rating – 4.5/5
CallTrackingMetrics is a potent tool that supports your company in measuring and maximizing client interactions. It offers a wide range of capabilities, such as:
enhanced caller ID,
multi-level call routing,
call recording,
call scripting,
thorough analytics.
To better understand the interests and demands of your customers, you may track and monitor incoming and outgoing conversations with the aid of these capabilities. You may learn about the most effective selling strategies while also better-assisting consumers.
CallTrackingMetrics also connects with well-known marketing tools like Google Ads and Facebook Ads, allowing you to monitor the effectiveness of your campaigns in real time. CallTrackingMetrics is the best call-tracking system because of its extensive capabilities, in-depth analytics, and integrations. By improving your consumer knowledge and marketing strategy, it may help you improve sales.
5. CallHero
G2 Rating – null/5
For marketers, CallHero is the ideal call tracking solution. You can monitor the origin of your calls thanks to its extensive call statistics for both incoming and outgoing conversations. In order to swiftly pinpoint problem areas and address client input, it also gives real-time customer service ratings.
Because CallHero interfaces with the most widely used CRM platforms, you can quickly link calls to customer information. For convenient replay and future reference, it also captures and archives conversations.
What's best? It's really simple to install and utilize CallHero. You may begin monitoring your phone conversations in just a few minutes, thanks to the program's simple, user-friendly interface. Additionally, the reporting dashboard is crammed with insightful information and statistics that can be used to study consumer behavior and improve your marketing operations.
In conclusion, CallHero can help marketers make the most of their call tracking initiatives. With the help of this application, companies can quickly and simply measure important indicators, pinpoint problems, and enhance the client experience. Businesses may quickly boost sales and optimize customer happiness with CallHero.
Choosing the Best Option
This article offers a comprehensive analysis of the fundamental call tracking options that are available to businesses of varied sizes. Giving them the capacity to track and improve their interactions with their consumers is a huge benefit. With the help of tools like call routing and recording, as well as qualified leads and customisable analytics reports, the experience that the client has with the company may be made simpler and more productive. In addition to that, a comparison of the many call tracking technologies that are the most efficient was offered. It is very necessary, in order to achieve success in customer contact, to choose a call monitoring solution while keeping the objectives of the company in mind.
When coupled with solid customer service, businesses are in a better position to tailor their strategies to the specific needs of individual clients. If one of these leading call tracking systems is purchased, the potential ROI may be enhanced since the sales process may be improved via its optimization. These industry-leading call monitoring tools should be the first point of contact for any business owner who is interested in optimizing the quality of their contacts with consumers as well as the amount of revenue those interactions generate.
Also read: 8 Best Tracking Apps for Family