The room dividers are a great way to have two rooms in your home. It is decorative, temporary, and inexpensive to arrange separate rooms. For instance, you can divide a large room into small areas at your convenience. So you can get the privacy you need with it. These are available in different designs, heights and materials. Some of them can go from the floor to a ceiling, while others you can customize according to your needs.
But you must know about the different types of room dividers and how to use them. Here is a guide for you to know all you have to know about the room dividers.
What are the types of room dividers?
1. Hanging solid divider
The hanging sold divider is best for decorative uses as it comes in many great designs and colours. It can make any room look more attractive. These panels are made from resin, light wood, acrylic, or other materials. Further, you can arrange to hang from the ceiling to the floor if you want to divide rooms. It can slide open or close based on your requirements. Also, you can get different degrees of privacy and light. Plus, these also require ceiling hardware for hanging and moving.
This is a lightweight option and not very solid like a wall, so you can change its location any time you want.
2. Paper curtain
This type of room divider acts like a curtain and divides rooms. For instance, you can install a paper curtain in your family room if you want to divide the hall and the dining area to get some privacy. This is the one for you if you are looking for an affordable option. It is also less physically taxing to install or move it, so you can do it yourself.
But there are expensive options in the Paper curtain, too, made of expensive rare fabric or materials. For example, there are room dividers made of thick velvet fabric that need a heavy-duty rod or a tracking system to hold them.
3. Folding room divider
A Folding room divider is a great option if you are looking for temporary room dividers which you can fold up or use anytime. It is also best for large spaces for easy set-up. These are made of fabric or other solid materials connected by hinges, so you will be able to fold them like an accordion. You can unfold the divider and install it anywhere you wish. It also does not get attached to the floor or the ceiling and stands on its own. So this room divider is one of the popular options.
Plus, as many colours and design options are available in this divider, you can buy one and enjoy using it in your home.
Also read: 10 Tips for Creating An Accent Wall
4. Bookcase divider for rooms
You can get the bookcase room divider if you need a quick, solid room divider that also serves as a storage space. It also adds to your room décor and is a functional one too. It is a tall shelf which you can move, and you can also arrange your books, artwork, keys and other trinkets. Plus, it also offers sound blocking so you can work and relax without any disturbance.
You can find many bookcase dividers in the stores; some are cheap while others are very expensive.
5. Permanent solid room dividers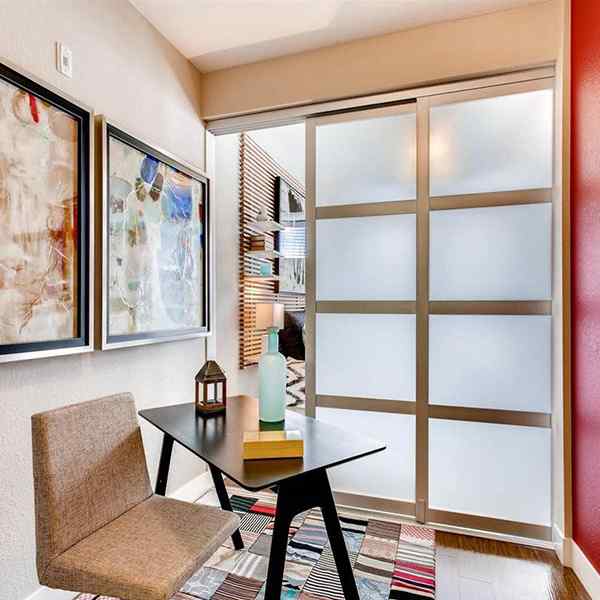 If you have a large space and are planning to create another room, then the permanent solid room dividers are a great option. It can divide into the ceiling, walls or floor. So it will be hard to move it or replace it. You can hire a professional to fix it with tracks or casters.
The permanent room dividers are solid materials like wood, glass or metal. For instance, you can use this divider in your bathroom to separate the wet and dry areas. Or you can create two separate bedrooms in a single space. So this is a great option if you want to divide spaces in your home.
How to choose the right home dividers?
The most vital part when it comes to choosing room dividers is their size of it. It has to fit the room or the space you want to install. You have to measure the length and the breadth of the divider and then only can plan to fix it in a particular area. Plus, you also have to measure the ceiling and the floor level of the space too.
Decide whether you want a transparent, translucent or opaque divider. Then you have to consider the stability of the divider and how well it can conceal and divide the space. For instance, the solid hanging dividers are often made of light fabric, so they will only give an illusion of room division. But if the material is solid, like wood or metal, it will offer you more privacy. So think about how much privacy you want in your office and home.
Further, sometime room dividers can be complicated to install, like the permanent room dividers. You will need professional help to install the casters and the tracks to hold them. Also, the sliding room dividers require the mechanism to slide easily so you can open and close them whenever you need them.
So it is also difficult to install it, and it takes some time. On the other hand, foldable room dividers are an easier option because you only have to buy them. Then you can unfold and use it anytime you need.
Conclusion
These are the different types of dividers with different features and uses. It can be difficult to choose from the variety but check how useful and suitable it will be for your use. Then decide on the product that is the most suitable for you.