In today's fast-paced and technology-driven world, it's important to stay on top of your health and fitness. With so many demands on our time and attention, it can be easy to neglect our well-being. That's where the new fitness tracker and smartwatch come in.
Are you looking for a smart, versatile device that can help you stay on top of your health and fitness goals? Look no further than Woneligo's new fitness tracker and smartwatch!
Woneligo W13 smartwatch is an innovative and advanced technology designed to assist individuals in monitoring and enhancing their overall health and fitness in various ways. It provides real-time heart rate monitoring, blood oxygen monitoring, and sleep tracking features that offer a comprehensive and accurate view of one's health status.
By utilizing these features, individuals can gain insights into their body's response to exercise, identify patterns in their sleep, and make necessary adjustments to improve their health and well-being.
Personalized tracking of your progress
Whether you are a professional athlete or simply trying to maintain an active lifestyle, this device's 100+ built-in sports modes cater to a diverse range of fitness activities and allow for personalized tracking of your progress. Additionally, its IP68 water resistance rating ensures that it can withstand various water-based activities and environments without being damaged.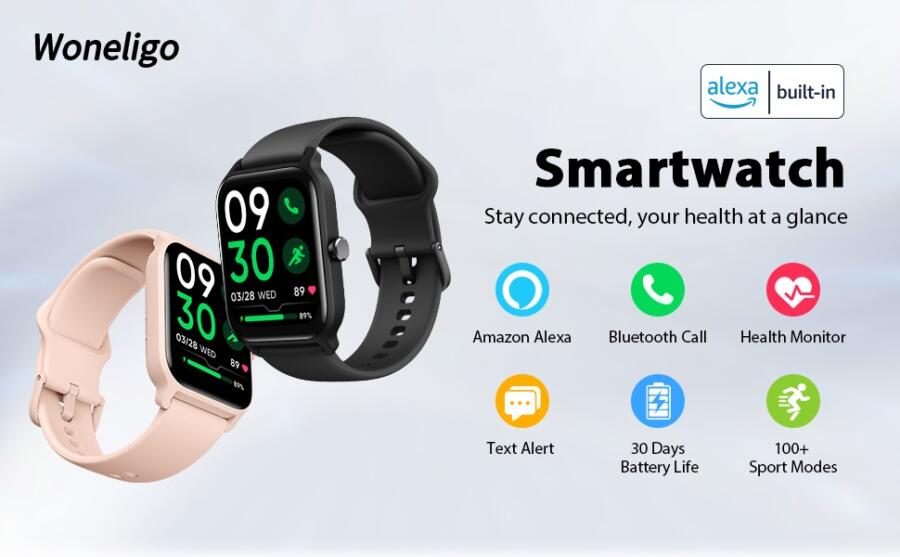 Features like smart life assistant
In addition to being a fitness tracker, this device offers a plethora of features that make it a smart life assistant. With Alexa built-in, you can enjoy the convenience of asking questions, playing music, setting alarms, and performing other tasks, all from the comfort of your wrist. Whether you need a quick weather update or want to know the latest news, Alexa has got you covered.
The device's smart life assistant features allow you to stay connected to the world around you. You can receive notifications for calls, SMS, and app messages directly on your device, without having to constantly check your phone. This feature ensures that you never miss an important message or call again.
You can control your music and camera remotely
Moreover, the device enables you to control your music and camera remotely. You can change songs, adjust the volume, and even take photos with just a few taps on your wrist. This feature is particularly handy for those who enjoy outdoor activities, such as hiking or cycling, as it allows for hands-free control of your devices.
The 1.8" large color screen ensures smooth operations and better color saturation and reproduction, making it easy to read and use even in bright sunlight. And with a long battery life and power-saving mode, our device is designed to last all day, no matter what your schedule looks like.
In short, Woneligo W13 Smartwatch fitness tracker and smartwatch are a must-have for anyone looking to improve their health, stay connected, and make the most of their active lifestyle.
At our company, we take pride in our commitment to providing exceptional products and services to our customers. Our latest offering, the fitness tracker and smartwatch is no exception. We've worked tirelessly to ensure that every aspect of this device is designed to meet the needs and expectations of our customers.
Our team of experts has worked hard to ensure that the design and functionality of this device meet the highest standards of quality and reliability. We've used the latest technology and materials to create a product that is not only stylish and comfortable to wear but also durable and long-lasting.
So why wait? We invite you to try out our fitness tracker and smartwatch today and discover a whole new way of tracking your health and fitness. With its advanced features, smart life assistant capabilities, and commitment to quality, our device is sure to exceed your expectations and help you achieve your health and fitness goals.
The Woneligo W13 fitness tracker is available to order on Amazon for an early bird price of $39.99.
Also read: 10 Tips Why Physical Activity is Important for Your Health and Fitness