Whether you don't celebrate birthdays or set aside a "birthday month," turning 30 is probably going to be something you'll remember for years to come, so it's worth celebrating any way you choose. We've put up 30th birthday ideas for your 30th birthday to help you celebrate the day with a blast if you're struggling to decide how to ring in this special occasion, which is just around the corner.
For our favorite 30th birthday party ideas, keep reading.
30 Birthday Ideas to Celebrate Your 30th Birthday
30 Of 01: Book A Table at Your Favorite Dive Bar
This is a relaxed, enjoyable alternative that will surely attract your closest friends. And best of all, nobody has to shell out a lot of cash.
30 Of 02: Booking A Karaoke Room
Prepare to belt out your favorite tunes while splitting the cost with your guests. Get a karaoke machine and host in your house if you'd want something more reasonably priced.
30 Of 03: Arrange A House Party
Play music that will get everyone up and dancing, and then ask your friends to contribute with a potluck feast and drinks. Make sure a cake is involved!
30 Of 04: Reserving An Escape Room
If you have a small group of pals that you want to enjoy with, this is always a good idea. Afterward, you can go to a bar to celebrate.
30 Of 05: Spend Your Day Outdoors
If you decide to enjoy your 30th birthday outside, gather some buddies for an adventure that ends with a meal. Explore a simple hiking track and a good area for mountain biking.
30 Of 06: Reserve A Luxurious Stay at A Boutique Hotel
Find one with a bar and restaurant in-house so you can spend more time relaxing and less time on the go. Better yet, order room service and stay in your robe all night. Invite a few of your best friends.
30 Of 07: Go to The Concert
You might spend your best time of the day at the concert. Gather your friends and you are all set to rock the night.
30 of 08: Make It Black Tie
Even if it's simply a house party, dress to impress with suits, stilettos, and jazz music. An absolute necessity for a champagne toast.
30 Of 09: Book A Private Room in A Restaurant
This choice should make eating out feel more special, whether you have a favorite restaurant or have been meaning to try a popular new cuisine. Dessert is always birthday cake!
30 Of 10: Enjoy A Beach Day Celebration
Is there anything more relaxing than feeling the sand under your toes or taking a boat out on the water? Get away from the daily grind for a while and have some real fun in the sun.
30 Of 11: Rent An Airbnb For A Birthday, Celebration Over The Weekend
Who says a vacation requires travel away from home? You may maintain the illusion of being on vacation with your closest friends by reserving an overnight stay at a nearby Airbnb.
30 Of 12: Throw A Wine and Cheese Party on Wine and Cheese Night.
Visit a website like Wine Folly to learn about the ideal wine and cheese pairings, or wine and anything else. Offer guests the best wine tastings to make your day memorable.
30 Of 13: Road Trip to A Nearby Destination
A road trip to a nearby destination is another best and most soothing option to enjoy your birthday. If you are looking to spend a cozy evening with your loved one, this might be the best option.
30 Of 14: Host A Movie Night
Whether you rent out your tour at the cineplex or camp out inside someone's at-home movie room, one thing is for sure: You get to pick the flick.
30 Of 15: See A Sporting Event,
Friends At Sports Events
The perfect moment of your birthday might just happen when your team scores the winning point. And we highly recommend indulging in sports events.
30 Of 16: Host A Tea Party
Attend high tea at a luxury hotel or throw the party at your home, complete with cucumber sandwiches and bite-sized sweet treats. To make it feel more like a celebration, opt for champagne with your tea.
30 Of 17: Travel Together Overseas
Have you always wanted to turn 30 and see the Eiffel Tower? Or perhaps you've imagined yourself celebrating in Bali? The time to leave is right now.
30 Of 18: Marathon Running
On your 30th birthday, what better time to achieve a goal? Make sure you have been preparing for this one in advance! Invite your pals to camp out nearby to support you.
30 Of 19: Fly A Plane to Another City
Try visiting a different American city if you need to get away but it's not the greatest time to travel abroad, so check out the flights.
30 Of 20: Go for Skiing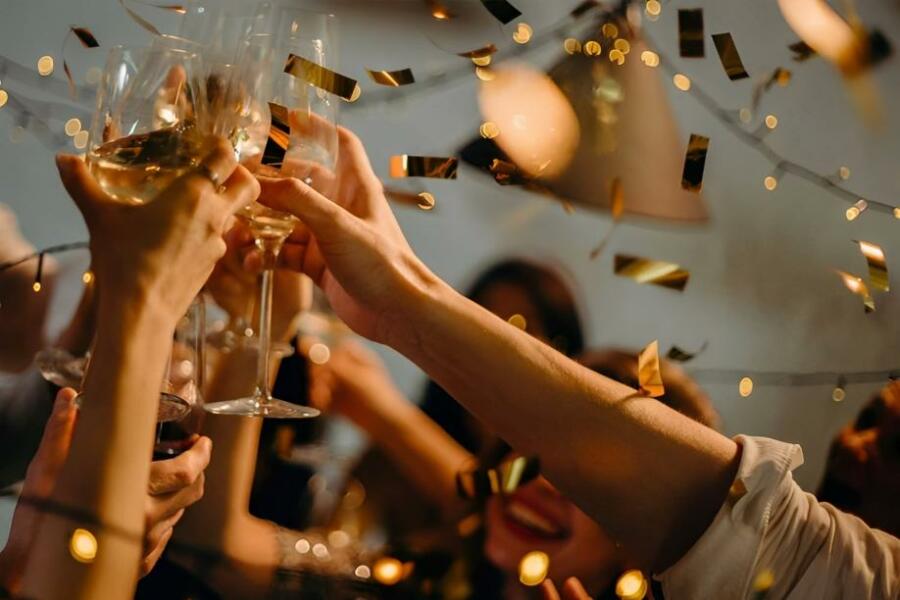 Pay attention, you winter babies. You might easily turn this journey into a day trip if you're fortunate enough to reside close to the slopes.
30 Of 21: Spend A Whole Weekend at A Spa
Get a facial, book a massage, show off a manicure, and spend an afternoon going in and out of a steam room. Now that's a relaxing way to celebrate.
30 of 22: Go Horseback Riding
Whether you're a seasoned pro or have never ridden a horse in your life, your 30th birthday is the perfect opportunity to try. Hit a scenic trail and stop for a picnic halfway.
30 Of 23: Hire A Private Driver to Explore Different Wineries
What better way to commemorate 30 than at a vineyard? It may also be worth it to book a hotel stay nearby, so you and your friends can savor the day.
30 Of 24: Have A Game Night
Card games, board games—the options are endless. Make sure you have enough snacks and beverages available and prepare a killer soundtrack.
30 Of 25: Food for A Catered Party at Your Home
On your birthday, call a caterer if you don't feel like cooking. Whether it's merely your favorite meals or a particular kind of cuisine, we advise choosing a theme for the food.
30 Of 26: Visit A Campground
With your closest buddies, spend the night outside. Find a glamping location if camping isn't your thing. Even if you won't be living as harshly, you'll still experience some of nature.
30 Of 27: Attend A Pub Crawl
Plan a pub crawl in your preferred neighborhood. The choice of a bar is up to each of your buddies, or you might plan a surprise trip for everyone.
30 Of 28: Consider Going to A Theme Park.
Drive to the closest theme park with a bunch of buddies you've gathered. Take lots of selfies to capture the day.
30 Of 29: Throw A Dinner Party
You want to keep things low-key. Host an exclusive dinner party with a select group of your closest friends.
30 Of 30: Host A Themed Party
Create a winter wonderland or an 80s-themed party. Whatever your choice, match the theme of your invites, decorations, and dress code.
Conclusion
Here we mentioned the top 30 best suggestions to celebrate your 30th birthday with a blast. If you were looking for some amazing tips and ideas to celebrate your birthday like a pro, this article is a must-read for you!
Also read: The Perfect Gift for Every Woman: The Ultimate Guide to Women's Birthday Gifts!