Almost each one us have come across this situation, whether in the kitchen or the bathroom. It's kind of very annoying but it's something that you can't ignore because the more you will ignore the more you will be facing problems afterward. Fix it as soon a possible if you don't want your house to be flooded with water. When we have tried almost everything to get rid of unclogged or unclog slow drain, the last option left with us is calling a plumber. What if a plumber isn't available? How you would be gonna fix it?
I will tell you some of the easy ways using which you can easily clean the drain easily at home without wanting a plumber. Scroll down to know more.
Here is how to Unclog Slow Drain without Calling A Plumber
1. Vinegar and baking soda
Mix the equal quantity of baking soda and vinegar in a measuring cup and pour the fizzing solution into the clogged pipe immediately without wasting time. Leave the solution in the pipe as it is for at least 15 minutes or overnight if possible. Next, run hot water into the pipe to see if the clog clears. Repeat the same process again if needed.
2. Baking soda and salt
This is yet another powerful combination that can work on clogged drains. Mix a cup of baking soda with a half-cup of salt and pour it over the clogged drain. Let the mixture sit over it for the next several hours and then flush it with hot boiling water.
Also read: 9 Super Handy Kitchen-Hacks That Will Make Your Life Easier in The Kitchen
3. Plumber's snake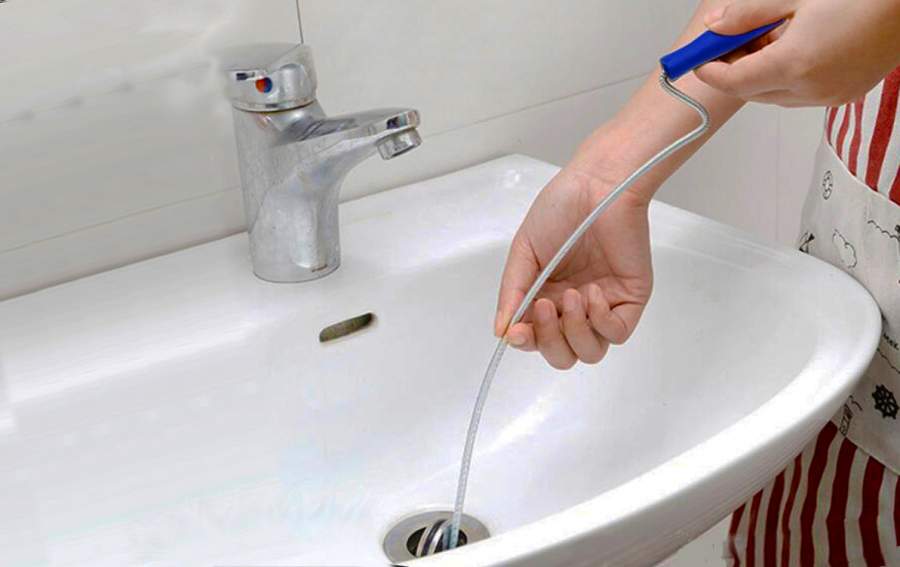 Plumber's snake is also known as auger sometimes. This is a handy tool that can efficiently clear clogged drains. Basically, what you have to do is to disassemble the drainpipe and P-trap. Insert the snake into the pipe until you feel resistance to break up the clog.
4. Dish Detergent
Take over 1/4th cup of dish detergent in the measuring bowl and pour it over your clogged toilet. On top of it add some hot boiling water and flush. The dish soap acts as a lubricant that cleans out clogged drains easily.  Then, you need to plunge and if the plunger doesn't work, rubber gloves can be your next option.
Also read: 7 Ways to Reuse Your Kitchen Wastes
5. Salt and boiling water
Take over 1/2th cup of table salt in the measuring bowl and pour it over your clogged sink. Let it sit for some minutes and then flush it with hot boiling water.
6. Boiling Water
The easiest and cheapest method to use at home. Pour the water into the drained sink in two to three stages. Keep a several seconds gap between each pour. No method could ever be available to you as easy than this to unclog a drain at your convenience.
So, these were some of the easy hacks that will help you to unclog drains easily at home whether in a kitchen or in the bathroom without needing a plumber.
Also read: 8 Really Useful Kitchen Tools You Probably Didn't Know About