Why is red wine poured in a wide, stemmed glass? Why is champagne always in tall flutes? Could you even imagine whiskey served in anything but a short tumbler? If you don't know your types of glassware and why they are shaped the way they are, you are cheating yourself of enjoying your beverage to the greatest degree.
Whether you're hosting your first dinner party or just wanting to expand your collection, knowing the different types of glassware will make quite an impression when it comes time to serve drinks.
1. Wine Glassware
The shape of a wine glass has been tailored for maximum enjoyment of your wine. The stem beneath the bowl gives you a place to hold your drink without your hand warming the wine. The shape of the bowl will determine how well the wine travels from the bottle to the glass, and finally to your mouth.
Red wine is best enjoyed if it's given a chance to breathe. This means it needs oxygen to enhance the flavors. To aerate properly, it requires a type of wine glass with a larger bowl. White wine is served chilled. It needs a smaller bowl so your last sip is as good as your first. White wine is also valued for its aroma, so a glass that's narrower at the top will help retain the bouquet for your enjoyment as you drink.
Champagne glasses have tall, fluted bowls. The narrowness keeps oxygen from over-aerating the drink which results in fewer bubbles. Wine glasses come in several different shapes and styles. Some are stemless, some are sparkling crystal-cut, and you can even find delicate hand painted glassware.
2. Highball Glassware
A highball is a tall glass tumbler used for cocktails and other mixed drinks. It can also serve as a vessel for nonalcoholic soft drinks, iced tea, lemonade, and water.
3. Old Fashioned Glassware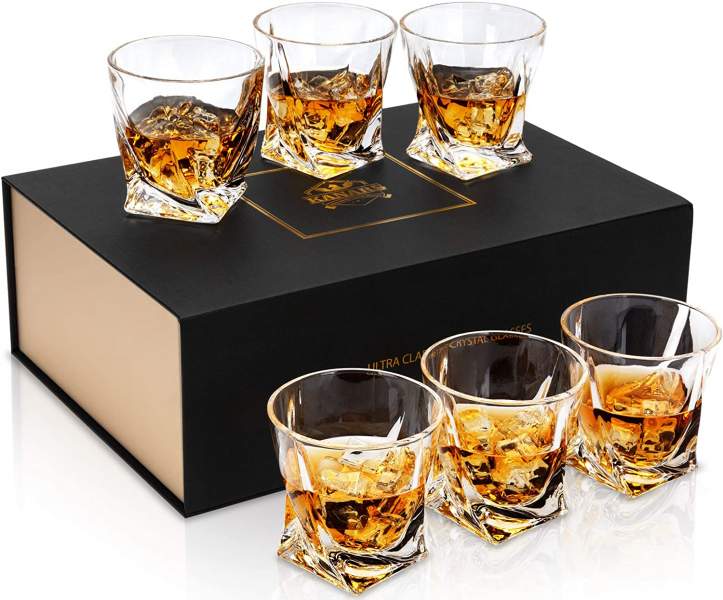 The old fashioned glass (also known as the lowball or rocks glass) has that vintage glassware look. This short tumbler is for whiskey, scotch, and certain cocktails. They have a wide brim and thick base to protect the glass if a drink calls for muddling. The thickness of the glass helps insulate the drink, which is usually served iced.
4. Beer Glassware
There are several different types of glassware that fit in this category, but the most common is the pint, the pilsner, and the mug. The pint is slightly tapered with a wide mouth and used for beers with larger heads, such as lagers, pale ales, and stouts. The pilsner holds less than a pint and is designed for lighter beers and showcases the color and bubbles of drinks like the amber lager and pale ale.
The thick-glassed design of the mug keeps a lot of beer cold. The handle keeps your hand from warming the drink and allows for robust toasting. The mug can hold just about any type of beer but is usually for lagers, stouts, and brown ales.
5. Specialty Glassware
Specialty glassware is reserved for drinks such as martinis, margaritas, hurricanes, and shots. They may be vital to have on hand if you're stocking the bar you're opening up, but may not be as necessary for home use.
The Types of Glassware Matter
All types of glassware are not created equal. If you pour your drink in the wrong vessel, you will not enjoy its flavors to the fullest. Now that you know the different types of glassware, you can start your glassware collection with confidence.
If you are interested in learning more, check out our Lifestyle section where we give helpful advice and insight on travel, beauty, food, and more.