In India, Priyanka Chopra needs no introduction. But now, it's safe to say that the actress and model have carved out a name for herself on a global scale. Her career started when she won Miss World in 2000, and later on with her Bollywood debut in the movie 'The Hero: Love Story of a Spy' in 2003. Since then, people have come to know her as a famous film producer, singer, and influential celebrity. If we had to define Priyanka in one word, it would be "classy."
Everything about her – from the way she dresses to the way she talks ¬– exudes elegance, so much so that her fans want to replicate her. Of course, another thing worth emulating is her distinct fashion sense. Fortunately, you don't have to be an international celebrity to follow her looks.
Here are some tips to channel the same sophistication that has made her an icon.
1. It's all in the hair
One of Priyanka's signature looks is a bouffant — a simple, elegant hairstyle where you style your hair to "puff" out in a rounded shape. It was made popular in India by the dimple queen of Bollywood, Sharmila Tagore, in the 1970s before being subtly adapted by Priyanka on numerous occasions.
2. Colours all around
One look at Priyanka and you can tell that she likes her colours. And Priyanka is often seen mixing and matching vibrant shades in her outfits. This floral dress from Prabal Gurung is one of her favorites, and you, too, can turn heads with its playful pattern and cheerful yellow colour.
3. Don't be afraid to keep it "simple"
It's not always statemented dresses and ruffles for Priyanka. Whether it's ripped jeans, doll shoes, or plain tees, she can make all these casual pieces look like luxurious. Likewise, you can sport your usual staple items and dress them up. The variety of button-down shirts on Woman Within may seem basic, but it gives you an opportunity to build your outfit with accessories and other well-fitting pieces.
Plus, it is their neutral hues that actually make your look seem more elevated. Top off the look with some chic hoops or an accent bag and you're good to go.
4. Elevate with accessories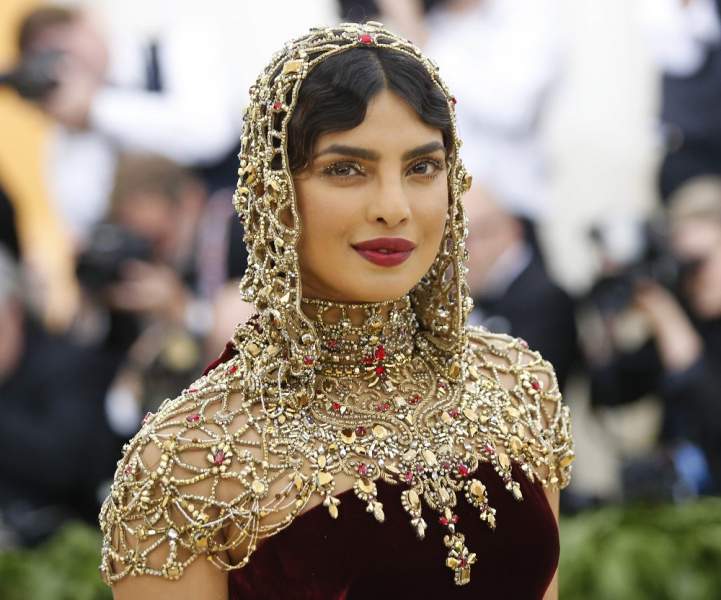 While we're on the topic of accessories, we know that Priyanka is never without her essential jewellery. At last year's Met Gala, she stole the show with an intricate, handcrafted golden hood to complete her "Italian Renaissance painting" theme. But even on her casual days, accessories add some flair to an otherwise dull outfit. However, just remember not to over-do it. If you're wearing an embellished necklace, skip the bracelets or opt for subtle studs instead.
5. Always have statement shoes
Shoes are usually the last thing you pick when you plan your outfits, but not for Priyanka. She was previously spotted in New York wearing these bright red boots by Pierre Hardy, which went nicely with the rest of her ensemble. Notice how your eyes tend to gravitate towards the three-inched boots first before anything else? But just like accessories, the key to rocking statement shoes is to keep the rest of your outfit looking balanced. Stick to one or two uniform shades, just like Priyanka with her red Lorod skirt.
It's hard to deny Priyanka's dynamic fashion sense. She manages to go from a modern princess to grungy chic with consummate ease.
At the end of the day, it's not so much about what you wear but how you wear it too.