Concrete floors are traditionally used in garages and warehouses. However, concrete has infiltrated the interior landscape in recent years through flooring, splashbacks, and statement walls. An increasing amount of people are using concrete for their interior and exterior floors. Concrete has numerous advantages. It's hard-wearing, long-lasting, affordable and easy to clean. You can polish it to perfection and create different colours and patterns from it.
So, what type of finish do you want from your concrete floor?
Paved concrete is commonly used on the outside of homes. Octagon concrete flooring works perfectly for driveways and outdoor patios. Interlocking pavers are used to create the patterned surface in the specified area. Pavers come in all sorts of colours, patterns, and styles to cater for your design needs.
On the other hand, polished concrete is preferred for interior use. The concrete will be ground down to create a smooth and glossy finish. You can still enjoy the natural colour and style of concrete while removing the raw imperfections. Raw concrete can look unfinished in the home and very harsh against your furnishings.
Here are a few ways you can make a concrete floor feel cosy.
1. Apply the right floor paint
Floor paint can drastically change the appearance of your concrete floor and add a different dimension to the room. You can remove the dull grey aesthetic and replace it with something much softer. You should also consider beautiful epoxy flooring to cover the concrete for a stunning look and finish for your home or business.
You may also read: 7 Simple Tips for Mixing Vintage Furnishings with Everyday Decor
2. Decorate the room
You need to be smart with the décor of a concrete-floored room. You need to work with the concrete and choose pieces that complement the brutalist floor. Exposed pipes and filament bulbs will complement the industrial style, while a patterned rug and array of plants will create an eclectic vibe. Play around with different materials and colours to see what works with the concrete.
Neutral colours can soften the concrete, while bright colours add a bit more personality to the room. You need to find your personal interior style and decide what mood you want to evoke in the space.
3. Add different materials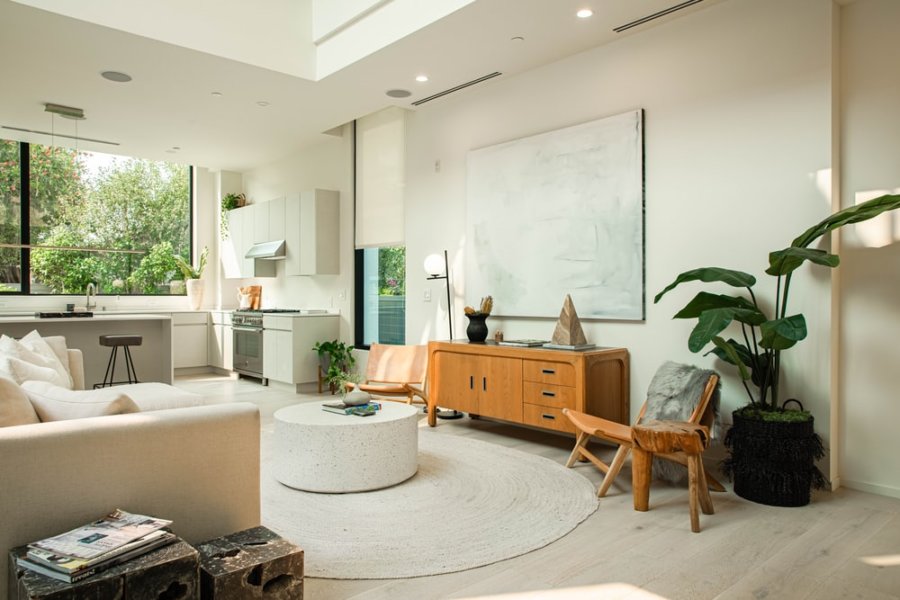 Concrete complements other materials well. You could bring in a mid-century cabinet and coffee table to contrast with the modern concrete flooring. Or, you could use faux fur rugs and throws to create a different dimension in the space. Concrete is a harsh material that is incredibly hard to walk on. Your place might benefit from a rug or two to make it feel more comfortable and cosy. You will be particularly grateful for these soft furnishings in the winter months. 
Concrete can make your home feel chic and modern. Just make sure to finish the concrete with your coating of choice and maintain it over the years.
You may also read: Creative Ideas to Amp up Your Living Room on a Budget