Lab-grown was probably not the first thing on your mind the last time you went jewelry shopping. But we have all been there; be it an engagement ring or a necklace, we consider naturally mined diamonds superior to their lab-grown counterparts. When looking for lab-grown diamonds, variety is one of the best pleasures; yes, the four Cs-color, cut, clarity, and carat-still apply.
The many diamond cuts, including rounds, ovals, and emeralds, set in yellow gold, white gold, and rose gold, are all available for selection. 
Similarly, you'll find all the ring settings you could want, including conventional, modern, and vintage-inspired designs. Also, because lab-grown diamonds are created in a controlled environment, it is much simpler to obtain a flawless stone at an affordable price.
This implies that lifestyle and fashion trends worldwide will continue to be influenced by lab-made diamonds, partly because they appeal to people who want their jewelry items to be ethically sourced.
This article discusses some of the most stunning options for lab-grown jewelry for your jewelry shopping in 2023.
1. Five Stone Trellis Lab Diamond Ring | Brilliant Earth
Brilliant Earth is known for its vast collection of lab-grown jewels, which set it apart from the competition and add more value to the brand name.
This traditional yet stunning ring features five round brilliant lab-created diamonds elegantly set in beautifully carved shared prongs. This band is the ideal anniversary or wedding band and makes a perfectly thought-out choice.
If you want to customize it to your wish, the procedure is easy: Choose your lab-grown diamond and a setting and metal from a selection that features every size, cut, color, and price possible.
2. LIGHTBOX Lab-Grown Diamond Round Stackable Ring | Blue Nile
This 14k yellow gold ring featuring three brilliant white lab-grown diamonds in traditional round shapes will let you give your everyday stack of rings a sparkling update. Each lab-grown diamond adorning the piece is meticulously created to the highest standards and bears an unnoticeable quality mark.
Blue Nile has been in business for over 20 years and entered the lab-grown diamond world in a partnership with Lightbox in 2020. It has since been able to refine its craft, providing premium lab-grown stones at affordable prices and appealing to more people with its impressive business strategies.
3. Solon Ring | Clean Origin
The Solon Ring skillfully utilizes a tiny band set with 14 lab-created diamonds in a traditional single row. It comes from their renowned Precision Collection, which they claim to have been made to last a lifetime. With customers worldwide loving this item, it is no wonder that Clean Origin can make the claim.
You can shop ethically and sustainably with Clean Origin because they only use lab-grown diamonds. They offer more than a hundred ring settings in several metal types, including rose gold, yellow gold, white gold, and platinum.
The brand also plants a tree for every item purchased to end the debate about gems causing irreparable harm to the environment.
4. 14K White Gold Oval Side Stone Diamond Engagement Ring | James Allen
Six lovely side diamonds in an oval shape embellish this elegant engagement ring's classically fitted shared prong setting. With claw tips, a four-prong basket holds the center stone in place, giving it a sturdy look without compromising on its grace and minimalist nature.
James Allen is widely known as an expert in lab-grown diamonds, having earned most of their fame for his enormous inventory of diamonds in every cut and range of prices. Additionally, it provides a virtual service for personalized rings. This feature helps you decide by allowing you to view a ring or any piece of jewelry from every angle while showing every detail.
5. 14k Gold Necklace Set | Pandora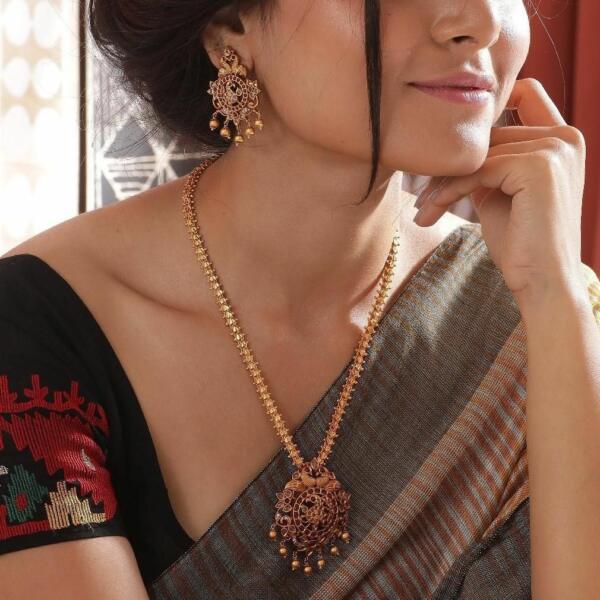 A pair of solid 14k yellow gold stud earrings, each handset with a 0.25-carat lab-created diamond. The set also contains a 14k yellow gold pendant with a matching chain.
A blazing round brilliant diamond is suspended in midair by a sleek infinity setting that flows around the stone. The chain can be readily changed between two lengths.
Like its other items, Pandora intends this attractive work to be a stirring reminder of our present and future and the seemingly limitless possibilities ahead. It is part of their Brilliance collection of lab-created diamond jewelry with a round, brilliant-cut gemstone as its centerpiece. As a result of the diamonds' multifaceted cutting, each piece has a distinctive shine that will make it stand out.
Over time, the jewelry sector has undergone massive changes, making lab-grown diamonds just as sought-after as mined stones. The former has recently become a sparkling wonder and is made keeping the utmost glamor and bling in mind. With their current growth and rising popularity, it is safe to assume they are here to stay and keep altering people's choices.
Also read: 6 Tips Making a Good Investment on Buying Diamond Jewelry