Madison LeCroy is engaged now. She shared this happy news with her fans on social media. She captioned "I'm excited to announce that I am engaged!". The hairstylist was really excited about this wonderful event in her life. The name of her boyfriend is Brett. But LeCroy has said that she and Brett are not rushing with their wedding plans. Now they are basking in their engagement period. They also wanted to plan everything properly.
She was already married in the past but never wore a wedding dress. So she says that this is the first time she will become a true bride. Brett has a large family so she will plan to keep the wedding guests under a hundred. Here you can find all the details about Madison LeCroy's life and relationship.
Why Madison LeCroy is famous?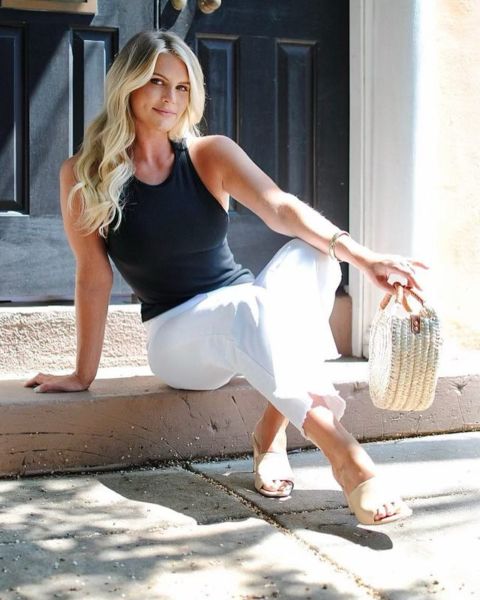 Madison LeCroy is from Greenville, South Carolina. She went to Carolina College of Hair Design. Then she became a hair and makeup artist. She owns a popular saloon in Charleston, South Carolina.
She made her debut in the TV series Southern Charm season 6. It was released in 2019. At that time she was in a relationship with the cast member Austen Kroll. The couple dated until 2020. But later LeCroy revealed that they had separated for good. Further, she was in the headlines again in 2021 after she started a romance with Jay Cutler. He divorced his partner Kristin Cavallari. But LeCroy's courtship with him was only short-lived.
What is the age of Madison LeCroy? 
LeCroy's age is thirty-one years. She is a well-known hairstylist. Also, she became popular because of the show Southern Charm. She is a beautiful lady with blonde hair. Her dressing sense is impeccable.
You may also read: Lindsey Graham Biography, Political Career and Net worth
When did LeCroy's romance with Brett begin?
LeCroy revealed her romance with Brett this June. But before that, she dropped hints that she has met someone special in her life. One time she posted boat ride pictures of herself and Brett with the caption Madhappy. In the same month, she said that she fell in love instantly after going on a date with him. She did not know him at that time but they met at a bar and locked eyes. They felt an instant attraction. Then he took her out in Charleston, South Carolina. After the first date, things instantly became quicker.
Then three months later LeCroy admitted that she does not have any problem with marrying again. She was earlier married to Josh Hughes and has a five-year-old son. But the marriage ended in 2015.
She said that she loves to get married again. Her first marriage did not work out. But she wants her second marriage to work. She hopes that the second time is her charm. The hairstylist feels that she has a unique connection with Brett.
They both are not living in the same place but always visit each other. Brett may not make an appearance in the Southern Charm but he is managing the public life of LeCroy well. This is because many people troll her life and make fun of her decisions. It is also difficult for Brett because he has always lived a low-key life. Therefore he is adjusting to the new life.
LeCroy has great social media popularity. Due to Madison LeCroy engagement, she is sharing details of her favorite products for bridal and bachelorette parties. She got in touch with her fans during the Amazon Livestream. She told me that she is ready for two bachelorette parties which she has planned. Then she will choose the one who will plan the wedding. Already she has begun to do the wedding preparations.
What is the Net Worth of Madison LeCroy? 
According to the sources, the networth of Madison LeCroy is $1.25m. She is working as a freelance makeup artist and hairstylist. She can do hair and makeup looks for TV appearances, weddings, prints, and more. Further, she makes money through her saloon Blush and Brushes. In 2021 she opened a salon named Maven on Society with beauty expert Meg Workman.
Conclusion 
Madison LeCroy is a great hairstylist. She is now starting a new chapter in her life. Also, her fans are wishing for her happiness.
You may also like: Masiela Lusha: Her Life after The George Lopez Show