Microsoft Excel files are among the most widely used office documents. MS Excel is used by individuals and businesses to perform complex calculations, create charts and illustrative graphics, and process large amounts of data. MS Excel, while useful in many ways, can also cause a lot of problems. However, Excel files can become damaged or corrupted on a computer, accidentally or anyhow. This occurs when users are unable to access Excel data properly. Such issues, if not handled properly, can result in massive data and record loss.
For that reason, repairing excel files is needed. Most people don't know how to repair corrupted excel files. So, in this article, we will discuss the cause of excel file corruption and how you can repair corrupted excel file with the help of Wondershare Repairit.
The causes of Excel File Corruption
When working with Excel spreadsheets, you may come across a situation in which a file is displayed as corrupted. Here are some reasons for excel file corruption:
Virus Attacks
Virus attacks are one of the most common causes of MS Excel file corruption. To avoid such situations, keep your system's anti-virus software up to date.
Failure of a hard disk
If your system's hard disk has failed or has terrible sectors where Excel file(s) are stored, the files are likely to become corrupt.
Errors Associated with DDE
Files would be displayed as corrupted in older versions of Excel applications due to DDE errors. They are related to errors that occurred when the path and filename character limits were exceeded.
Files of large size
Excessive data storage in a single Excel file can also lead to corruption. Large amounts of data should not be stored in a single Excel file.
Excel Crashes as a Result of Bugs and Version Issues
The Excel application may crash from time to time due to version compatibility issues with the file you are running. In some cases, add-ons may introduce bugs that result in data corruption incidents.
1. Open and Repair Excel files
Experiment with extracting the Excel data here. You can accomplish this by utilizing Macros. This method will assist you in efficiently removing data from a corrupt spreadsheet.
Follow these steps to extract data
Select the "Open" tab from the File menu.
Select the corrupt file from the list.
Choose "Open and Repair" from the "Open" tab's drop-down list.  
Then, to extract the data from the corrupt file, click the "Extract" button.
You can extract data from corrupt Excel files and repair Excel files in this manner.
2. Recover information from an open workbook
If you encounter problems while working in an Excel file, you can choose to revert to the very recently saved version of the file. Because of this:
Select File. Choose Open.
Double-click the workbook's name (the one that is open in your Excel)
To reopen it, click Yes.
The workbook will now be displayed. Please remember that you will not have the most recent changes in the newly opened document.
Using professional Excel recovery tools Wondershare Repairit
If all of the manual methods fail and still things don't work as they should with Excel files, a third-party tool can be handy. Wondershare Repairit is a third-party professional tool that repairs corrupt MS Excel worksheets. This tool repairs excel files that have become inaccessible due to an unexpected system shutdown, power failure, virus attacks, media errors, or software crashes. Also, Wondershare Repairit is a video repair tool that repairs videos which are corrupted or have any error. So, in this article we will guide you step by step on how to repair corrupted excel file
Step 1: Add the Corrupted Photo
Launch Wondershare Repairit on your system to repair damaged and corrupt Excel files. Now. Go to file repair mode by selecting the option on the left-hand side of your interface. Click the 'Add' button or tap on the symbol in the center of the interface to choose the file you want to repair.
Step 2: Repair the Excel Documents That Have Been Loaded Using Repairit
After you've added the file, click the 'Repair' button on the bottom right-hand side of the interface. The repair process will begin.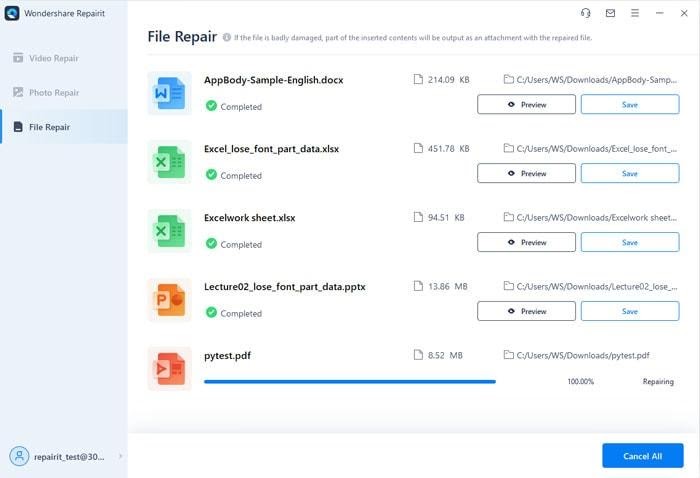 Step 3: Preview and Save
The software will stimulate you to preview the overall result when the repair is finished. You can now check its data repairing results by simply clicking on the "Preview" button. Then save the file
You can easily get your corrupted excel file by following these three steps. So lets try
Reason Behind Choosing Wondershare Repairit
Wondershare Repairit is one of the best file repair or video repair tools on the market for repairing damaged excel files of various formats. Repairit can recover and restore video, photo, image, excel files. Repairit enables users to get more out of their digital lives by repairing damaged or corrupted Excel files that cannot be opened using advanced data restoration and recovery protocols.
Professional Video Repair: Repairit video repair is a comprehensive solution that works with popular video file formats such as MP4, MOV, AVI, MKV, and others.
Powerful Photo Repair
JPEG, JPG, TIF, ARW, RAF, and other image file formats are supported.
Effective File Repair
In just three steps, you can repair corrupted or inaccessible PDF, Word, Excel, and PowerPoint files.
Easy to Use
Simple on-screen instructions to repair files make it simple to use.
Advanced Repair
The Advanced Repair feature can automatically repair photos and videos with sample files and restore files as close to their original state as possible.
Ending Note
Fixing corrupt excel files is vital for those who do not want to lose any valuable information. Most people look for various methods to repair their damaged files but cannot locate an authentic tool. Surprisingly, Wondershare Repairit is the most precise tool available on the internet. It is used to repair corrupted excel files very effectively.
Wondershare Repairit software's paid versions can recover files in over ten formats and convert videos to high-quality resolutions. Before wasting time on other tools, try this intriguing software to repair excel files. Good luck.
Also read: How To Fix Error 0x0 0x0? [Windows Error Code Resolved]