Security is a high priority for managers and owners alike when running a business. On balance, the safety of assets and the well-being of employees and customers are central to successful daily operations, of which threats like break-ins, vandalism, and other related crimes can impede. So it's no surprise that most organizations invest in video surveillance and electronic access control systems.
Consider a company that specializes in high-end jewellery and precious metals. The threat of theft is code red in such a setting. Imagine what would happen if a well-organized criminal gang raided the building and carted away thousands or millions of dollars in merchandise. That would trigger a financial back blow, to say the least, not to mention its effect on customer relations.
Thankfully, implementing a well-thought-out security plan can prevent such a scenario. In most cases, these security systems are designed to deter criminal activities in different ways, from denying them entry to alerting authorities before the burglary occurs. But that's not all; they provide other perks which are discussed in this guide. So, without further ado, let's dive in.
How Do Security Cameras and Door Access Control Systems Work?
It's safe to say that these technologies are two of the most common security measures used in businesses today. Although they appear complicated, their operation is fairly simple.
Security Cameras
Also known as CCTV cameras, these devices are designed to capture and record video footage of a specific area. Theycome in various types and sizes, from small discrete cameras to large high-resolution cameras that can capture fine details.
During installation, the camera is connected to a digital video recorder (DVR) or a network video recorder (NVR). The DVR or NVRrecords the footage to be either played back later or accessed remotely when needed.
Some have built-in storage, while others include facial recognition, motion detection, and night vision, all of which capture important events and identify potential threats better.
Door Access Control Systems
These systems are designed to limit access to specific parts of a building or property. They typically consist of a reader, a control panel, and an electronic lock. The reader is used to scan a person's credentials, which are usually in the form of a keycard or fob. Once the credentials are verified, the control panel sends a signal to the electronic lock, which unlocks the door. Business owners can set up different levels of access for different employees or departments, or restrict access to certain areas during certain times of the day.
Some door access control systems come with features like time and attendance tracking to monitor the entry and exit of employees. This comes in handy for payroll and scheduling purposes.
Benefits of Security Cameras and Door Access Controls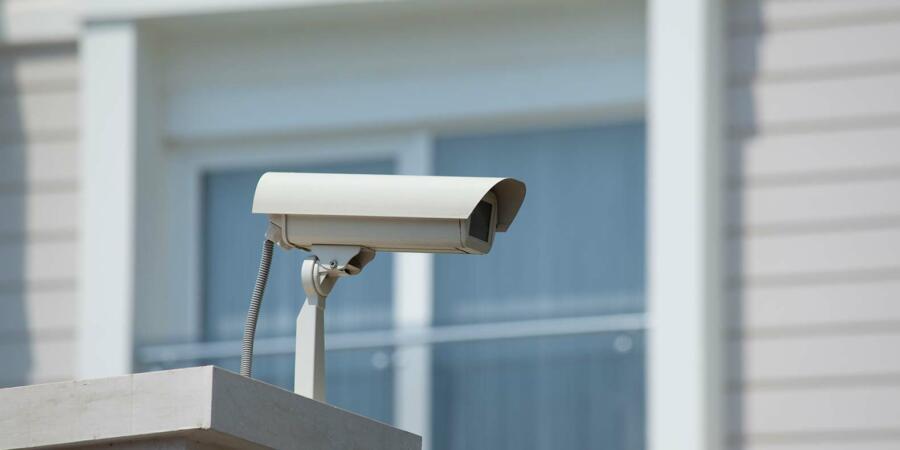 From increasing safety and security to improving productivity and efficiency, here are some of the key benefits of implementing surveillance and access control systems in a business environment:
Security Cameras
Deter Criminal Activity and Provide Valuable Evidence
Surveillance cameras effectively deter criminal activity such as burglaries, vandalism, and workplace violence. These cameras are strategically placed to capture events from different angles. Often, they are visible, giving anyone who cares the impression that the business premise is being watched. That way, they may reconsider committing a crime.
In addition, surveillance camera footage is valuable evidence for law enforcement agents to use in cracking a case of theft or assault.
Monitor Employee Behaviour
With proper surveillance, managers can make real-time changes to their staffing strategy. Unprofessional conduct like overtime, tardiness, and misbehaviour, including sexual harassment, can be identified and reported quickly and easily. With this technology, determining if a disgruntled employee is sabotaging the business or if a customer has been treated unfairly is a piece of cake. It also helps to identify and reward those who put in the work and make a difference.
Analyze Customer Traffic and Optimize Store Layout
The layout of a store plays a major role in how customers will shop. It's no secret that customers make buying decisions based on the atmosphere and the ease of finding products. Video footage provides owners with the insight needed to determine the optimal store layout, allowing them to optimize the flow of traffic to reduce wait times and provide excellent customer service. Coupled with proper inventory management, they can attract more shoppers and boost sales.
Door Access Controls
Ensure Only Authorized Access to Certain Areas
Access control systems provide businesses with the power to restrict access to certain areas based on certain conditions, such as scheduling,inventory management, staff-client relations, external threats, and hierarchical roles.
Manage Time and Attendance
Managers can track how many hours an employee works and when they clock in and out. This helps to cut down on time theft and keeps employees accountable. It also cuts down on the number of no-shows since employees can't clock in unless they're present.
Overcome Negligence
Many business owners and employees have at one pointforgotten to lock up their store or office after the day's activities have ended. Having a door access control system saves the day, as it automatically locks the premises after an allotted time or when a pre-set code is entered.
Reduces Breaches and Theft
Most burglaries can be prevented with the right security systems. For example, it's all too common for retail employees to accidentally leave their cash register unattended. Installing an access control system that requires a pin or an ID in such cases will prevent unauthorized access into the area. The same is true for other types of equipment, such as computers and electronic devices.
Ideal Spots to Install Security Cameras and Door Access Control Systems
Surveillance cameras and door access control systems can be installed virtually anywhere. However, some locations offer more benefits than others. For security cameras, they include:
Entry and exit points
Parking lots
Checkout points and other high-value areas
Common areas
Storage areas
Production areas
Blind spots
Door access control systems are commonly installed in:
Research and development areas
Storage areas
Manufacturing or production areas
Executive offices
Employee-only areas
Main entrance and exit
Elevator access
Server rooms
Conclusion
Without a doubt, surveillance and access control systems are excellent investments for businesses. They provide crucial insights into company operations and are ideal for detecting and handlingillegal activity and unprofessional conduct. With these systems in place, business owners and employees can work with a sense of security and peace of mind, resulting in increased productivity and a better work experience.