Are you looking for some fun and relaxing card games to play on your PC? Whether you want to challenge your brain, test your luck, or simply pass the time, there is a card game for you. From classic games like Solitaire, Hearts, and Spades, to modern games like Gwent, Eternal, and Legends of Runeterra, there is a wide variety of card games available on PC. Some of them are free to play, some of them are paid, and some of them are both. But all of them are entertaining and engaging!
One of the most popular card games on PC is Solitaire. Solitaire is a game that you can play by yourself, using a standard deck of 52 cards. The goal is to move all the cards from the tableau to the foundations, following some simple rules. Solitaire is a game that can help you improve your concentration, memory, and logic skills. It can also be very relaxing and satisfying to complete a game.
If you are looking for some solitaire games to play on your PC, you should check out Gametop. Gametop is a website that offers the best free solitaire games to download for PC. No ads! So what are you waiting for? Visit Gametop today and start playing some amazing card games on your PC. You will have hours of fun and entertainment with these games!
List of games:
1. Solitaire Chronicles: Wild Guns
If you're looking for a solitaire game with a twist, look no further than Solitaire Chronicles: Wild Guns. This is not your grandma's card game or a boring old solitaire game that puts you to sleep faster than a lullaby. It is a card game that will make your heart race faster than a horse on steroids. It's a wild west adventure that will take you on a roller coaster ride of emotions.
Join Shannon and Red Wolf, two outlaws who have been wandering the frontier for a while. When they stumble upon a ghost town, they see an opportunity to start over. But they'll need your help to rebuild the town and fend off the dangers that lurk in the shadows.
Solitaire Chronicles: Wild Guns is more than just a card game. It's a story-driven experience that will immerse you in the world of the wild west. You'll meet colorful characters, unlock new buildings, collect stars and see your town grow. You'll also face challenges and puzzles that will test your skills and strategy.
Solitaire Chronicles: Wild Guns is a solitaire game with a great storyline. It's a game that will make you laugh, cry and cheer. It's a game that will make you feel like a cowboy or cowgirl. So what are you waiting for? Saddle up and head out to the wild west!
2. Rescue Friends Solitaire
You're about to play the most heart-warming solitaire game ever made. Seriously, it'll make you cry like a baby. It's all about the Tree of Life, which has survived everything from fires to floods to volcanoes. But now it's facing its biggest threat yet: a nasty disease that's turning the forest into a wasteland. And only one brave fox can save the day. His name is Luan and he's the guardian of the Tree of Life. He's also a bit of a card shark.
In this solitaire card game, you'll join Luan as he tries to beat 200 levels and help the forest spirits fight off the evil infection. You'll need to use your skills and strategy to make the best combos and earn bonuses and helpers along the way. But that's not all. You'll also get to enjoy a touching story about Luan and his friends as they struggle to save their home.
And you'll be blown away by the gorgeous graphics that bring the Tree of Life and its surroundings to life. Trust me, you've never seen a solitaire game like this before. So what are you waiting for? Grab your cards and join Luan on this epic journey that will make you laugh, cry and cheer!
3. Endless Soul Light Solitaire
Enter the magical world of Liveria, where everything that lives glows with a hidden light – their soul. Some keep it secret, some shine it bright. Each soul has its own color, and each color has a match, so no one has to be alone. Rivers flow together, trees weave their branches.
This is the story of Phyro, a little moth who flies through every light she sees, looking for her match, but never finding it. Along the way, she meets many wonderful creatures who join her quest. Together, they go on an amazing adventure. Play 200 card layouts with different challenges and help the Liverians find their lost souls!
4. Detective Notes: Lighthouse Mystery Solitaire
Mark and Lily had big dreams when they left their hometown. But their plans are cut short when they get a distressing call from their mother. Their father has gone missing and no one knows why. They hurry back home and team up with a clever detective to find him. But they soon realize that there is more to this case than meets the eye.
Their father's disappearance is part of a larger scheme that involves lies, secrets and danger. Someone is watching their every move and trying to stop them from uncovering the truth. They'll have to use their brains and skills to solve solitaire puzzles, find hidden clues and catch the criminal. But time is running out. Can they save their father before it's too late?
This game will keep you on the edge of your seat as you enjoy a blend of solitaire and hidden object gameplay. You'll learn the game in minutes with easy-to-follow tutorials and explore stunning hidden object scenes with interactive objects. You'll also use powerful boosts and helpers to overcome any obstacle and play 200 solitaire levels with various layouts and challenges. You'll earn trophies and awards for your achievements and test your logic and deduction skills in this exciting adventure.
5. Solitaire: Elemental Wizards
Step into a magical universe where you will join Gideon, a half-Beastman, and his brave friends Tess, Otar, Antis, and Gia on a quest to bring balance to the elements of the world. You will have to overcome challenging solitaire levels that will grant you new powers, stories, and worlds to explore.
Use your wits and enjoy the fun as you solve elaborate solitaire puzzles and earn trophies, rewards, and artifacts along your journey. You will also have to face many mini-games and bonuses that will spice up your gameplay. Will you be able to decide the fate of the Council of Archmages and harness the power of the elements? Find out in Solitaire: Elemental Wizards!
6. Dreams Keeper Solitaire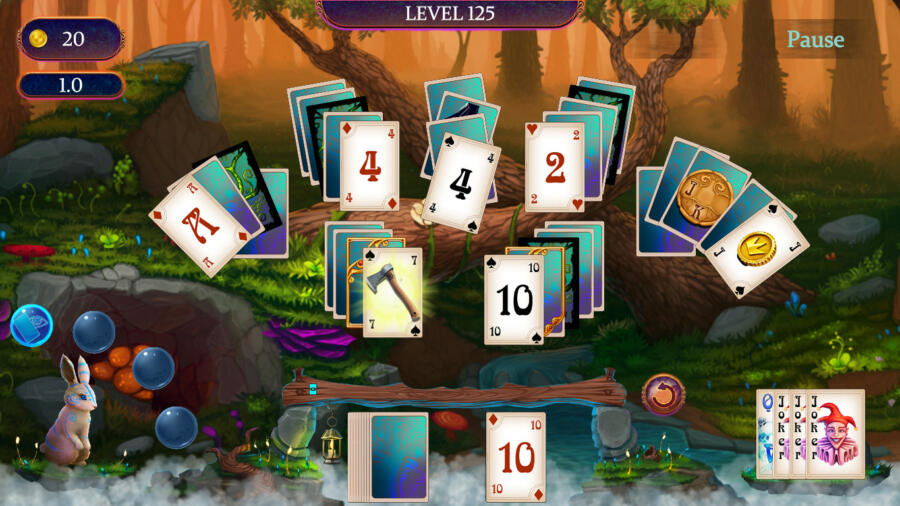 Dreams Keeper Solitaire is a captivating solitaire game that takes you to the dream dimension, where you play as a hero who can enter the dreams of children and rescue them from their nightmares. You can choose from different costumes and abilities that will help you overcome various obstacles and challenges in each dream world.
You can also collect clothing pieces as you solve puzzles and dress your character however you like. The game has a story mode where you can learn more about the children you're saving and make choices that affect the outcome. The game has 200 levels of all difficulty levels, 5 bright dreams and 200 fantastic card patterns to enjoy. The game has clear and engaging gameplay, with smooth animations and colorful graphics.
The game also has plenty of different bonuses and in-game helpers to make your solitaire experience more fun and rewarding. Dreams Keeper Solitaire is a game that will appeal to solitaire fans and casual gamers alike, with its unique theme, charming characters, and addictive gameplay. Dreams Keeper Solitaire is a game that you can download for free from GameTop!
7. Jewel Match Solitaire Winterscapes
In this game, you'll travel across the icy land and rebuild five frosty locations that have been ravaged by a snowstorm. You'll have to clear 200 levels of solitaire, each with its own challenges and obstacles, such as frozen cards, locks, chains, and vines. You'll also get to unlock 12 bonus game variants, such as Yukon and Emperor, that will test your skills and keep you on your toes.
Along the way, you'll collect gems and coins that you can spend in the shop for special upgrades, such as extra undo moves, wild cards, or shuffles. You'll also get to choose from multiple card decks and three different play modes, depending on your mood and preference. And if you're feeling festive, you can enjoy the beautiful winter scenes and the holiday soundtrack that will make you feel like you're in a Christmas card.
Jewel Match Solitaire Winterscapes is a game that will keep you entertained for hours with its clear and engaging gameplay, colorful graphics, and addictive puzzles. It's a game that will make you forget about the sweltering heat and the annoying mosquitoes, and make you wish you were snowed in with a cup of hot chocolate and a cozy fire. Jewel Match Solitaire Winterscapes is a game that you can download for free from GameTop!