When you have been living in the same house within the four walls of the same room for a long time, it is natural to want a change. Many people get tired of staring at the same white walls and feel like they need a splash of colours and an accentuation in their room that will help the place stand out uniquely. However, painting can also bring about a huge difference, at times, more than you might want to have. If you are looking for a slight variation in the décor and design of your room but not too much, here is what you can do – accent walls.
Here are 10 tips or simple wall painting ideas that you can use to create a well-planned accent wall.
1. Make a statement
The easiest way to achieve the right amount of accentuation to any wall would be by creating something in the center of the wall. Add a pattern, some colour, a wall painting, or anything unique in the middle. It would be instantly eye-catching.
2. Solid paints
A accent wall can be created with a simple coat of paints. Choose a shade that you like the most and paint the wall. For a larger wall, choose a muted tone, for a smaller piece, play around with a splash of any of your favorite hues.
3. Play with paints
At times, a room colour combination can also create a certain highlighted effect that you are going for. An accent wall can be achieved with a bright and solid colour, however, get the oomph factor with a bold pattern like stripes, circles, shades, etc.
4. Patterns all the way
A pattern like a mandala, symmetrical designs, geometric patterns, etc are attractive and striking to look at. You can get the look that you desire with the help of paints or even wallpapers. Stencils are another good idea to use for patterns.
5. Paneling
If not painting, you can also choose to make good and creative use of wood panels on a part or the whole of a wall. An urban and rustic look can be achieved with the help of these panels that emphasize the key areas of the room without looking boring. Behind the bed or in the reading corner, these panels would be the ideal fit
6. Patches
Patches of paint? Do not be worried. Try out this method of highlighting certain parts of your room or walls with the help of patches. These can give you a funky and quirky look that will help bring out the innocence within you. Use the painter's tape to achieve the perfectly patched look.
7. Textures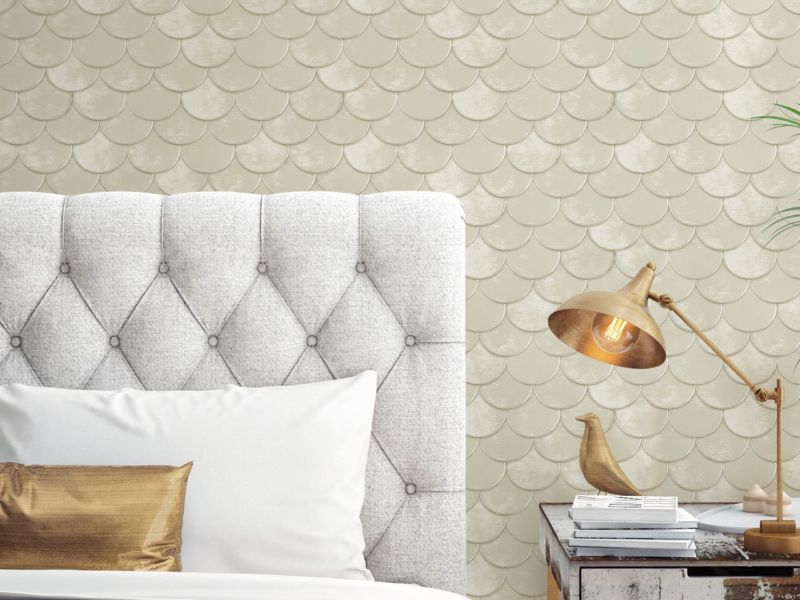 With the wide variety of paints available in the market in today's times, a textured paint would be a great way to get the desired effect on the accent wall and change the focal point of the room in terms of accentuation. Using a grainy or a bumpy texture on an otherwise plain wall could do wonders
8. Neutrals
Are you surprised that even neutrals could do the job of accentuating a particular wall? Accent walls can work just as amazing in a neutral shade too! Choosing a dark brown shade on a beige wall can add a dramatic effect to the room.
9. Don't match
We usually prefer to opt for a perfectly matched effect while painting the walls and seek to accentuate accordingly. Too much matching can get a little boring. Bring out the colours in your room with the help of differently coloured walls. Also, shake up the linens and furniture pieces.
10. Smaller areas
Highlight even a small portion of your wall- for example – behind the TV cabinet or a certain piece of furniture or even just the sofa area, or the ceiling could work wonders. Accentuation does not have to only be limited to large wall space, even smaller areas could do the work just as efficiently.
Enjoy how your walls feel once you are done highlighting them. This does not have to always be loud, expensive, or time-consuming. You can get what you want subtly and inexpensively. Bask in the glory of a changed look and ambiance.
Also read: 5 Perfect Colour Combinations for Good Vibes