Home is a place where you can relax and stay calm and collected with yourself. But when we speak about home, various things come to mind. Their existence equally contributes to the vibe our house passes. One of which is the bathroom, especially its design, structures, and colors. Hence, a beautiful vanity can be a total game changer for your bathroom's ambience.
A well-chosen bathroom vanity is a must! Why? A bathroom vanity gives a room an elegant and polished look and solves a number of issues. But before buying a bathroom vanity, there are things to take into consideration:
The budget
The area
Install types you require like freestanding vanities, corner, or wall mounted vanities
Access to your plumbing area
The size of vanity
Now that you have a rough idea of what you have to look into. Once you know, you can move ahead and visit these best places to buy bathroom vanities.

If you want it to be customized exactly the way you saw it online or perhaps in a movie, you should definitely give these dream bathroom design ideas a shot!
Here we have talked about the 12 best places to buy a bathroom vanity so that you can get a better picture of which store to choose and invest your money in.
Let's start the search!
1. Lowe's
There are several reasons to choose a vanity for the bathroom, like having an organized space for your favorite items and more. Lowe's ranks at the top of the list of bathroom vanity retailers for a variety of reasons.
With over 10,000 amazing vanities, you can easily browse and get what you're looking for. You can even filter your search on the site by dimension, type, and availability. There are times when you get the free delivery option, which is the cherry on top.
So what exactly are you waiting for? Get in touch with them.
2. Pottery Barn
If you're searching for bathroom vanities that last for decades while maintaining high-quality wood, then Pottery Barn is the perfect match. It has the best modern farmhouse-style vanity.
It gives a double-sink vanity with multiple drawers, which leaves an impressive look and feel. One extra facility that Pottery Barn gives to their customers is the "in stock and ready to ship" toggle that allows you to get the vanity as fast as you require.
Loving the Pottery Barn site already? Get one for yourself now!
3. The Home Depot
Shopping for the best places to buy bathroom vanities? The Home Depot is a large home improvement retail corporation that sells the most attractive and affordable bathroom vanities.
A perfect bathroom vanity store is one where you can physically inspect and measure all the requirements you have on your list. Home Depot offers you this facility, meeting the needs you have on your checklist for a bathroom vanity.
And if you cannot find what you are looking for, Home Depot provides the visuals with which you can create your own style of bathroom vanity.
Amazing, right?
4. Homary
A one-stop destination for all your home improvements, which also sells top-quality bathroom vanities as per your needs. Want to amplify your bathroom's appearance and turn it into a luxurious bath space? Then look no further than Homary.
Can you believe the vanity image shown above was only $549? Yes, it's true! Homary could include the lowest price with the best product on the market.
Their products are chosen from leading manufacturers, so there is always something in the collection that will make you feel at home.
Now you know the best place to buy home decor and a good bathroom vanity.
5. Wayfair
Searching for something appealing and on budget? Look no further than Wayfair, which not only provides a sophisticated and charming look but also offers you the best deal you can ever get!
The site consists of a major collection of all home furnishings products, including attractive vanities. Wayfair offers a large selection of goods in its bathroom vanity collection at various price points, with the guarantee that you will definitely find your type of vanity.
The hunt for the best places to buy a bathroom vanity has just become easier.
6. Overstock
If you are looking for bathroom vanities, keeping their appearance in mind isn't enough. Well, there are other things that you need to give importance to, such as the quality of the bathroom vanities. So go for a high-quality bathroom vanity, as it'll last for a longer time.
Overstock provides the perfect styles at the best prices. It includes farmhouse print work that could be classy and sophisticated in look. The advantage of buying bathroom vanities is that you can get premium products at affordable prices.
7. Joss & Main
Do you have a taste for rustic design with a storage bench? If yes, then here is the best place to buy a bathroom vanity.
Joss & Main is the site where you have the option to explore different styles, sizes, and materials that go with your bathroom decor. You know what the best part is? The price! All of the bathroom vanities are priced so low that you will fall in love with them. It makes the vanity more appealing and more attractive to buy.
Check out the website and have a beautiful, antique-looking vanity in your home.
8. Signature Hardware
A store that is completely dedicated to bathroom hardware is something that could be kept in consideration. Signature Hardware is a site that is solely into kitchen and bathroom furniture, offering a high selection of vanities.
From casual to classy, recessed to glamorous designs, you can zoom in on some elements and have a glance at the look that they carry. With the help of artisan materials, they make the best out of everything. If you look at their site, you will find that the parts are divided according to each section. You can surf and get your own kind of bathroom vanity for your place.
Its top-class products and services make it appear in this list of "best places to buy a bathroom vanity."
9. AllModern
Every site makes a promise to deliver services on time, but few keep their word. AllModern is a site that not only fulfills your promises in time but also provides free shipping, which is the icing on the cake.
Speaking about their designs, they are mostly contemporary furniture that fits every budget. They always keep up with the trends that have been going around lately and come up with ideas that intrigue their customers.
Have you found your piece of love? Get it delivered to your doorstep now!
10. West Elm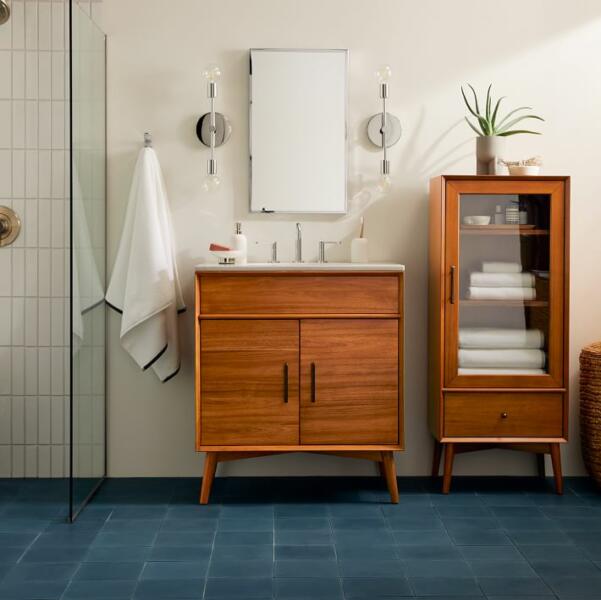 Do you want to get a look at the mid-century bathroom vanity that you've always dreamed of? West Elm is a place where you get the best deals and the most desirable vanity. They create an environment that you enjoy, making them the best places to buy a bathroom vanity.
The quality of manufacture and the availability of valuable and responsible furniture on the market make them different from others. The nontoxic finish that makes it easy to create a pleasant home environment is something you can count on.
So what are you waiting for? Visit this best location to purchase bathroom vanities for your new home.
11. IKEA
Who hasn't heard of IKEA, the world's largest furniture retailer? This place is mostly known for making the best use of smaller spaces. It doesn't matter whether you have a compact space or a larger one; at IKEA, you'll find the best bathroom vanity according to your requirements.
There are different varieties of vanities to choose from. Even if you already have a bathroom vanity, it can be improved at IKEA with all the customized needs you have on your list. IKEA also sells vanity cabinets and sink combos at a reasonable price, which includes them in this list of the best places to buy a bathroom vanity.
12. Rejuvenation
Are luxury bathroom vanities on your checklist? If yes, then look no further than Rejuvenation, which adds richness to your bathroom vanity.
They provide the bathroom vanity lights that add a glamorous feel to your bathroom. The dedication is shown in the pieces that they create from their antique collection. The efforts, thoughts, and ideas implemented in the product make it the best place to buy a bathroom vanity.
End Note
Purchasing a bathroom vanity is an investment you won't ever regret. We've listed some of the best places to buy a bathroom vanity; now we leave it to you to make a decision. Remember, the right vanity is the centerpiece of your bathroom, which makes a difference.
More importantly, the bathroom vanity you are going to buy should enhance your bath space's functionality and usability, because that's when you'll feel like you've spent money in the right place. Now that you have found the best places to buy a bathroom vanity, get the most amazing design for your vanity that adds color to your room.
Also read: 5 Bathroom Remodelling Tips