Toyota is well-known for making excellent automobiles that outlive many other alternatives on the market. Toyota's sedans are excellent, and it has sports vehicles that are still popular among fans. There's also the pickup truck. The Tundra has gained a reputation for itself because of its rugged yet elegant design and well-rounded features, making it suitable for work and commuting.
The 2022 Toyota Tundra has joined the roster, and drivers are understandably wondering if upgrading to the most recent model is worthwhile. Nowadays, these vehicles must be secure, technologically advanced, and, most all, have a sturdy bed to compete in a crowded market. What does Toyota offer to the market with its 2022 Tundra truck, and what characteristics should you be aware of before purchasing one? The model has a lot going for it.
Is the Toyota Tundra 2022 a Good Buy?
Undoubtedly, the 2022 Toyota Tundra is a great vehicle to consider purchasing. It has returned with a completely new appearance and interior design. It also has greater power and superior technology than previously. However, never make a blind purchase.
Before going all in, always thoroughly investigate your alternatives. This is becoming more difficult as inventory stays restricted and consumers want to buy their trucks online. So, here are a few Tundra pointers for you. These might be beneficial or detrimental to you.
1. How Large is the 2022 Toyota Tundra?
The Toyota Tundra 2022 is enormous and commanding. Enjoy this beast if you like a large vehicle. The cab provides enough room for five people to relax comfortably. There is also enough cargo capacity for all of your belongings.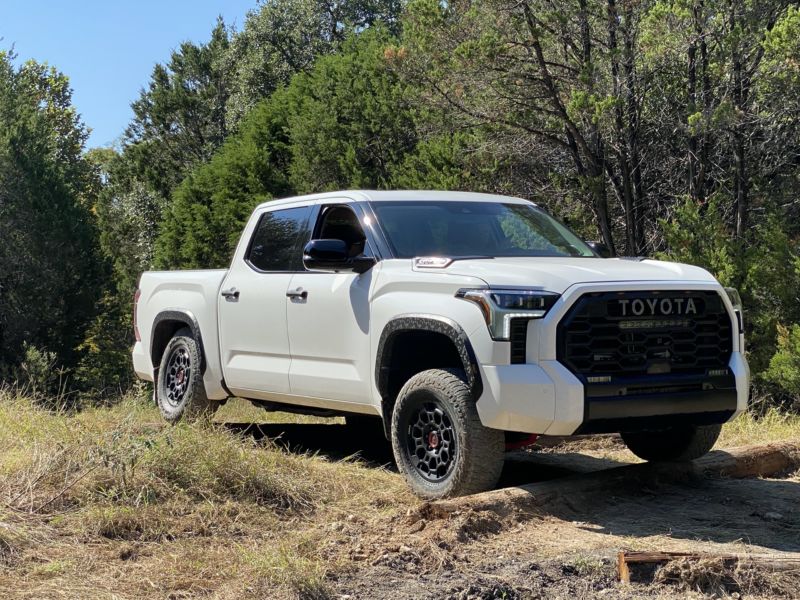 The Tundra CrewMax measures 78 inches in height, 80 inches in width, and 233.6 inches in length. These dimensions apply to the Tundra with a 5.5-foot bed and a 145.7-inch wheelbase. If you choose the 6.5-foot bed, it is 245.6 inches long and has a 157.7-inch wheelbase. We may combine the double cab with an 8.1-footbed for a total bed length of 96.5 inches. It has a carrying capacity of 1,660 pounds.
The Tundra has a turning radius of 24.3 to 26 feet, so leave yourself some additional room in congested urban locations. In no time, you'll be able to park it like an expert. It also has a large fuel tank. It has a 32.2-gallon fuel tank and can go between 574.4 and 708.4 miles between fill-ups.
Also read: 2022 Mini Cooper S Convertible Autocross Review
2. The Tundra is Loaded with Technology
Some folks want a vehicle with no frills; all it needs to do is go from point A to point B. However, a fully outfitted 2022 Toyota Tundra with plenty of sophisticated technology, such as motorized running boards and a power tailgate, is available. It offers ambient lighting, ventilated front and rear seats, a 14-inch touchscreen infotainment system, wireless phone charging, a panoramic sunroof, a rear power window, and other amenities.
It is simple to pair wireless Apple CarPlay and Android Auto. Navigation instructions are shown on the 12.3-inch digital gauge cluster and the head-up display. There are cameras everywhere. The 360-degree camera allows you to view everything around the vehicle. There are front and rear side views, a view of what's in front of the truck, a picture of what's behind you, and a view of the truck bed.
There are several driving modes, including Eco, Normal, Comfort, Sport, and Sport+. Each setting modifies the suspension, engine noise, and reaction times.
3. The Tundra is Quite Powerful
The 2022 Toyota Tundra is a beast! The engine in the variant we tested was an i-FORCE twin-turbo 3.5-liter V6 with 389 horsepower and 479 lb-ft of torque. It offers rapid acceleration as well as smooth gearbox shifts.
The i-FORCE MAX 3.6-liter V6 hybrid produces 437 horsepower and 583 lb-ft of torque. It can go from 0 to 60 mph in 5.7 seconds, which is astounding for a beast of this size. The Tundra can tow up to 12,000 pounds when properly equipped. For some light off-roading, the Tundra didn't seem overly weighty. It managed mud and ruts without a hitch. You only need to ensure the paths are broad enough for the massive vehicle.
The Toyota Tundra is an excellent choice if you want a large truck with modern technology and tremendous power. It's intelligent, comfy, and competent.
4. Towing Capacity is Above Average
The amount of weight a vehicle can tow is one of the most significant components of any truck, especially one as large as the 2022 Toyota Tundra. Towing may be employed in several situations; unfortunately, some trucks are not equipped to assist in all of them (via Car and Driver). Fortunately, this one does. The 2022 Tundra can pull up to 12,000 pounds, a significant increase over the previous model's towing capacity of 10,200 pounds.
Not only that, but the model includes several clever features that make towing easier. This vehicle comes standard with an integrated trailer brake controller and optional trailer backup guidance. Trailer sway control is also proper when transporting imbalanced loads, especially in windy conditions.
The upgraded multi-link suspension on the 2022 Tundra accounts for the increased towing capability. Not only that, but the business upgraded the rear shock absorbers. For most individuals, this vehicle will not only be able to pull all they require, but the latest technology makes the procedure safer.
5. It has a Hybrid Bed
Any truck worth its salt has a quality bed, which means it can endure the elements and weight of any products it intends to transport. Toyota chose a composite bed over steel or aluminum to guarantee that the 2022 Tundra can handle all of these things.
Both materials have advantages, although steel rusts and aluminum aren't as robust. On the other hand, the composite bed offers the best of all worlds (via Top Speed) — it's rust and corrosion-resistant, yet its lightweight construction can withstand the battering.
Of course, not many truck owners use their vehicles' beds for anything other than hauling groceries or other necessities, so this won't affect everyone. However, it's still comforting to know that one of your vehicle's most vital elements was well-built and will be in good condition if you ever need to use it to its full potential.
Also read: Kia Seltos for Sale Qld Dealerships Offer: A Buyer's Guide