With a wedding, come lots of responsibilities in terms of work like booking your wedding venue, arranging things for guests, looking after the catering and decorations and so many things. However, apart from these things, one thing is there which we can't overlook and that is your wedding card. In today's era, no one likes to give those paper wedding cards. As in this digital age, we have lots of options to create your dream wedding e-invite, and that too free of cost.
Here, we have listed some of the best mobile apps where you can create your own wedding invitations for free the way you want.
1. Greetings Island
Invitation Maker by Greetings Island is a simple app with a clean user interface. Using this mobile app, users can create invite cards or wedding cards along with other cards suitable for different occasions. The invitations come preloaded with text that can be changed as you need and you can also add new text and stickers for decoration while creating an e-invite. However, the only thing missing in this app is the ability to add the images from your side.
Visit Website: Greeting Island
Also read: The Social App For People Craving For Everything Local
2. VCSAPPS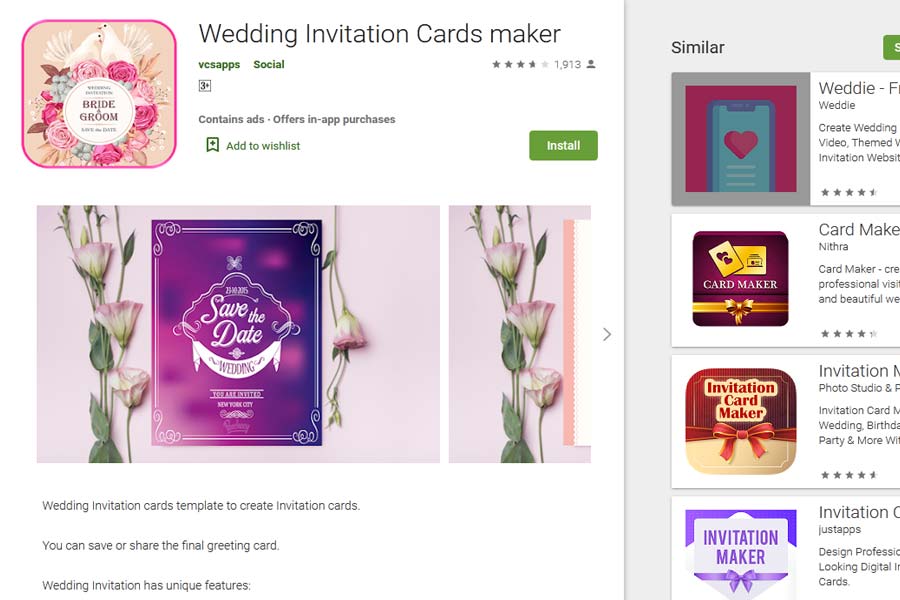 VCSAPPS invitation cards maker for android is user-friendly and provides many customization options. You can start by entering optional details such as the greeting, location, and type of RSVP. Plus, you also get the number of background options along with the option to add stickers, quotes, signatures, photos with effects, etc.
Android App Download Link: VSCAPPS
3. Evite
It is a graphic designing app with endless wedding invitation templates. It is very easy to use, even who are non-professionals can also make their e-invite card very easily using this app. You just need to create an account and start making which is absolutely free.
Visit Website: Evite
Also read: Best Corner Decoration Ideas For Living Room
4. Desygner
Desygner is one of the toughest competitors of Canva. It is similar to Canva that allows users to create designs for free. Also, it has various kinds of templates for wedding invitations to choose from. Templates are pre-designed with editable text, with the option of changing the background. Whatever design you create, you can save those under 'My Projects' where you can edit it anytime.
Visit Website: Desygner
5. Canva
Canva is one of the most popular e-invite creator apps these days. The reason behind this is because it contains an array of design options that you can use to design your dream e-invite. Canva offers you over 100+ wedding invitation templates to choose from. The best part about using Canva is it is free of cost; however, certain templates can be downloaded with the premium version only.
Using Canva is pretty easy, you just need to sign up and start exploring what all it has. Even you can save what you have made in your Canva account and directly share your e-invite in either a PNG, JPEG, or PDF format with your friends via Whatsapp or Email!
Visit Website: Canva
So, if your wedding is near and you are worried about how to make your wedding invite, try out these apps.
Also read: Heart-melting Wedding Anniversary Gifts for Loving & Caring Sister!!