The medium length haircuts are all the rage now. If you are going for a medium length hair then there are many options you can choose from. But you have to choose the one that will suit your face shape and personality. Seven haircuts for girls with medium length hair. You can try out the haircut of your choice that will make you feel confident. So here are the seven great haircuts for the girls with Medium Length Hair.
1. Medium haircut with bangs
The medium haircut with bangs will make you look refined and professional. Many women go for this look to look young. The added bangs will be suitable for women with long forehead. Therefore it will make the face look small. But sometimes you can style the bangs also for special occasions.
2. Straight medium length cuts
You can cut the hair just below the shoulder for a medium-length style. This haircut will make you look perfect. You can also wave the edges of the hair for a certain distinction on special occasions. This haircut is easy to maintain too because you can wash your hair and comb it to get the ultimate straight look. If you are a professional woman you can go for this haircut to always look neat.
3. Beachy waves
The waves look good on medium length hair. Many celebrities with hair go for these waves to look stylish and cute. It is the hairstyle perfect for special occasions. It is also easy to pull off. You can find many online videos on how to perfect the waves in medium-length style. Therefore, why not try it to make your appearance pleasant and cheery.
4. Curls and bang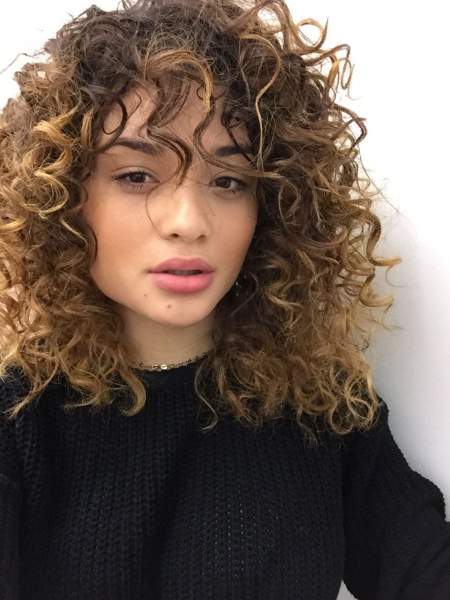 Curls can enliven any type of haircuts. It can make your hair look bouncy and rich. That is why many women like curls and bangs. Medium length hair with bangs is a good way to go for picnics and other outdoor occasions. It will make you feel comfortable and enjoy any occasion. If you have medium length hairs why not try curling the hair by watching the online videos. Or else you can also go to a professional hairstylist to get the perfect hairdo.
5. Layered medium length haircut
Medium length hair with layers will help you to get good volume. If you feel that your hair needs a lot of volume to frame your face then try this hairstyle. Your face will appear full and lovely with this amazing hairstyle. The front side of the hair will get perfectly angled by the hairstylist to make it look good. These layered styles are good for women with thin face. If you want to go to take photos you can flaunt this hairstyle because you will look good on it. Your casual attire will greatly complement this look.
6. Medium Feather haircut
This cut has a ton of layers to make the haircut even more pronounced. The haircut will look well-defined because of the featherlike layers. It gives the top a lot of volumes and a bounce. The bottom of the hair will look sleek and well-shaped. You can even add the highlights of your choice on the layers to boost the look. This medium length hairstyle will make you stand out of the crowd.
7. Medium bob cut
If you do not prefer the short bob haircut you can go for the medium bob haircuts. This will make you appear sleek and neat. The medium bob will give the needed volume for the hair. You can also style the bob with curls and waves for special occasions. You can also get bangs in the front to make the bob look even more stylish. There are different types of bobs like French bob, shaggy bob, the messy bob and more.
Also read: Beautiful Ethnic Wear Ideas To Glam Up Your Indian Look