Job dissatisfaction is common in almost every industry and workplace. Hardly anyone is hundred percent content with their workplace and job. Many cry that their jobs drain more energy than repay and encourage them to continue working. A demotivating work environment, criticizing attitude, needless nagging, incomparable pay, limited opportunities for growth and scalability, and job insecurity are some notorious factors for job dissatisfaction.
But job dissatisfaction also has a subjective dimension. Not all workers have similar reasons for feeling dissatisfied. The same is true for healthcare workers. The demanding, unpredictable, and over-engaging nature of their jobs is more likely to increase their dissatisfaction. Dissatisfaction at the workplace can further augment their hardships. As a result, dissatisfied and demotivated employees are less productive, efficient, punctual, and responsible.
Nonetheless, job dissatisfaction does not create challenges for employees alone. It is also counteractive and unproductive for other stakeholders, including employers, hospitals, investors, policy-makers, patients, and the public. Thus, concerned parties should address issues that undermine workers' efficiency, productivity, and contentment.
The following sections discuss some tips for healthcare workers to ensure job satisfaction.
1. Advance knowledge and qualifications
Many experience difficulties in their jobs when they cannot deliver as per their expectations. Advancing knowledge is one way to upscale expertise. Doctors and nurses can opt for academic diversification to gain an edge in a demanding workplace with advanced degree programs like Masters of Public Health (MPH). They can explore online CEPH accredited MPH programs with the flexibility to pursue self-paced and fast-track routes and accommodate their work hours and busy schedules. 
The online MPH program is a golden opportunity for working professionals to expand career choices in the public and private healthcare sectors. It is such a versatile degree that qualified individuals can serve as executives, administrators, supervisors, policy-makers, analysts, clinicians, academicians, and researchers in government, non-profit, profit, and policy-making agencies and platforms.
They can also work as public health advocates and influencers to highlight and safeguard the interests of the communities. If you have a keen interest in a healthcare academy, take the time to explore the various opportunities they provide for advancing your medical education and career.
2. Keep realistic expectations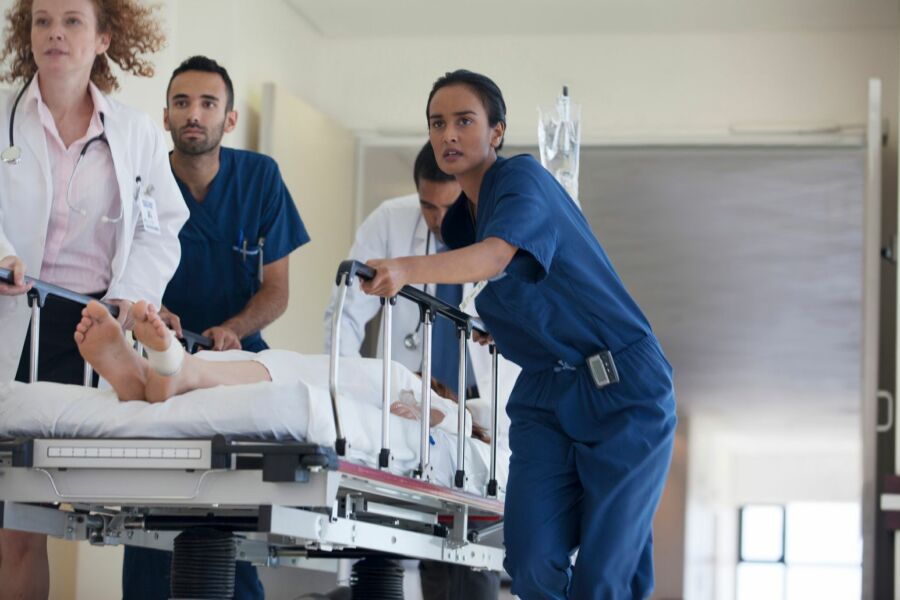 Ups and downs are part of every workplace, not just the healthcare profession. But anticipating perfection in every task and responsibility is unrealistic. Some days can be off, and some will be awesome. You can make mistakes and receive criticism. But changing your approach and perception is a practical and healthy way to deal with problems.
So, focus on long-term goals and do not make unmanageable and ambitious claims and plans. Promise what you can deliver. Over-engagement at the workplace will only disturb your work and life balance. Even if you overstretch yourself, you cannot satisfy everyone at home and workplace. Hence, proceed with a realistic attitude and mindset. Once you acknowledge unpredictable and unproductive days, trivial issues will not exhaust you.
3. Practice and advocate candid communication
Since healthcare responsibilities are attention-demanding, workers abide by protocols very seriously. They appear less frank and approachable. But professionalism at the workplace does not restrict candid behavior with your subordinates, supervisors, and patients. Formalities and protocols in interpersonal communication are not necessary everywhere all the time.
Hence, do not create boundaries for your coworkers and juniors so that they would fear sharing their suggestions and concerns. Likewise, practice and encourage candid conversations with your supervisors and bosses. Talk to them about your worries and challenges and ask for help if you get stuck in pressing and unmanageable tasks. Frankness in behaviors is also necessary to foster cohesion and synergy in teamwork and render better healthcare services to patients.
4. Maintain a positive and collaborative attitude
Everyone wants a positive and healthy work environment to ensure productivity and satisfaction. But the healthcare profession is stressful for all workers. Everyone is more preoccupied with their personal and professional responsibilities than helping someone or listening to their worries. Sometimes, rigid attitudes and self-centeredness can dishearten and demotivate. But why not take the initiative yourself?
A positive and collaborative attitude is not only rewarding and fulfilling but necessary for better productivity. Even a simple act of kindness can liberate you from an overwhelming burden. A positive attitude also helps with workload and stress management. You can harness a more synergetic relationship with your coworkers and give better services to your patients.
Thus, stretch a helping hand whenever possible and do not hesitate to receive help from coworkers. Do not create strict boundaries for yourself. Be flexible with giving and taking.
5. Prioritize tasks
Do not keep pushing unavoidable responsibilities at the eleventh hour. Procrastination, inadequate planning, and time mismanagement can increase your workload. And job satisfaction is bound to plummet when you cannot meet deadlines and deliver as expected. Loads of pressing responsibilities every day also increase stress and fatigue. You will also waste more time on excuses and making up for your delays.
But think about why you have so much to sort out at once. List down tasks as per the urgency and make viable strategies to declutter your work schedule. Sorting out the backlog and pending assignments and responsibilities will help you feel more content, rewarded, and productive. Hence, do not compensate for weariness and dissatisfaction with excuses, delays, and blame. You will end up in an unmanageable vicious cycle. Think about healthy ways to manage your workload before it heaps again.
6. Utilize breaks and holidays
Work in the healthcare sector can be exhausting, as hardly a day goes by without an emergency case. Unpredictable situations and emergencies further increase the urgency for all workers in a healthcare facility. Thus, everyone is on high alert to attend to their responsibilities. Many workers who serve in emergency and intensive care units even skip their dining breaks to look after the sick.
Sometimes, they also have to report on their holidays. As a result, they do not have a single day to tend to their personal needs and responsibilities. Such a packed and overwhelming work schedule is also one of the reasons for job dissatisfaction in healthcare workers.
But try to be realistic that work is not everything. You can only serve as much as you can afford without undermining your health and well-being. Hence, do not take responsibility for everything. Someone else will take over if you are on a much-needed rest break.
7. Look after your physical and mental health
Healthcare is a demanding job with strict rules and protocols. Employees have a little margin for mistakes and errors and higher corrective costs. Since the job nature is challenging, burnout is common among healthcare workers. Burnout also promotes chronic stress, anxiety, depression, and other health issues. As a result, exhausted workers cannot keep up with the workload for long and feel dissatisfied very soon.
But nothing should come first before your health and well-being. You cannot cater to any responsibility if you are unfit and struggling with emotional, psychological, or physical healthcare challenges. Overlooking work-related stress has severe long-term repercussions. You cannot perform up to the mark and prevent backlash and criticism. Hence, do not take emotional and physical burnout lightly. Tend to your health needs on a priority basis.
Conclusion
There is no single solution to address and eliminate job dissatisfaction, as everyone has different reasons. Solutions also depend upon the specific issues. Hence, observe your workplace and work routine and identify the root causes behind your demotivation and dissatisfaction. You will find many ways to redeem and relieve yourself from fatigue once you understand and acknowledge the underlying problems.
Also read: Common Types of Medical Negligence Claim